madVR Labs Promises 'Massive Upgrade' with Next-Gen Video Processors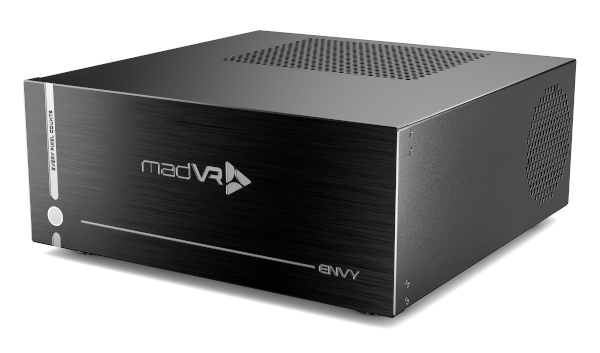 madVR Labs, the Maryland-based maker of high-performance video processors for high-end home theaters, says the next generation of its Envy Extreme and Pro processors offers a "massive upgrade."
The company is now taking orders for its top-of-the-line Envy Extreme MK2 ($15,995), which is set to start shipping in limited quantities by the end of the month (April). The processor uses the Nvidia 4080 GPU, which is said to boost graphics processing power by up to 100% over the MK1 version and provide "important headroom now and into the future for MotionAI and other AI-based algorithms." Initial units will ship with the MK1 remote control, which will be replaced at no charge when the new backlit remote becomes available.
The less expensive Envy Pro MK2 also features an upgraded GPU and is expected to begin shipping in the summer with a suggested retail price of $9,495.
In addition to a significant boost in graphics processing power, both models boast upgraded system components, including error correction coded (ECC) RAM normally only found in mission critical servers, and the new Glacier X2 triple-fan cooling system, said to provide exceptionally efficient cooling and a Silent mode that makes it "essentially inaudible from just a couple of feet away." Other common features include a new aluminum case with a three-quarter-inch-thick faceplate, a new backlit remote control, and madVR's 5-year parts-and-labor warranty.
"The [MK2] engineering process involved multiple rounds of obsessive prototyping, spanning a year and a half to ensure that every aspect of the MK2 was designed and built to meet the highest standards of quality and performance," the company said in the news release announcing the products. "The MK2 models come with an unmatched 5-year warranty on parts and labor to give customers peace of mind and confidence in its build quality."
madVR also announced that owners of the Extreme MK1 will soon be able to trade in their units for the Extreme MK2 at a cost of $4,795, provided the unit is in good physical condition, and that authorized dealers will make preowned Extreme MK1 processors available with a 2- year warranty on an as-available basis. Though MK1 models will no longer be manufactured, they will be supported and continue to receive firmware updates.
For more on madVR Labs and its products, visit madvrenvy.com. See Sound & Vision's CEDIA 2022 Editor's Picks for Mark Henninger's impressions of the madVR's 8K video processor.