LG to Launch First Blu-ray/HD DVD Combo Player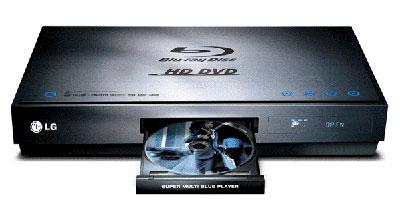 LG BH100 Blu-ray/HD DVD/DVD player
January 8, 2007 - The high-definition disc format war took a direct hit Sunday from announcement of Swiss-like neutrality, as LG said it will soon deliver to market the world's first Blu-ray Disc/HD DVD combo player.
LG executives at the Consumer Electronics Show in Las Vegas said the company's model BH100 player, dubbed "Super Multi Blue," will hit retail stores, including Best Buy and Circuit City, by the first week in February with a suggest list price of $1,199.
Besides playback capability for Blu-ray, HD DVD, and standard DVD discs, the player's features include 1920 x 1080/30-Hz (1080p at 30 frames per second) output for both hi-def disc formats and support for the major video compression codecs being used in both (MPEG-2, VC-1, and H.264). For audio, it is said to support Dolby TrueHD and Dolby Digital Plus, as well as DTS and DTS HD Master. It also has an Ethernet port for use with interactive discs, an HDMI 1.2 audio/video output, and a standard optical digital audio jack.
Executives on hand at an LG press conference were not immediately sure if the BH100's HDMI output will support the full 7.1-channels the new high-resolution audio codecs support or will be restricted to a maximum of 5.1-channel playback. (This is not much of an issue at present, anyway, since current movie soundtracks are typically 5.0- or 5.1-channel with a smattering of 6.1 titles.)
Though the BH100 provides full support for Java HD interactivity on Blu-ray Discs, it does not include all the functionality required by the HD DVD-I interactive-disc spec - a function of its starting out in LG's engineering lab as a standalone BD player before LG switched gears to make it a combo unit.
LATEST VIDEO