LCD Universe Page 4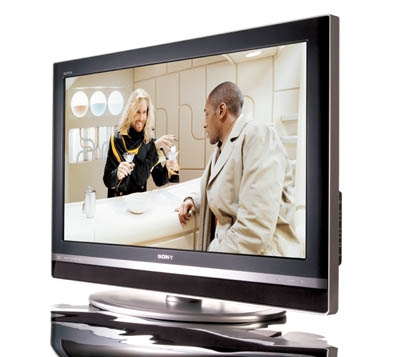 Sony LCD goes upscale
Sony never saw the iPod coming and was notably late to the flat-panel TV party as well. In an effort to catch up, the company recently partnered with Korean TV giant Samsung on a shared factory for state-of-the-art LCD panels. The first fruits of this enterprise are the new Bravia series of LCD HDTVs, a line that comprises 32- and 37-inch models as well as a 40-incher, the $3,500 KDL-V40XBR1 reviewed here.
The Short Form
SONYSTYLE.COM / 800-222-7669 / $3,500 LIST / 40 x 27 x 14.625 IN (WITH STAND) / 75.5 LBS
Plus
•Good looks. •Crisp picture with all sources. •Natural color rendition. •Wide range of inputs and picture adjustments.
Minus
•Limited shadow detail. •Remote control not backlit.
Key Features
•$3,500 (list) •40-inch (diagonal) screen •1,366 x 768-pixel screen resolution •HDMI, VGA, component-video, and USB inputs; CableCARD slot •Built-in HDTV tuner
Test Bench
Warm1 delivered the most natural color of the Sony's several color-temperature presets, but the picture showed a blue shift at higher brightness levels and a green deficiency at both ends of the grayscale. A substantial -20% green color-decoder error was also measured when the set's Normal Color Space mode was selected (the other color option, Wide, measured only -5% red). The set was able to display full-resolution 720p signals via both digital and analog component-video inputs. Full lab results
Along with its manufacturing prowess, Sony seems to have reclaimed its design chops - the Bravia models are a good deal better-looking than the company's earlier flat-panel LCD HDTVs. The set's black bezel gently curves out to either side of the screen, while a thin black cloth grille running along the bottom conceals the built-in speakers. A full set of control buttons is located out of view on the left side. And on the right there's a full suite of convenience jacks, including a USB port and a component-video input for connecting an HD-capable game console. The set comes with a sturdy table stand that swivels up to 30° in either direction.
Sony's remote control isn't backlit, but its keypad has big buttons and a clean layout. Most functions are handled via a central joystick, while controls located on the remote's surface and beneath a sliding door at the bottom let you operate a DVD player and DVR along with the TV. You toggle through inputs by hitting the TV/Video button at top. Pressing the Wide button lets you change display modes, which include Full, Normal, Zoom, and Wide Zoom. All except Normal are available for HDTV programs.
SETUP & USE Sony's setup features can be accessed by pressing the WegaGate button on the remote. After I hit Autoprogram, the built-in HDTV tuner had no problem pulling in all of the digital broadcast channels in my area.
I had to sit about 8 feet away from the TV to avoid seeing any traces of the screen-door effect. The Custom picture preset can be individually adjusted for each input, and picture brightness is controlled by a Backlight setting that adjusts the light output from the panel's fluorescent lamp. In a movie-friendly, light-controlled environment you'll want to set this somewhere in the middle. The Warm1 color-temperature preset combined with the Wide "Color Space" setting delivered the most natural-looking color, and the Low gamma setting helped bring out shadow detail in dark scenes.
PICTURE QUALITY The Sony did a superb job displaying standard (480i) programs on cable and DVD. Features like Cinemotion processing helped deliver smooth pictures for movies, while Digital Reality Creation sharpened up soft pictures like a golf tournament on the TNT cable channel. Getting back to The Hitchhiker's Guide DVD, I was impressed by how cleanly the Sony rendered the bright green vests worn by the demolition crew destroying Arthur Dent's house, and by how it captured subtle green hues in the background landscape. The set's color rendition was precise enough to bring out the distinct pinkish hue of Arthur's skin without making him look ruddy. Given that this is an LCD TV, I wasn't surprised that shadow detail was somewhat limited in dark scenes, like one in the chamber where the Vogons torture Arthur and Ford by reading them their poetry - the third worst in the universe. Even so, its performance here was a slight improvement over the Westinghouse and a step above the LG, with deep blacks looking solid.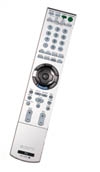 Checking back in on ABC's Monday Night Football, I was immediately impressed by both the set's punchy picture contrast and its ability to bring out fine details in the folds and creases of the Eagle players' white uniforms. When kicker David Akers lined up for a punt (he missed!), the fine black lines of the safety net behind the goal posts looked solid and clear as they waved in the breeze - a detail that made the picture seem almost 3-D. My only complaint was a slight pinkish tint that very occasionally showed up on flat, light colored backgrounds.
BOTTOM LINE Compared directly with Westinghouse's 37-incher, the Sony KDL-V40XBR1's slightly larger screen comes at a premium price. But this TV's wide range of features and connections, natural color, and clean, crisp handling of almost all video sources makes it worth considering if you're shopping for a good, flat-screen LCD HDTV. As one of the first flat LCDs to get the XBR stamp, this big-screen Bravia carries its pedigree well.
LATEST VIDEO