LCD Universe Page 2
LG A small screen with big features
Zenith's parent company, LG, produces TVs of every type, from old-school CRTs to state-of-the-art LCoS sets. So it comes as no surprise to see the company offering flat-panel LCDs. The 32LX1D is a tasty-looking 32-inch set with a glossy black bezel and slim, integrated side speakers. Front-panel controls are stashed conveniently beneath the screen. In another nice touch, an A/V input with a component-video jack is on the left side, while card slots that support most any flash-memory format are on the right. The base doesn't swivel, but it's sturdy and nicely complements the TV.
The Short Form
WWW.LGUSA.COM / 800-243-0000 / $2,000 ($2,300 LIST) / 36.375 x 23.625 x 8.625 IN (WITH STAND) / 55 LBS
Plus
•Natural color. •Good looks. •Wide assortment of video inputs.
Minus
•Limited black depth and shadow detail. •Some smeared detail in motion shots.
Key Features
•$2,000 ($2,300 list) •32-inch (diagonal) screen •1,366 x 768-pixel resolution •HDMI, VGA, and component-video inputs; CableCARD slot •HDTV tuner and TV Guide On Screen
Test Bench
The LG's Warm color-temperature setting measured close to the 6,500-K standard almost right out of the box. Color decoding error was a substantial -20% green for DVDs via a component-video connection, and picture resolution was also reduced when that input was used for HDTV programs. There was no substantial decoding error or resolution degradation when the HDMI connection was used. Full lab results
The TV is packed with a full set of features, including a built-in HDTV tuner, CableCARD slot, and the TV Guide On Screen program guide. As on other TVs I've tested, TV Guide wouldn't load a complete set of program data from my cable provider (as far as I'm concerned, it's a contender for the Useless Feature Hall of Fame, alongside sepia settings on digital cameras).
A more useful feature, the Xstudio menu, lets you view slideshows of digital snaps saved on memory cards or browse MP3 music files and play them back on the TV's speakers. A surprisingly wide range of inputs is provided around back, including HDMI, VGA-style RGB, and a pair of FireWire ports for digital recording.
The remote control's keypad, while not backlit, is laid out sensibly, with buttons for the advanced features stowed beneath a sliding door. You switch inputs by hitting the TV/Video button at top and toggling through the choices. The Ratio button lets you select from the six display modes, five of which work with HDTV programs. To keep things simple, the LG can automatically engage the 4:3 setting for standard programs and widescreen 16:9 for HDTV.
SETUP & USE An onscreen signal meter in the LG's setup menu makes it easy to position your antenna for the best possible reception of digital broadcasts. You get six picture presets plus a Custom setting that can be independently adjusted for each video input - nice. Otherwise, there are few options for adjusting picture beyond a trio of color-temperature settings. After I selected the Warm preset and made some basic adjustments, the TV delivered surprisingly accurate color with HDTV programs. But colors looked comparatively pale after I made similar tweaks on the DVD input, so I turned up the color to compensate.
While the set delivered full-resolution pictures with 720p-format HDTV via the HDMI connection, the same programs viewed through its component-video inputs looked noticeably softer. A 5- to 6-foot seating distance was necessary to avoid any trace of the "screen-door" effect - a gridlike pattern created by the spaces between individual pixels that's typical of LCD screens.
PICTURE QUALITY Once adjustments were made, I loaded up a DVD of The Hitchhiker's Guide to the Galaxy. In the scene where Arthur Dent and company launch a space pod from Zaphod Beeblebrox's ship, the pod's candy apple-red surface looked vivid against the dark background of outer space. And in scenes shot inside the ship, the set's natural color rendition revealed the subtle differences between Dent's, Ford Prefect's, and Beeblebrox's skin tones. As with other LCD sets I've tested, the LG's handling of dark images was passable, but it had trouble showing a true deep black. It also struggled with darker shots that had subtle gradations from black to gray - in an exterior view of the Vogon ship, much of the detail on the undercarriage was buried in shadow.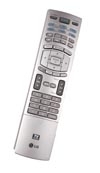 Looking for a 720p-format HDTV program that would best match the LG's native resolution, I tuned in a Philadelphia Eagles vs. Atlanta Falcons game on ABC's Monday Night Football. Although the picture was generally sharp, fine details like the texture of the turf in the Georgia dome looked blurry in shots with motion. This "smear" effect - another common problem in LCD TVs - also showed up in 1080i-format HDTV programs, as in the movie Napoleon Dynamite, where the camera pans across a playing field as Napoleon plays tetherball. In scenes with less demanding motion, 1080i and 720p HDTV programs looked equally sharp.
BOTTOM LINE LG's 32LX1D LCD TV offers average video performance, décor-enhancing design, and a competitive price for a 32-inch set with a built-in HDTV tuner and CableCARD slot. While I can't say I was bowled over by its picture quality, I appreciated its natural out-of-the-box color and generous array of video connections and features.
LATEST VIDEO