Klipsch XF-48 Speaker System
Nowadays, it seems like I can't write a review without acknowledging the impact of flat-screen TVs on speaker design. Today's speakers have a tough assignment—they better be super-model thin and still have what it takes to belt out heavyweight home-theater sound.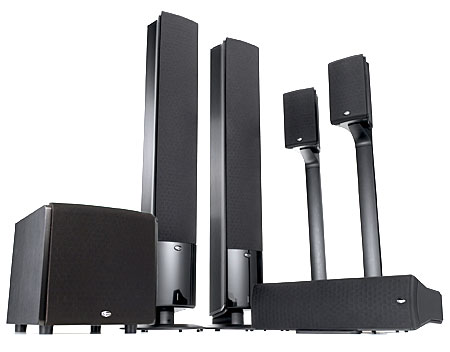 For this review, I wondered if Klipsch could compete in the lifestyle market. Its seriously svelte XF-48 Home Theater System looks slick, but could it rock my world?
Features
The XF-48 system features a pair of XF-48 towers, a XL-23 LCR speaker holding down the center position, a pair of smallish XB-10 bookshelf speakers for the surrounds, and an XW-500d subwoofer. The system hails from Klipsch's Icon X Series.
The speakers' extruded aluminum cabinets, decked out in a brushed-anodized black finish with high-gloss black accents, have a clean, contemporary look. The front baffles are significantly wider than the speakers' rear ends—viewed from above, the Icon cabinets are "Y" shaped. It's an eye-catching design, and the shape serves to quell internal standing waves that might meddle with the speakers' sound.
Unlike some metal-cabinet speakers that have a resonant or even hollow character, the Icon X cabinets feel well-damped thanks to strategically placed internal ribs and rubbery pads that control cabinet energy. Build quality is robust, and design details, like the magnetically attached cloth grilles, are finished to a high standard.
Even with all that's new in these speakers, Klipsch didn't abandon its core technology—horn-loaded drivers. Dating back to the earliest designs in 1946, Klipsch has always featured horns, and the Icon X models do as well. But even a quick once-over reveals there's something very different about these new horns. Every previous Klipsch horn had a square or rectangular flare, while these are round. To put it more precisely, Icon X speakers feature an 80-by-80-degree round XT Tractrix horn.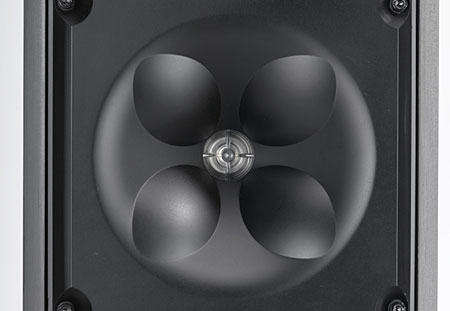 At the apex of the tweeter horn is a 0.75-inch titanium compression driver. The new round shape was required to accommodate the Icon X models' narrow baffles. Compared with conventional direct-radiating dome tweeters, horn-loaded tweeters have lower distortion, higher sensitivity, and intentionally limited dispersion to reduce image-smearing reflections off walls, floors, and ceilings.
The XF-48 tower speaker's 48-inch height makes for an imposing presence, but its 7-inch width should boost its spouse-acceptance factor.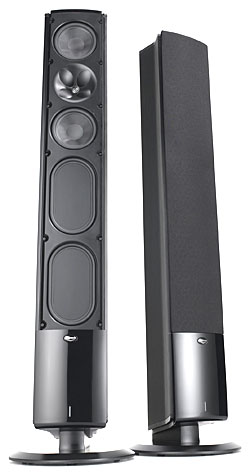 According to Klipsch's engineers, the speaker's slender frame and limited internal volume mandated built-in bi-amplification for the tweeter and the two 5.25-inch fiberglass cone woofers—specifically, a 25-watt Class AB amp for the tweeter and an 85-watt Class D digital amp for the midrange drivers. Not that the amplifiers produce all that much heat in the first place, but since they use the speaker's aluminum cabinet as a heat sink, the amps run nice and cool.
It's also worth noting that the amplifiers directly drive the XF-48's tweeter and midranges without any energy-sapping crossover elements in the pathway—the crossover is electronically handled by the amplifiers. The XF-48's two passive radiators provide additional bass extension and plain old oomph.
Because it's self-powered, the XF-48 must be plugged into an AC outlet; a small blue LED on the lower baffle indicates the speaker is powered up and ready to go. The speaker comes pre-mounted on a circular base outfitted with rubber feet, and spiked feet are included for buyers with carpeted floors.
The XL-23 is an LCR speaker, meaning it can be used as a front left, center, or right speaker—it can even serve as a surround speaker. But when it's sold as part of the XF-48 Home Theater System, it's strictly a center-channel speaker. The XB-10 bookshelf model handles surround duty in this system.
The XW-500d subwoofer breaks with Klipsch tradition on a number of counts. First, it's a looker—previous generations of Klipsch subs were, shall we say, pedestrian. The XW-500d's slick, high-gloss top panel and bright-blue backlit, two-line LCD display allows for easy adjustment of all functions, including three equalization modes—Flat, Depth, and Punch—as well as Music, Movie, and Night presets that can be tweaked to your liking.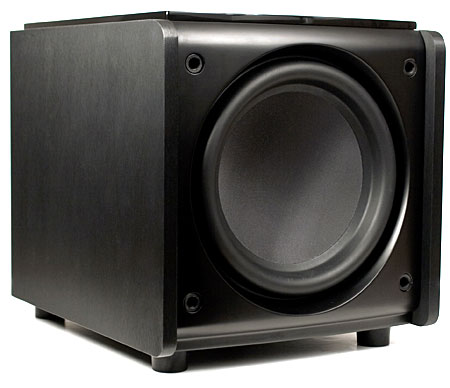 The XW-500d is also Klipsch's first sealed (acoustic-suspension) sub. The majority of home-theater subs are ported because this tends to produce greater perceived punch and bass fullness. But the XW-500d was no slouch in either department. The thing is, sealed subs almost always sound "tighter" with superior pitch definition, and the XL-500d delivered on those counts. The sub features a 10-inch fiberglass driver and a 500-watt digital amplifier.
The front baffle is covered by a cloth grille, the sides and back are finished in black vinyl, and the top is high-gloss black. In fact, the speakers and sub are only available in black.