Kingsman: The Secret Service
In a first act that closely parallels 2009's Star Trek, juvenile delinquent Eggsy (Taron Egerton) is recruited as a Kingsman candidate, like his father before him. While capable, he still has a lot to learn, although one by one he overtakes most of the blue-blooded rivals in his class. But his mentor, Harry (Oscar winner Colin Firth, every inch the action hero) is called away to investigate the dubious beneficence of quirky billionaire Valentine (Samuel L. Jackson), currently bankrolling the biggest tech giveaway in history. Behind this apparent generosity, could he have a sinister motive? Ready or not, Eggsy will have to don his bespoke suit and do his part to save the world.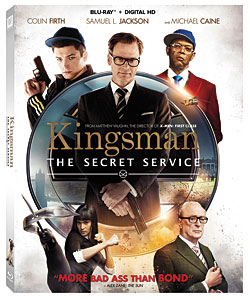 Kingsman has a refreshing silliness to it, with a strong undercurrent of humor and a decidedly hip pop-culture awareness. The action, meanwhile, is gleefully excessive, at times cartoonish (it's based upon a graphic novel by Mark Millar and Dave Gibbons), including violence that is clearly deserving of the R rating. One particular sequence set in a church might drop your jaw and perhaps inspire diverting daydreams in a twisted few during some long, slow Sunday service.
The movie was shot digitally and is given a solid 2.39:1 Blu-ray presentation. You might notice a few brief instances of mild streakiness and minor loss of detail, especially in fast motion or in shots with heavy digital manipulation, but overall the image is extremely pleasing, with deep, delicious colors. In sweeping crowd scenes we can count every last homicidal maniac, and the precise focus pulls reveal the very deliberate layers of drama unfolding within a scene.
The dynamic adventure is set to the booming beat of Henry Jackman and Matthew Margeson's music, and a palpable low-end thump is evident in the DTS-HD Master Audio 7.1 soundtrack when characters are beating one another to death with their bare hands. There's a nifty, bassy surround effect when we hear Harry's disembodied voice through a hidden speaker. Other stylized sonic illusions artfully simulate characters' disoriented mental states. Front-to-back directionality is effortless and convincing, while echoes are discretely mixed into the rears. I found the dialogue difficult to understand at times, but that was a consequence of heavy accents, in no way a reflection upon the recording or mastering.
The six-part behind-the-scenes documentary runs about an hour and a half if you choose the Play All option, and it's chock-full of tidbits about this fascinating production. The disc also offers three still galleries covering the sets, props, and more. Also included is a redeemable code for a Digital Copy, with several platforms to choose from.
Very much a movie of today while undeniably in touch with the cinematic traditions that shaped it, Kingsman: The Secret Service goes beyond Bond to reinvent—and reinvigorate—the spy thriller genre.
Blu-ray
Studio: Fox, 2015
Aspect Ratio: 2.39:1
Audio Format: DTS-HD Master Audio 7.1
Length: 129 mins.
MPAA Rating: R
Director: Matthew Vaughn
Starring: Colin Firth, Samuel L. Jackson, Taron Egerton
As popular as 007's grittier, more credible exploits have been of late, fans raised on the character's more extreme tendencies have wondered what those movies might be like if he had continued his cheeky, over-the-top evolution. And for them, there's Matthew Vaughn's Kingsman: The Secret Service. Here a small but well-funded super-secret organization, independent of government, is populated by consummate gentleman (and lady) spies, quietly risking their lives to save others and maintain peace. Headquartered in a posh Savile Row tailor shop, they have access to impossible high-tech gadgets, bold training, and virtually unlimited resources.