KEF Showcases Flagship Tech in New R Series Speakers
KEF today introduced an updated R Series of speakers that incorporates key technologies from its flagship Reference Series, which is topped by the $22,000/pair Reference 5 Meta tower.
Ranging in price from $6,500/pair for the R11 floorstanding model (shown above) to $1,600/pair for the R8 surround speaker, all seven models in the lineup feature the 12th generation of KEF's signature Uni-Q coincident driver, which works in conjunction with proprietary Metamaterial Absorption Technology (MAT) the company introduced in 2020 to produce "even more transparent and life-like" sound than previous KEF speakers in this price range.
KEF says the newly refined Uni-Q woofer/tweeter delivers "incredibly detailed" sound, which is further enhanced by the application of MAT, a labyrinth-like disc that sits behind the driver. The structure is said to absorb "99% of unwanted sound" from the rear of the driver, resulting in more natural sound. Additional Uni-Q tweaks include a new gap damper, designed to tame tweeter resonance, a flexible decoupling chassis to "prevent unwanted vibrations for better clarity," a hybrid aluminum woofer, and refined crossover design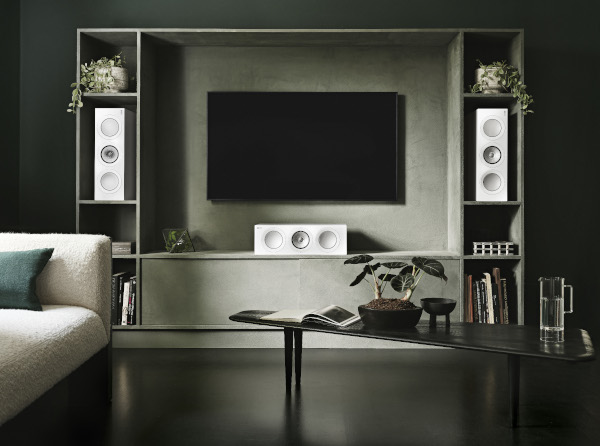 Built to accommodate hi-fi music systems and multichannel home theater setups, the mix-and-match R Series includes the R11 Meta ($6,500/pair), R7 Meta ($5,000/pair), and R5 Meta ($4,000/pair) floorstanding models, all three-way, ported designs rated to play down to 26, 27, and 29Hz, respectively (in-room, –6dB). The new R11 places two 6.5 inch woofers above and below the Uni-Q driver in a cabinet 51 inches tall, whereas the R7 and R5 models deploy two (6.5- or 5.25-inch) woofers in enclosures about 44 and 42-inches tall, respectively.
All Uni-Q drivers combine a 1-inch aluminum-dome tweeter with a 5- or 5.25-inch aluminum cone woofer and all models feature internal bracing and "constrained layer damping" in addition to removable microfiber grilles.
The lineup also includes two center-channel models that double as LCR speakers. The larger R6 Meta ($2,000 each) places a 6.5-inch woofer on either side of the Uni-Q driver, while the R2 Meta ($1,400 each) uses two 5.25-inch woofers. Both are sealed designs rated down to 40 and 43Hz, respectively (in-room, –6dB).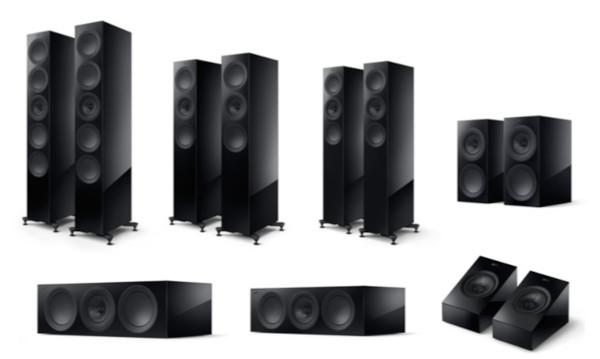 Rounding out the new R Series line is the R3 Meta three-way bookshelf speaker ($2,200/pair) that mates the Uni-Q driver with a 6.5-inch woofer in a ported enclosure 16.6 inches tall and the R8 Meta surround module/speaker ($1,600/pair). The R8 houses a single Uni-Q driver with a larger 5.25-inch woofer in a wedge-shaped cabinet that can be mounted on the wall or set atop one of the R Series tower speakers to convey the height channel in Dolby Atmos and DTS:X soundtracks. The R3 is rated down to 30Hz and the R8 to 97Hz (in-room, –6dB).
A threaded insert enables the R3 to be secured to KEF's optional S3 floor stands, which feature a mass-loadable column and integrated cable management. Standard finish options for all R Series models include black gloss, white gloss, or walnut. The R7 Meta is also offered in a special-edition titanium gloss finish and the R7 Meta in a blue (indigo) gloss finish. For more information, please visit us.kef.com.