KEF Expands THX-Certified Extreme Series with Entry-Level In-Wall Models
KEF today added new entry-level models to its THX-certified line of in-wall speakers that live under the Extreme Home Theatre banner.
The new Ci3160RLM-THX and Ci5160RLM-THX in-walls boast the same configuration as their corresponding flagship models but carry THX Ultra certification for rooms up to 3,000 cubic feet with a viewing distance of 12 feet instead of the THX Dominus designation, which ensures reference volume levels in rooms up to 6,500 cubic feet with a 20-foot viewing distance.
At $2,000 and $3,000 each, the Ci-R Series Ci3160RLM-THX and Ci5160RLM-THX speakers are considerably less expensive than their THX Dominus-certified counterparts, the Ci-Reference Series Ci3160REFM-THX and Ci5160REFM-THX models, which sell for $8,000 and $11,000, respectively. All THX-certified models are subject to a rigorous testing of frequency response, output capability, distortion, and many other parameters to confirm they meet spec.
Both new models feature the 12th generation of KEF's signature Uni-Q coincident driver array in a structure that incorporates the company's proprietary Metamaterial Absorption Technology (MAT), a maze-like structure said to absorb 99% of the unwanted sound from the rear of the tweeter to improve treble performance. In this implementation, a 1-inch aluminum-dome driver sits at the center of a 6.5-inch midrange driver with two (Ci3160RLM-THX) or four (Ci5160RLM-THX) 6.5-inch woofers above and below, all mounted in a 0.2-inch-thick machined-aluminum baffle 42 or 27 inches long, respectively.
By way of comparison, the Dominus models mate a 5.25-inch Uni-Q driver with 6.5-inch woofers, all mounted in a machined-aluminum baffle almost a half-inch thick.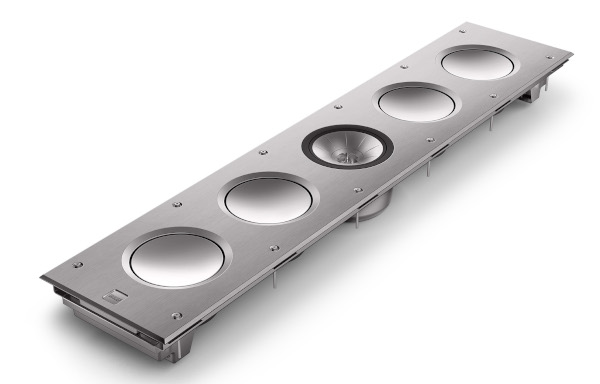 The new Ci3160RLM-THX and Ci5160RLM-THX are rated down to 43 and 40 Hz (±6 dB), respectively, and both have a rated sensitivity of 89 dB (1w/1m) and max SPL of 110 dB; each speaker has a recommended power range of 50-350 watts.
Both speakers ship with a metallic grille that can be painted to blend into any décor and KEF offers a black cloth grille as an extra-cost option. More information is available on KEF's website. Click here for more on the Ci3160RLM-THX and here for more on the Ci5160RLM-THX.
Related:
KEF Breaks Out its First THX-Certified Dominus In-Wall (3/24/23)
KEF Expands In-Wall Lineup with New THX-Certified Speakers (10/5/22)
KEF Music Lounge Theater: A THX Certified Oasis (8/18/2021)