KEF Expands In-Wall Lineup with New THX-Certified Speakers
Though KEF did not physically attend the CEDIA 2022 in Dallas last week, the iconic British brand was there in spirit. Hours before the Expo opened its doors, the company announced the addition of two THX-certified models to its line of architectural speakers — an in-ceiling/wall subwoofer and its first a three-way coaxial design.
The full-range Ci250RRM-THX ($2,200) incorporates the 12th generation of KEF's signature Uni-Q coincident driver array — in this case a 0.75-inch aluminum-dome tweeter fitted in the throat of a 4-inch midrange driver suspended over a 10-inch woofer — and is the first in-wall to deploy the company's Metamaterial Absorption Technology (MAT), originally introduced in freestanding speakers and designed to coax more natural sounding highs from tweeters. The driver assembly is water-resistant and housed in a frame that's 6.6 inches deep and requires an 11.8-inch cutout for installation.
Here's how KEF explained the technology when it was introduced in 2000: "MAT is a highly complex maze-like structure, where each of the intricate channels efficiently absorbs a range of specific frequencies. When combined, the channels act as an acoustic black hole, absorbing 99% of the unwanted sound. Other traditional approaches have only allowed around 60% absorption, so the resulting acoustic quality is incomparable. The difference is audible."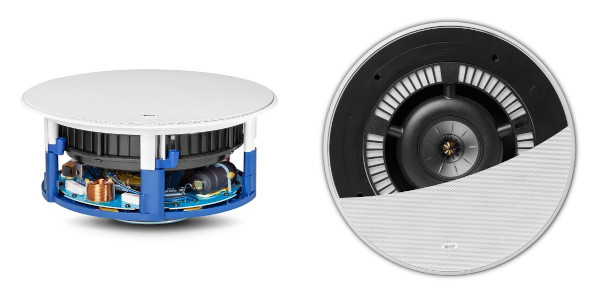 The Ci250RRM-THX also incorporates other technical innovations, including a new patent-pending technology KEF calls Cavity Radiation Control, which uses absorptive foam in combination with the speaker's open-back design to reduce the distortion in the critical midrange region and correct the midrange dip that typically occurs in three-way coaxial speakers. KEF says the result is improved midrange clarity and realism.
To further refine performance, the Uni-Q array is housed in a "low diffraction LF aperture" with an acoustically absorptive outer foam ring designed to improve mid/high performance without compromising bass output by reducing resonance and diffraction.
The Ci250RRM-THX is rated down to 28Hz (±6dB) and THX Certified Ultra for use in large spaces up to 3,000 cubic feet.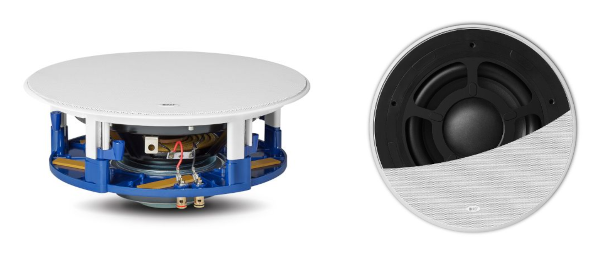 Designed to deliver "accurate and powerful bass while remaining visually discreet," the Ci250RRb-THX subwoofer is rated down to 20Hz (±6dB) and houses a water-resistant 10-inch woofer in a frame that's 5.8 inches deep and requires an 11.8-inch cutout for installation. The driver is an extra-long-throw design with a massive 150-ounce magnet. The sub is THX Certified Select for use in spaces up to 2,000 cubic feet.
In addition to being high-output designs that boast max SPL ratings of 109dB (Ci250RRb-THX) and 111dB (Ci250RRM-THX), both models feature discreet paintable grille covers that all but disappear in a ceiling or wall. For more information, visit us.kef.com.