To Keep or Not to Keep Bose 401 Speakers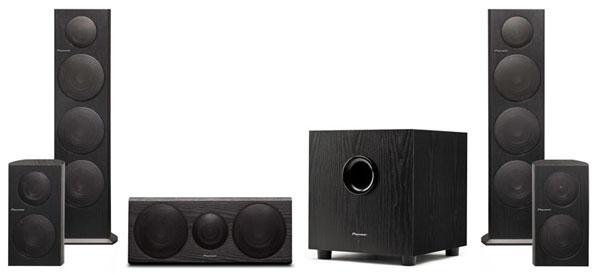 I'm trying to develop a home-theater system. I am definitely a neophyte, not an audiophile, and based on your reviews, I fit into the entry-level price range. I have a pair of Bose 401 speakers in very good shape, and I like them. Also, I thought the money saved by using these could be put into other components. I don't know what surround speakers, center speaker, and subwoofer to buy that are compatible with the 401s. I'm also going to purchase a new A/V receiver and Blu-ray player.
Currently, I'm considering the Pioneer VSX-1021 or Onkyo TX-SR609 AVR and the Samsung BD-D6700 Blu-ray player. After that I have no idea what to do. What subwoofer, center channel and surround sound speakers do I buy to go with the Bose 401s? Perhaps the Bose 161s? Or do I just forget it and buy a complete speaker system? If so, which one?
Brent Gardner
First of all, I must say that I'm not a fan of Bose speakers—their reputation has more to do with marketing hype than performance in my opinion. Plus, Bose doesn't make a dedicated center-channel speaker as far as I can tell from its website. Finally, the 401s must be positioned rather carefully in the room, which might or might not work in your theater layout. If you like the 401s, I'd recommend setting up a separate 2-channel music system with them in a room that can accommodate their direct/reflecting operation.
You don't need to spend a bundle on new home-theater speakers. I strongly recommend the Pioneer SP-PK21BS, a complete 5.1 compact-speaker package that performs way beyond its $400 price. If you can spend a little more, the SP-PS51FS package (shown above) includes two floorstanders like your 401s for the front left and right positions for a list price of $519. Either way, these speakers are a killer value.
Your picks for AVR and Blu-ray player are all excellent. If you use Apple products as A/V sources, I recommend the Pioneer AVR, which provides AirPlay support, and its auto-setup routine includes the subwoofer, which the Onkyo's does not. The Samsung BD-D6700 is a fine Blu-ray player, though I've heard of some reliability issues that didn't come up in our review. A good alternative is the Panasonic DMP-BDT210, which is even less expensive than the Samsung 6700.
After that, all you need is a TV, and you're all set. If you want 3D, I recommend the Panasonic ST30 line, but if 3D is unimportant to you, the S30 is essentially identical without 3D capabilities. Get the largest screen size you can afford—the 50-inch versions of both lines can be found for well under $1000.
If you have an A/V question, please send it to askhometheater@gmail.com.