CEDIA 2023 Preview: Kaleidescape Unveils Super-Fast, High-Capacity Movie Servers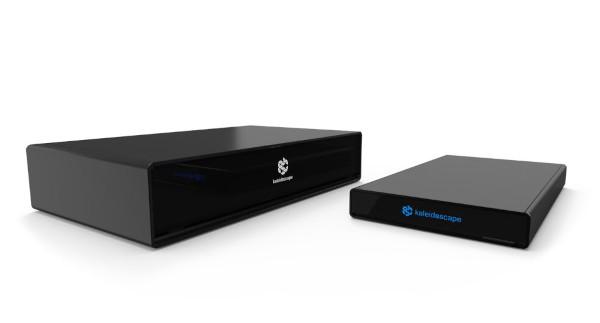 Kaleidescape today introduced a line of high-performance, high-capacity movie servers built to support super-fast downloads.
Hailed as the first dedicated movie servers to feature "lightning fast" 2.5 Gigabit Ethernet, the new Terra Prime servers are available with solid-state (SSD) or hard-drive (HDD) storage and feature a new board design said to deliver faster networking and processing power than the company's current movie servers in addition to being able to "serve more Kaleidescape high-bitrate 4K movies concurrently to multiple screens."
The new models will be formally unveiled next week in Denver at CEDIA Expo 2023 (watch for our show coverage).
Kaleidescape describes the Terra Prime SSD models as the quietest and fastest dedicated movie servers available with the ability to download a high-bitrate 4K movie in as little as 4 minutes and feed up to 25 simultaneous playback zones. Two models are offered: one with 31 terabytes (TB) of capacity for storing up to 500 high-bitrate 4K movies and one with 8 TB of capacity that holds around 125 movies. Respective pricing is $24,995 and $9,995.
Terra Prime HDD server, available in compact and full-size versions, are rated to download a high-bitrate 4K movie in as little as 8 minutes and serve five or eight simultaneous playback zones, respectively. Four models are offered: 88 TB ($24,995) for storing up to 1,450 high-bitrate 4K movies, 48 TB ($15,995) for around 800 flicks, 22TB ($9,995) for roughly 350 movies, and 8 TB ($4,995) for storing about 130 4K titles.
Movies stored on a Terra Prime server require a Kaleidescape Strato player ($3,995) for playback. Kaleidescape designs and builds all of its servers in the U.S. to ensure reliable performance. For more information, visit kaleidescape.com
Related:
A Marriage Made in Movie Heaven
Kaleidescape Simplifies Disc-to-Digital Conversion