JVC's Private Show
Late on Day Two, JVC demanded that the entire press corps troop across town from the Convention Center to the Mandalay Bay hotel, where it was exhibiting privately - not officially a part of CES. However, the trip paid off in an impressive array of new and innovative products. It should be no surprise that JVC continues promoting VHS VCRs, but in a turnabout, it's now offering four Super-VHS (S-VHS) decks and only one conventional model. The new S-VHS models range in price from $150 to $230. While a few companies are touting Mini DV / VHS combo decks, JVC has had the HR-DVS3U ($1,399), a Mini DV / Super VHS combo, available for some time.
Only from JVC, the HR-DVS3 combines Mini DV and Super VHS recorders.
The company's four new single-play DVD models share the same stylish ultra-thin chassis, about as thick as a pair of DVD boxes, and play virtually every type of DVD and CD. The top-of-the-line XV-NA70, at $230, even plays DVD-RAM discs. It becomes available in July.
Slim is in with the JVC XV-N30 DVD player.
JVC prides itself on video-recording breakthroughs. Keeping that tradition alive, it announced ongoing research in high-definition Mini DV recording technology and plans to market an MPEG-2 camcorder utilizing this. The cam was said to have reached 720p resolution so far, with plans to attain 1080i. No products were shown or prices or delivery dates given.
JVC's take on a Blu-ray high-definition DVD recorder.
In audio, JVC unleashed the fearsome RX-DP20 flagship digital surround receiver. This massive THX Ultra2-certified receiver is the first in the industry to incorporate the new Texas Instruments Aureus audio digital signal processing chip, co-designed with JVC, which employs 32/64-bit floating-point DSP. JVC claims this is the first receiver to perform all audio processing on a single chip. You can take this 7.1-channel A/V receiver home now for $2,500.
The business end of JVC's new top-of-the-line home theater receiver, the RX-DP20.
At the opposite end of the spectrum, JVC introduced two new executive desktop systems, the FS-X1 in light silver and the FS-X3 in dark silver. Both deliver 30 watts per channel to their stereo speakers. The uniquely styled electronic unit resembles a tastefully chiseled aluminum block with a substantial machined solid-aluminum volume control on top, like a turret. A top-loading CD player is behind it. The FS-X1 ($330) comes with fairly traditional speakers that have subtly curved wood sides and light colored grilles. The FS-X3 ($380) comes with even more strikingly contemporary speakers with visible drivers and rounded enclosures made from laminated wood. Both systems will be available in May.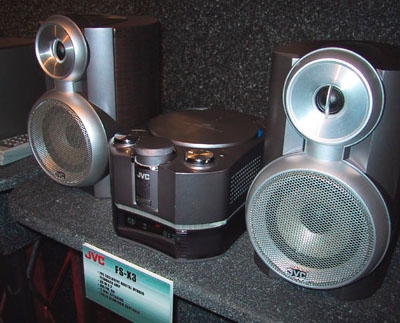 From the company that set the trend in executive desktop systems, the FS-X3.
Finally, JVC's QP-ES5 adds a new dimension to the home-theater-in-a-box concept. Not only is it attractive and easy to assemble, but an Automatic Smart Setup procedure uses an onboard microprocessor to balance speaker levels and set time delays from the sound of a single hand clap at the main listening position. The receiver delivers 100 watts per channel using digital amps. The $1,700 system will be available in June. (Photos by Rich Warren.)