JVC GR-HD1 HDV Camcorder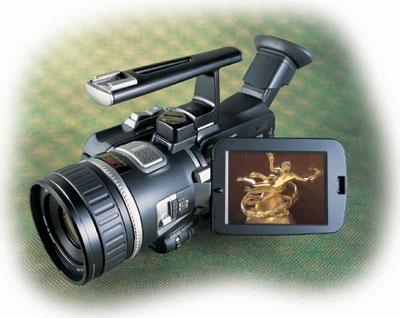 So there I was, in the middle of a crowded and hectic Times Square, right when all the Broadway shows let out, shooting all the bright lights and action with this ultra-brand-new $3,500 camcorder. And from out of nowhere, this guy comes right up to me. "Hey, is that the new high-definition camcorder?" "Yup." "Who makes it?" "JVC." "How is it?" "Fine." "I'm a film director and really interested in that camera." "Yeah, sure," I thought. Everybody's a director in New York, just like everybody in Los Angeles has written a film script. But at least he seemed up to date on the technology, since the cam wasn't even in stores yet.
Possibly sensing my unease - he was in arms' reach of the now tightly clutched camera - he wished me good luck. I told him to look for the review.
Photo by Tony Cordoza That brief encounter emphasizes the extraordinary interest JVC's GR-HD1 is likely to rouse in several quarters, not the least of which would be filmmakers and videographers - amateur, semipro, and professional, real or delusional. It is the first of what is likely to be an important breed of camcorder capable of shooting both standard DV and high-definition digital video.
"High-definition" here means something very specific: 720-line images at the same resolution (1,280 x 720 pixels) as 720p (progressive-scan) format HDTV but at 30 frames per second, or 30 Hz. (Broadcast 720p has a 60-Hz rate.) We'll return later to the implications of the frame rate. For now, suffice it to say that this camera can record images of substantially higher clarity than ordinary DV recordings - a quick test gave its horizontal resolution as 425 lines in DV mode but 550 lines in HD mode.
How is this possible, especially since it uses standard DV tape and provides the same recording time as a normal DV cam? The secret is in the signal that's recorded on the tape. Unlike standard digital video recorders, which compress their data only minimally, the GR-HD1 uses full-bore MPEG-2 data compression, the same system used for DVDs.
Real-time MPEG-2 compression - whether it occurs in a TiVo-like video hard-disk recorder, a DVD recorder, or a high-definition camcorder like this one - is probably the most difficult processing any piece of consumer-electronics equipment is ever asked to perform. Doing it well is tough, far harder than the non-real-time encoding used in the mastering of many DVDs.
I shot around 4 hours of video material with the GR-HD1, including scenes I deliberately chose for their difficulty, like the splashing fountains at Rockefeller Center and some animated neon signs in Times Square with their multitudes of tiny flashing lights. Afterward, I was pleased to find hardly a trace of MPEG-encoding artifacts. "Mosquito" noise and other edge-related artifacts - which can be visible even on commercial DVDs - were nowhere to be found. This contributed to the looking-through-a-window clarity that the GR-HD1 will undoubtedly become noted for among videographers.
The use of MPEG encoding makes the JVC's HD recordings incompatible with previous digital camcorders, but the new format is apparently supported by the original DV standard, which means that we can expect compatible equipment from other manufacturers. But for now, the high-def data feed coming out of the camcorder's i.Link (FireWire) connector will be unrecognizable to whatever video-capture software you may already have. (When you play standard-DV recordings on the JVC cam, that output does send standard i.Link-compatible signals.)
So in order to do real moviemaking with the GR-HD1, you're going to have to rely on the tools JVC supplies with it, which includes four software packages for PCs (no Mac versions). HD Capture Utility transfers high-def video from the camcorder to your computer's hard disk. Audio Converter converts among audio file types (MP3, WAV, etc.) for audio-signal compatibility with MPEG Edit Studio Pro LE, a nonlinear, frame-accurate video-editing system that can convert HD files into a format recognized by the last application, Image-Mixer DVD, a simple DVD burner.
HD Capture Utility takes the incoming MPEG-2 data and saves it in files with an .M2T extension, signifying that they are in MPEG-2 "transport-stream" format (the usual computer MPEG-video file is of the "program stream" variety). If the incoming video contains multiple shots - meaning you started and stopped the cam while shooting - they'll be automatically split into separate M2T files. This can be a hassle if you do any "in-camera" editing, since you'll have to reassemble the split-apart sequence in the video editor.
Warning: the saved files are large - 1 minute of HD video produced a file of around 150 megabytes - so I had to use an outboard Maxtor hard drive for my recordings since my computer's main drive was filled with A/V test signals. HD Capture Utility can also be used to "export" M2T files back to the camcorder or even to a D-VHS video recorder.
M2T files from HD Capture were not playable with the most recent versions I had of Windows Media Player, RealOne, or QuickTime. Nor were they recognized by Windows Moviemaker or my old favorite video editing package (Adobe Premier 6.02). They did open and play with my new favorite video editor (Sonic Foundry's Vegas 4.0), but that costs almost $500. Fortunately, MPEG Edit Studio Pro LE contains as many editing features as the budding filmmaker is likely to need, including the ability to strip in a new soundtrack, to desynchronize the sound and video, to introduce transitions between shots (dissolves, wipes, fades, and so on), and to either save it as another M2T file or convert it into an MPEG program-stream file for use by other programs, such as the supplied DVD burner.
MPEG Edit Studio Pro LE, like all video editors, places stringent demands on the computer. The specified minimum CPU for all of the software packages is a 2-GHz Pentium 4. My Sony Vaio's 1.7-GHz Pentium 4 could barely keep up.
Your computer's CPU also plays a role in the vital conversion from M2T to program-stream format - a process that is unfortunately restricted to creating DVD-compatible images (720 x 480 pixels). A simple 5-minute HD video took just over 43 minutes to process. The resulting MPEG file, in addition to being DVD-burnable, was playable in any number of common software players, including RealOne, Windows Media Player, and QuickTime, although the last did not perform anamorphic stretching.
Image-Mixer DVD, the DVD-burning software, is pretty good for "freeware." It allows such niceties as using still images as menu backgrounds and video for menu buttons. The finished DVD burned by this program played correctly as an "enhanced for widescreen" anamorphic production on all the software DVD players as well as several standalone players I tried. The basic image quality - even after the layers of signal conversion - was excellent, allowing for the inevitable loss of resolution in going from the HD to the DVD format. Unfortunately, the DVD also accurately preserved the faults of the GR-HD1, some of which derive from its basic shooting qualities in its fully automatic exposure/focus mode rather than from the high-def processing.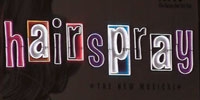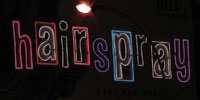 In its auto-exposure mode, the JVC cam was overloaded by bright neon lights at night (top), but a manually controlled exposure (bottom) gave truer colors.
The cam's autofocus was slow to operate under low-light conditions, which apparently include Times Square at night despite all the extremely bright lights. In fact, those lights tended to overload the image sensor, which washed the color out of neon-tube lighting (see still photos on this page). This is a common problem with consumer cams, as is the vertical streaking seen on very bright image highlights. Both can be reduced or eliminated by manually controlling the exposure settings.
Manually controlling exposure, in fact, is the only way to ameliorate the most obvious trait of the GR-HD1's high-definition video: its somewhat jerky, stuttering, or flickering reproduction of objects moving at moderate speeds across the image, or of the entire image if you pan to the side at a moderate rate. This effect, which stems from the 30-Hz HD frame rate, is not unique to the GR-HD1 - it can occur with movie playback in theaters, since the frame rate of film is an even slower 24 Hz. But this filmlike flicker is exacerbated in the GR-HD1 by the cam's tendency to control exposure by shortening its shutter speed under brightly lit conditions, which produces an even more stroboscopic effect. You have to manually lengthen the shutter speed to 1/60 second to smooth the motion.
If you view an HD recording made by the GR-HD1 on a large screen, the 30-Hz jerkiness will combine with even the slightest shakiness left by the cam's antishake system to produce an almost vibrating image. That's why pros use Steadicams and tripods when shooting for the big screen. If your production is intended for a DVD, shooting in the cam's SD mode may eliminate the 30-Hz flicker, depending on the DVD player and monitor you view it on.
Professionals - or would-be professionals like my Times Square buddy - will get the most out of the GR-HD1. They are the ones who'll take the time to adjust the lighting and exposure for each shot and who'll put the camcorder on a tripod with a smoothly operating panning "head" so it will produce its steadiest and most gorgeous imagery. This model is less suited to the casual videomaker - I can't see getting much watchable high-def footage under typical vacation shooting conditions. Besides, the GR-HD1 costs more than a standard-definition DV camcorder plus airfare to Australia. But a couple of filmmaker friends I showed it to - and they really are filmmakers - didn't want to hand it back. Even with its faults, the GR-HD1 is already a hit with them.
JVC, www.jvc.com, 800-526-5308.
---
KEY FEATURES
SHOOTING MODES
High Definition (HD) 720p (1,280 x 720 pixels), 30 frames per second, 16:9
Standard Definition (SD) 480p (720 x 480 pixels), 60 frames per second, 16:9
DV 480i (720 x 480 pixels), 60 fields per second, 4:3 (with Letterboxed DV widescreen mode available)
Still image JPEG (1,280 x 960 or 640 x 480 pixels), 4:3, recorded on SD card
Webcam 320 x 240 pixels, operates through USB port
LENS 10x optical zoom, f 1.8, 52-mm filter diameter, optical image stabilization, manual focusing and zoom rings
IMAGE SENSOR 1/3-inch CCD, 1.18 megapixels
VIEWSCREEN fold-out LCD, 3 1/2-inch (diagonal), 16:9, reversible for self-shooting
VIEWFINDER 0.44-inch LCD, diopter adjustment
MICROPHONE stereo, located above lens
BUNDLED SOFTWARE (all PC only) HD Capture Utility, MPEG Edit Studio Pro LE, Image-Mixer DVD, Audio Converter
OUTPUTS component video (720p, with switchable conversion to 480p/i and 1080i), S-video (16:9 or 4:3), composite video, bidirectional i.Link (FireWire) for HD or standard DV, stereo audio, headphone
INPUTS S-video, composite video, stereo line-level, external stereo microphone
DIMENSIONS (WxHxD) 4 1/2 x 4 x 10 3/4 inches with the viewscreen closed and the viewfinder retracted
WEIGHT 3 3/8 pounds with DV cassette, battery, and SD memory card
SUPPLIED ACCESSORIES AC adapter/charger, DC power cord, battery pack, 8-MB SD memory card, infrared remote control, USB cable, lens hood and cap, shoulder strap, carrying handle, A/V editing cable, i.Link cable, component-video cable, stereo audio cable, microphone and headphone extension cables, head-cleaning cassette, snap-on RFI cable filters
LATEST VIDEO