JVC Announces $60 Noise-Canceling Wireless Earbuds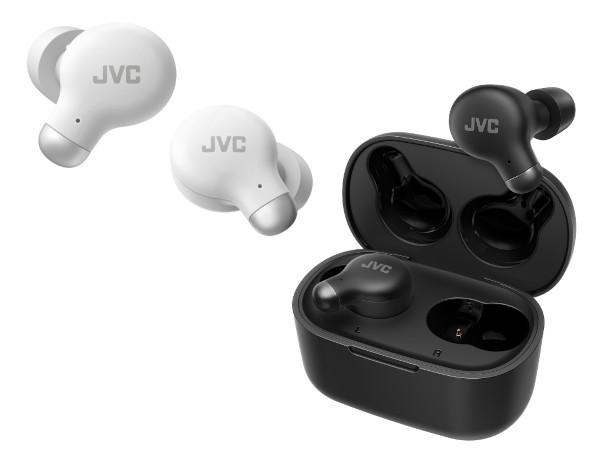 JVC today announced a set of wireless earbuds featuring active noise cancellation (ANC) that will sell for $60.
The latest addition to the company's popular Marshmallow line of true wireless earbuds, the new HA-A25T 'buds will be one of the least-expensive ANC models on the market when they hit stores in late April. They will be joined by the non-ANC HA -A18T ($50), slated for delivery in early April.
The HA-A25T has a rated battery life of up to 22 hours with noise canceling on (6 hours plus 16 hours with the charging case), or 28 hours with noise canceling off (7.5 hours plus 20.5 hours with the charging case). The HA-A18T is rated for 28 hours of play time with a fully charged battery (7.5 hours plus 20.5 hours with charging from the case).
The earpieces on both models are made of soft form-fitting foam to provide a "snug, cushy seal" and the earbuds are water-resistant with an IPX4 rating, meaning they can be splashed without consequence. Signal transmission for both models is via Bluetooth 5.3. Other common features include a low-latency mode for watching videos and playing games plus three sound modes, one of which boosts bass, touch sensor operation, and auto on/off with auto connect.
In addition to active noise cancellation, the HA-A25T earbuds add JVC's Touch & Talk function in which a single tap lowers the volume of music so surrounding sounds and conversation can be more easily heard.
The HA-A25T will be offered in black or white, while the HA-A18T gets an expanded color palette that includes the choice of black, blue, pink, or green.
JVC also announced a new addition to its value-oriented Gumy line of earbuds, the HA-A7T2 ($30), which also hits stores this month but with five color options: blueberry, peach, apple green, coconut white, and olive black. The A7T2's are also water-resistant with auto on/off and auto connect and come with extra small, small, medium, and large earpieces.
For more information, visit jvc.com.