JBL Synthesis Project Array Speaker System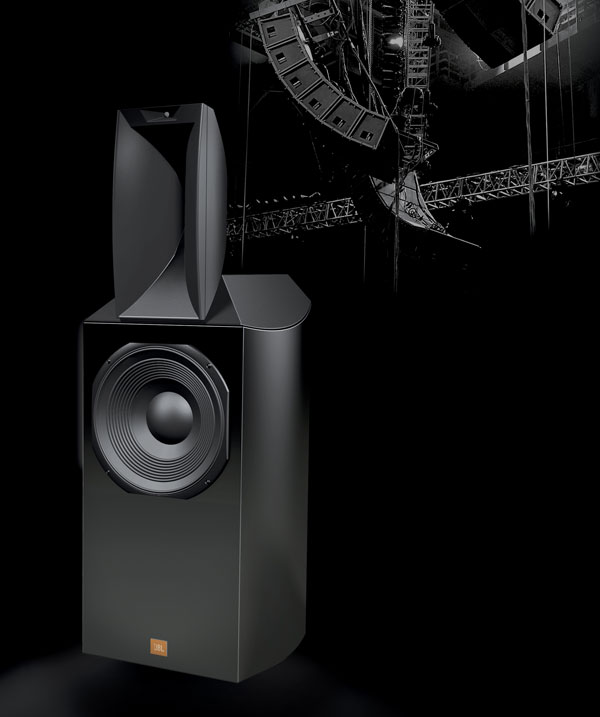 In the pro-audio world—especially live performance and commercial cinema—no speaker company is better known than JBL. So it makes perfect sense that the California-based company would apply its considerable expertise to high-end consumer speakers, as it has in the JBL Synthesis line, which includes several models designated Project Array that seem ideally suited for upscale home theaters.
The front left and right channels are served by the floorstanding 1400 Array BG depicted above. The most obvious feature of this unusual-looking speaker is its vertically oriented, constant-directivity midrange horn, which is made of JBL's proprietary Sonoglas high-density resin. At its throat is a 3-inch aluminum-dome compression driver treated with the company's Aquaplas damping material.
Sitting on top of the midrange horn is a much smaller, horizontally oriented Sonoglas horn for the 1-inch Aquaplas-treated titanium compression driver. Bringing up the bottom is a 14-inch Aquaplas-treated pulp-cone woofer in a ported, trapezoidal enclosure. All together, the three drivers are spec'd to deliver a frequency range from 32Hz to 40kHz (-3dB) with a sensitivity of 89dB/W/m.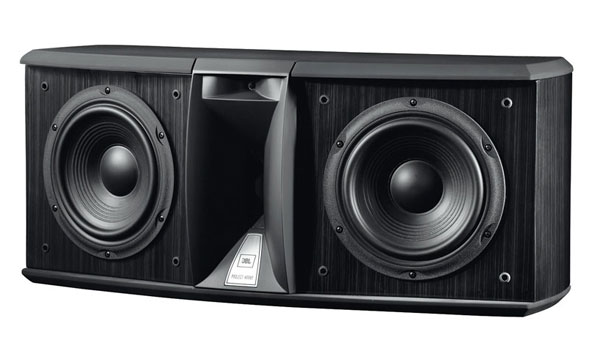 Designed to deliver the same timbral characteristics as the 1400 towers, the 880 Array BG center speaker sports the same tweeter and midrange compression drivers in somewhat smaller but similarly oriented Sonoglas horns. Flanking them are two 8-inch polymer-treated pulp-cone drivers, again in a trapezoidal enclosure, though in this case, the enclosure is sealed. The frequency range is spec'd from 70Hz to 40kHz (-3dB) with 90dB sensitivity.
The surround duties are handled by the THX-certified S4A1. Interestingly, the high/mid module—which includes two 1-inch titanium-dome tweeters in EOS waveguides and two 4-inch cone midrange drivers in an angled, opposing coonfiguration—can be oriented for horizontal or vertical mounting and switched for dipole, bipole, or direct-radiating operation. One 8-inch inverted-dome woofer handles the low frequencies, and a third 1-inch tweeter rounds out the driver compliment, resulting in an overall frequency response from 80Hz to 20kHz (-3dB). This flexible surround speaker is designed to fit between the studs in standard wall construction and fit flush to the wall surface.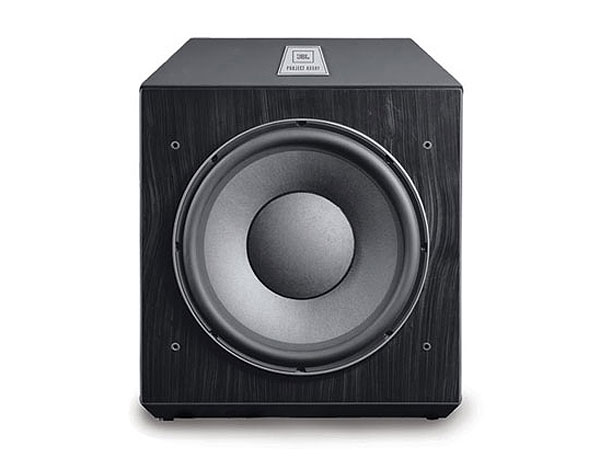 Finally, we arrive at the 1500 Array BG subwoofer with a single 15-inch pulp-cone driver in a ported, trapezoidal cabinet. Its 1000-watt internal power amp lets it bellow from 25 to 400Hz with a variable rolloff.
For all their high-end pedigree, the Project Array speakers are not absurdly expensive. The 1400 lists for $11,500/pair, the 880 center goes for $3750, the S4A1 surround is $3400/pair, and the 1500 sub lists for $4800, bringing a complete 5.1 system home for $23,450. Larry Greenhill recently reviewed the 1400 for Stereophile, concluding, "JBL's Synthesis 1400 Array BG impressed me with its three-dimensional imaging, impressive transparency, ambience retrieval, capacity to 'disappear,' and fine timbral detail....I was also impressed with the JBL's naturalness and lack of distortion...I even grew to like the 1400 Array's unusual appearance...Even with a retail price of $11,500/pair, the 1400 Arrays' width of soundstage, wide dynamic range, and accuracy in reproducing realistic male voices—all as good as I've heard in my listening room from other more expensive floorstanders—makes them an audiophile bargain."