JBL Cinema Vision Home Theater System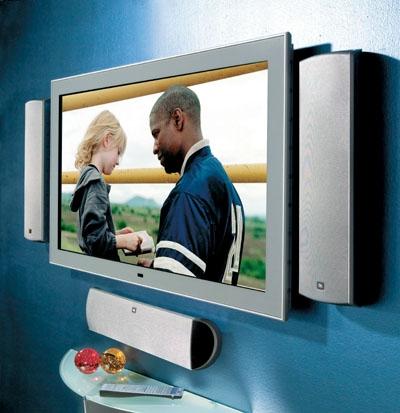 "Home theater in a box" - to me, that phrase conjures up cheap, all-in-one packages with a combo DVD player/receiver, tiny speakers, and an underpowered amp crammed into a "bass module." But it can also be stretched to mean a high-quality system whose components are designed to work together in a turn-key fashion, which saves you from racking your brains about which receiver goes best with what speakers. JBL's $15,000 Cinema Vision system is obviously the latter type: a high-end, and correspondingly high-priced, home theater in a box. One reason you'll pay big bucks for this box is that it's a big box - it includes a 50-inch plasma HDTV. Try stuffing one of those into a shopping cart in Wal-Mart's electronics aisle!
What We Think
A pricey all-in-one package that offers seamless operation and slamming audio and video performance but takes some getting used to.
Another reason for the JBL system's high ticket price is that it comes with four substantial CVSAT50 left/right satellites and the matching CVCEN50 center speaker, the powerful CVSUB50 subwoofer, the CVR700 7.1-channel receiver with a built-in DVD-Audio-capable five-disc DVD-changer, and two sophisticated universal remote controls. Buying them all together provides a level of synergy that's rare in the increasingly fragmented and complex world of home theater. Sure, you could save yourself some cash by buying a similar list of components à la carte, and the rig you put together might perform just as well or even better. But I'll bet your new pile of gear won't work together nearly as smoothly as the Cinema Vision can without adding an expensive third-party control system. That, along with the simplicity of buying everything in one shot, is where the JBL package's value lies.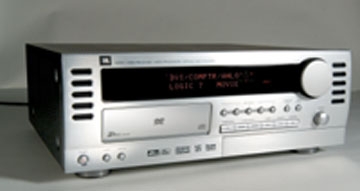 SETUP & USE The styling adheres to the streamlined, metal-toned aesthetic that's currently the norm for home theater design. I thought the look was standard-issue, but my wife, who rarely comments on the appearance of any gear passing through our home, went out of her way to say how good the system looked.
The slim, silvery satellites' molded plastic cabinets are supplied with hardware for wall mounting, and the table stands shown below are also available ($199 a pair). JBL's subwoofer sports the same silvery finish and at only a foot wide has a remarkably slim profile - its 12-inch driver is side-mounted. The plasma HDTV - with no buttons, logos, or anything else on its glass-covered front except a thin, neutral-gray border - is basically a big monitor. The minimalist look is echoed by the receiver, with the purity of its aluminum face interrupted by only a smattering of buttons to change discs, control playback, switch inputs, and select processing modes.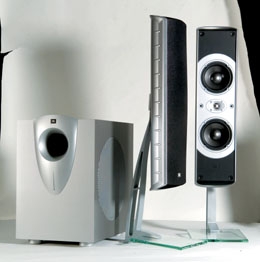 A crew of no fewer than four JBL reps helped me install the system. If that sounds like overkill, consider that most Cinema Vision buyers are likely to use a custom installer rather than attempt to configure everything themselves. Regardless, I was glad to have the extra hands to hoist the 50-inch CVDP50 plasma onto my TV stand. The set's sturdy aluminum and tempered-glass base (not shown) has a support cradle to hold the center speaker. We used four Sanus Systems floor stands (not shown) to support the L/R satellites, taking advantage of JBL's supplied universal mounting hardware to affix the speakers to the stands. The subwoofer, meanwhile, went into the front right corner of the room.
I was even more glad to have the JBL guys on hand when it came time for the next step - using the master remote control to set up the receiver and configure it to operate my other components. It quickly became clear that setting up this system is no job for A/V lightweights or manual-phobes. Likewise, simply learning to operate the Cinema Vision took some time. Although I eventually got accustomed to navigating the system, just looking at the two universal remotes with their myriad buttons gave me a migraine headache at first. The funny part is that the second, "simplified" remote for everyday use is as complicated and congested as the first. These intimidating remotes were a big surprise given the kind of less-technical customer the system is apparently aimed at. At least both have logical button layouts and fully backlit keypads so you can locate specific controls in a dark room.
LATEST VIDEO