Jamo S 809 Speaker System Review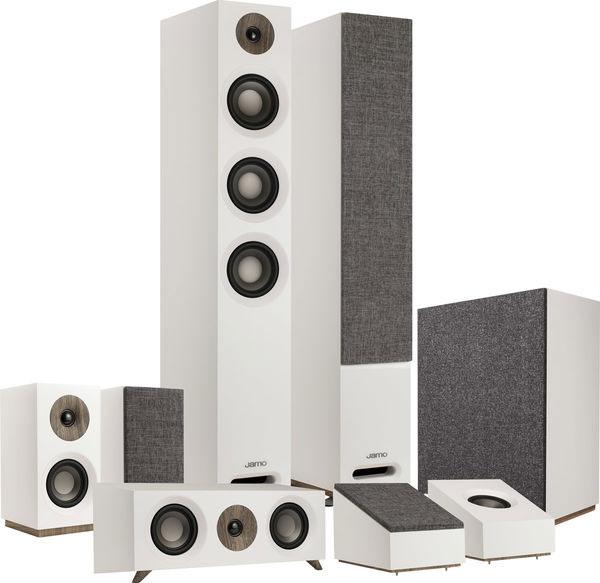 PRICE
$1,497 as reviewed
AT A GLANCE
Plus
Top-grade Atmos imaging and ambience reproduction
Connector-less elevation speaker hookup
Unusually good center-speaker tonal match
Minus
Minor upper-mid constriction
Minimal contribution from subwoofer
THE VERDICT
This Jamo Atmos-ready system provides impressive immersion and solid value, though bass-heads will want to investigate the company's more capable subwoofer offerings.
Jamo, the Danish speaker firm whose name rhymes with—well, not "ham-oh," and not "Hey Moe!," and certainly not orange—but with, more or less, "ma-mo," has been quietly busy upon our shores for several decades now. That quiet became a bit noisier after the firm's acquisition by Klipsch in 2005 (both now part of the VOXX corporate group founded by car-fi stalwart Audiovox).
Jamo's latest oeuvre is the Studio 8 series, comprising a lineup of highly affordable slim-tower, bookshelf, and center-channel speakers featuring a typically simple, not to say stark, Scandinavian design language. How affordable? Our test suite begins with the S 809 HCS system pack ($999), which combines a pair of S 809 towers, a pair of S 801 shoebox-sized bookshelfers for surround duties, and an S 81 horizontal center unit—all improbably Rubik'd together in one gigantic master carton that at first glance might contain instead a knockdown dining set from Ikea. To grow this setup into a minimum-Atmos and subwoofer-equipped 5.1.2-channel layout, Jamo supplemented a pair of S 8 Atmos elevation modules ($199/pair) and the S 810 powered sub ($299). The Danes sent along everything in standard walnut woodgrain (i.e., vinyl) finish, which looked very nice with their understated, tweed-flecked cloth grilles. Both matte black and white cabinets are available at identical cost.
First Impressions
The S 809 towers are slim obelisks just 6.5 inches wide that appear to follow contemporary audio engineering best practices for value/performance: a "two-and-a-half-way" layout employing multiple small, identical woofers (three 5-inchers in this case), one of which extends upward to blend with the tweeter, while all operate in unison and unimpeded on the low-frequency end. (Such a design has several virtues, chief of which is a directivity pattern with minimized interference from the additional drivers and therefore more similar to a conventional two-way, while still maximizing surface area and additional motors for the more rigorous demands of bass output.) The 1-inch soft-dome tweeter is set into a smoothly radiused waveguide, essentially a very shallow horn that controls the directivity of the high-frequency driver for a smoother match with the woofer directly below it.
The S 81 center is a conventional horizontal two-way using a 1-inch soft-dome tweeter matched with dual 4-inch woofers. The S 801, assigned surround-channel duties, also employs a similar tweeter and single 4-inch woofer. Jamo's S 8 ATM Atmos "topper" employs a full-range 4-inch driver, without benefit of a tweeter, for ceiling-bounce duty from a cabinet sized to perfectly match the profile of the towers, with the forward-slashed top surface revealing its up-and-out aim. In a clever twist, the tower's grille slides up to match the height of the S 8's front edge, making for a seamless look.
The Atmos elevation module's most interesting feature is its connection and mounting scheme: four small posts that mate with sockets on the top of the S 809 tower (they'll also mate with other tower models further down the Studio 8 line), which simultaneously locate the Atmos modules and connect them to a second set of input terminals low on the tower's rear panel. (Both of these are unmarked, but following the simplest of logic, the upper pair feeds the elevation speaker, and the lower the tower itself.) This simple expedient eliminates the need to dangle the height speaker's wire from on high, possibly spoiling the Jamos' elegant lines. (Of course, this also means that when used without the Atmos modules, the S 809 tower shows the four small holes on its top panel. It further means that the S 8 ATM cannot be used with other systems, which turns out to be a shame as they are solid, value-priced 'elevators.')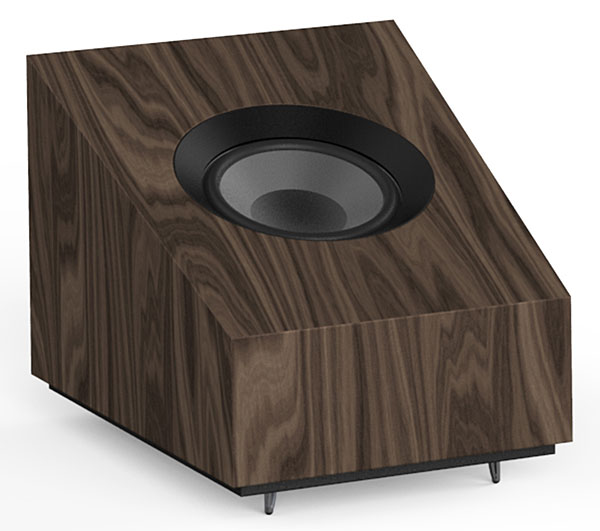 Jamo paired this system with its S 810 SUB subwoofer, a functionally conventional 10-inch woofer in a somewhat unconventionally shaped cabinet: at roughly 16 x 20 x 9 inches (WxHxD), it's slim enough to slide under a couch (don't!), or to stand unobtrusively on-edge against a wall. The sub enclosure is vented via a full-width port on its bottom edge.
Setup
I placed the S 810 SUB in my long-established subwoofer position a few feet from the corner, the towers spaced about 8 feet apart and flanking my 55-inch Vizio TV, and the S 8 surrounds on high shelves just behind the listening position. The S 81 center went on a low stand bringing its top surface just below the bottom edge of the screen. All three Jamo models proffer standard plastic multiway binding post pairs (the S 809 towers have two such pairs as already mentioned). The towers are vented via oblong ports at their bottom fronts and the center and surrounds on their rear panels, while the elevation modules are sealed.