Jamo Concert C 80 Series Home Theater Speaker System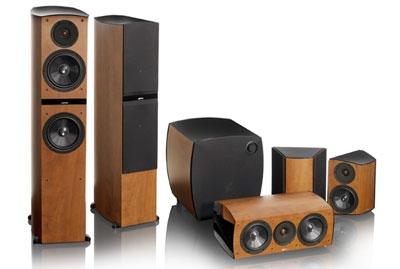 Denmark may be best known for savory hams, sexy design, and bipolar royal heirs, but it's also a land of loudspeakers. Jamo (pronounced yah-moe) is doubtless heartily sick of being called "the other Danish audio company" (design-trender Bang & Olufsen being the other other), but hey - it is what it is.
Jamo's probably equally weary of having its not inconsiderable speaker engineering and manufacturing chops upstaged by its own stunning design and finish - which everybody expects of anything that says "Denmark" on the box anyway - but that is what that is, too. The Glyngøre-based firm's new Concert C 80 Series incorporates advanced driver tech such as tweeter waveguides, distortion-reducing double-coiled midranges, and an aluminum-cone sub, and it's included a true dipole surround speaker - but many will notice only its elegantly curved surfaces, unusual "dark apple" woodgrain vinyl (black ash is also available), and glossy lacquered tops. I noted that the Concert cartons are quietly labeled "Designed and Engineered by Jamo, Denmark/Produced in PRC" - that's China, mate - but they're manufactured with obvious care and quality (although the woodgrain vinyl is fairly synthetic-looking). And, in any event, many major speaker vendors now build in China.
SETUP
Jamo sent us a pair of the series' next-to-top model, the C 807 towers, along with a C 80 CEN center channel and a pair of C 80 SUR surrounds, plus the C 80 SUB subwoofer, all in the aforementioned dark apple. I think they'd be the shiz in gloss black lacquer all around, which isn't an option, but then my interior-design sensibility is widely compared, unfavorably, to my ballroom dancing.
I laid out the Danes in my usual locations: sub behind and left of left-front; center just below my 50-inch Samsung's bottom edge; surrounds on high, side-wall shelves. The C 80 CEN includes a novel hard-rubber base-pad, curved to match the speaker's bottom panel, that holds it securely on a stand or shelf while allowing stable but precise vertical aiming - idiotically simple, yet very slick. And all three models provide unusually heavy, multiway terminal posts. The C 807 tower's acoustical center proved to be quite low, so despite my fairly low seating, I still found that raking them back a good few degrees opened up the mids and treble noticeably.