All Aboard: James Loudspeaker Steampunk Speaker
James Loudspeaker sells just about any kind of speaker you could want—or imagine. You can choose among its dozens of high-performance models and buy "off the shelf" or have a particular model customized with a special finish or feature. Or, you can get creative and dream up your own speaker design. The California-based company prides itself on its ability to meet the unique needs of its customers, whether that means solving an installation problem or creating something special…and personal. James built more than 300 custom products in 2017 alone, but the Steampunk Speaker is perhaps its most interesting—and unusual—project.
When Denver-based tech integrator CDI Services called looking to commission a set of speakers with a "steampunk design," CEO Mark Schafle admits to not having a clue what that meant. Digging deeper, Schafle and his design team learned that CDI's client was building a home outside of Denver and wanted to pay homage to the area's mining history with design elements that would evoke the Gold Rush era of the mid-19th century. Copper, wood, galvanized steel, and leather finishes were used throughout the home along with props that conjured the age of steam power. The homeowner was so committed to the Wild West theme that part of the house was designed to mimic a mineshaft!

CDI asked James to create a tower-style speaker with subwoofers built into the base to conserve floor space but left the rest up to the designers' imagination. A pair of these speakers would be the centerpiece of the home's streampunk-themed media room as well as anchor a discreet 7.2-channel sound system, so it was imperative that they sound as good as they look. The design team went through several renderings before settling on the fantastical design shown here, which combines a pair of 10-inch woofers in the speaker's base with a driver configuration borrowed from James' QX530 in-wall speaker: two 5.25-inch midrange drivers and four 0.75-inch aluminum-dome tweeters, each angled at 22.5 degrees and arranged in a unique "quad array" to achieve wide dispersion.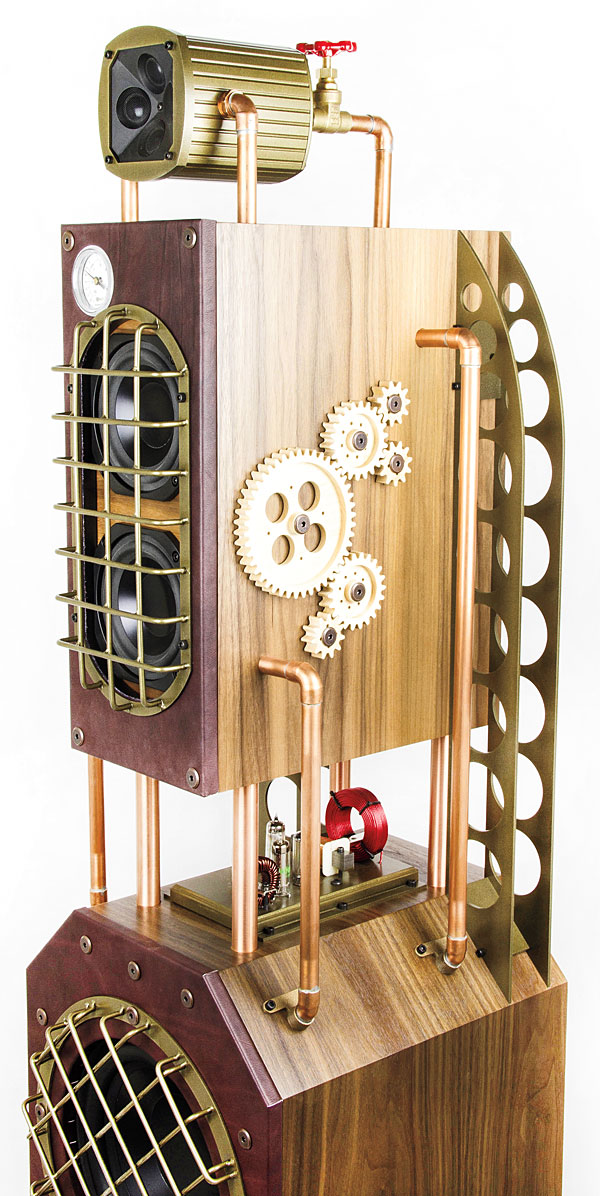 Everything was assembled by hand and meticulously appointed with pressure gauges, control valves, interlocking gears, brass accents, and copper tubing. The cabinets are finished with beautiful walnut veneers, leather, and brass hardware, including those wonderful wire-mesh grilles fashioned to look like stream grates. As a final dramatic touch, five (non-working) vacuum tubes were mounted in the middle of the structure.
When all was said and done, the tab for James' intricate handiwork was $20,000 for two speakers. I like to think that the location of James Loudspeakers—California's legendary Napa Valley—contributed in more ways than one to the inspiration needed to come up with this most uncommon speaker. If you're contemplating a custom speaker, be sure to check out the Custom Page at jamesloudspeaker.com for an overview of their extraordinary work.