iPod Pit Stop: Play ...with fire!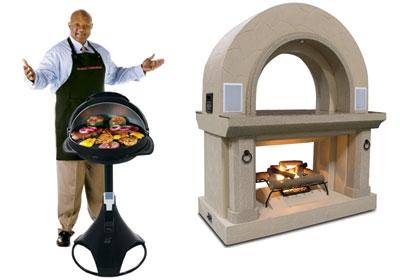 Or, to paraphrase another song: "To everything / Burn! Burn! Burn! / There is a season." Which is not to say that I recommend ignoring the heat in your grill or fireplace. What I mean is, with summer on the wane and fall on the way, there's still time to enjoy one season while getting ready for the next. And for each of these purposes, there is an iPod.
As you can see, the grill here isn't just any old cooker. It's the George Foreman iGrill ($150), an outdoor/indoor electric grill/roaster that comes complete with a USB port and dock for your iPod (or other MP3 player) and an integrated 10-watt speaker system. This is not, I hasten to say, the April Fool's joke that appeared on thinkgeek.com, which touted an iGrill that could connect to your computer. No, this is the real thing, as shown on igrillwithgeorge.com. And S&V readers will love that the grill surface drains away fat via its, ahem, "center channel" - so you don't have to play Grease.
When the days get cooler, crank up Cal Spas' Cal Flame FRP-4300 Tropical Senses Outdoor Fireplace ($8,100; calspas.com). That black panel on the side is indeed an iPod dock. Also embedded are four 6-inch all-weather speakers, and the archway has solar-powered LED accent lighting. The FRP-4300 comes standard with lava rocks and a liquid-propane/natural-gas conversion kit. It's all perfect for playing "Autumn Leaves" or, come winter, any other chestnuts you want to roast on an iPod fire.
LATEST VIDEO