Interview: Wayne Coyne's Flaming Eclipse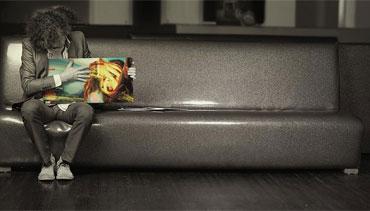 Wayne Coyne is curious.

Now, you can take that statement to mean a couple of different things: 1) the leader of veteran alternative stalwarts the Flaming Lips has an insatiable thirst for discovering ways to push the audio/video envelope, or 2) the man is a bit, well, odd. Know what? It's probably a combination of both.

But who cares, really? Coyne, 49, and his fellow longtime Lips - lead guitarist/multi-instrumentalist Steven Drozd and bassist Michael Ivins - have been at the forefront of surround sound exploration ever since they entrusted 2002's Yoshimi Battles the Pink Robots to surround maven Elliot Scheiner, who was assisted by the band's regular producer, Dave Fridmann. (Drummer Kliph Scurlock, a touring member of the Lips brigade since 1999, was recognized as a full-fledged band member upon the release of Embryonic in 2009.)]

Fridmann has since become a 5.1 pioneer in his own right, helming adventurous full-channel onslaught mixes for the revisitation of 1999's The Soft Bulletin and the concurrent expansion of 2006's At War with the Mystics.

Not long before the Lips' picture-perfect sundown performance at Central Park Summerstage in New York City this past July, Coyne and I spent about a million billion milliseconds (give or take) chewing the 5.1 fat. But first we delved deep into the whys and the wherefores of the Lips and Stardeath and White Dwarfs' mind-boggling collaborative reinterpretation of Pink Floyd's audiophile benchmark The Dark Side of the Moon. "We like to experiment with sound," Coyne explains.

Hmm, you think?

Covering Pink Floyd's The Dark Side of the Moon stemmed from an off the cuff comment you'd made to some iTunes execs. But when you got down to the nitty gritty of actually doing it, I imagine that the goals followed your usual M.O.: Do something unique, interesting, and different.
It would be very easy to just play what Pink Floyd did, and by simply having us sing it rather than David Gilmour and Roger Waters, that would somehow "change" it. But I would say, especially with a song like "Us and Them" - one of the most perfect pieces of music ever, really - you cannot play that music without it overtaking you and remaining true to itself. I think we knew going into it that that song would be the least "touched" by us.