Installations: Meeting the Criterion Page 3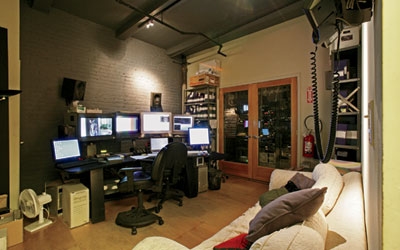 The crew carefully pondered the display options. "We talked a lot about what to get - plasma, LCD, projector," says Lee. "We ended up going for 1080p projection because we wanted to be able to throw a big-size image out there."
Al agrees: "I told them to just go with the front projector. That room is big - they need at least a 100-inch diagonal screen."
Adds Lee, "If we could just get that Panasonic 103-inch plasma, we'd skip the projector altogether. But 100-inch plasmas are a little expensive. We're like your readers: We do have a budget. But it would be great to have both a Panasonic plasma and a Sony projector in here so we could look at things on both."
Since it's not likely the super-sized plasma will come through, Lee and company had to choose what kind of front-projection screen they wanted. The left, center, and right speakers will be mounted around the screen instead of behind it - as they would be in a movie theater - so they know they don't need a perforated model.
The crew has also settled on 5.1-channel sound for the room. Even though 80% of its titles are mono, Criterion does release some 5.1-channel discs.
And what about automation? "We haven't thought about that yet," Lee admits. "We'll certainly test some new universal remotes. We want anybody who works here to be able to walk in and watch a DVD. We don't want anybody to be scared of the room."
Getting In Gear Having evaluated its requirements, Criterion now needed to pick out the specific pieces of gear. Time to cue S&V's Al Griffin again. It didn't hurt that the Custom Electronic Design & Installation Association's big September expo - an annual event that's like the super-mall for home theater pros - took place right in the middle of the selection process. So Al attended CEDIA this year with Criterion in mind.
"They were leaning toward professional, studio-type speakers," says Al, who thought that was a good call. "That room is too large for consumer models. So I recommended Genelec speakers." The brand is well known for its recording-studio monitors, but in 2002 it also started producing home theater speakers (see page 104). As an alternative, Al suggested a B&W 703 Series system. For electronics, he gave a nod to an Anthem AVM-50 preamp and MCA-50 amp, an Integra DTR-8.8 receiver, and a Denon AVR-3808CI receiver.
For the visuals, Al suggested going with a Stewart Filmscreen StudioTech screen. And for the projector, he saw a nifty DLP model from Samsung, designed by renowned visual-imaging expert Joe Kane.
As we go to press, Al is leaving it up to Criterion to decide if it'll go with his recommendations full-on, partially, or not at all. And if it goes with the Samsung projector, will Joe Kane be able to pop by and install the unit himself? (Al sweet-talked, or "sugar-Kaned," Joe at CEDIA, but we'll have to see what happens.)
For answers to these and other critical Criterion questions, look to a future issue for the sequel. Maybe we should call it "A Room with a View."
Photo Gallery more Installation Stories Back to Homepage What's New on S&V
LATEST VIDEO