Installations: The House That Jim Built - Part Two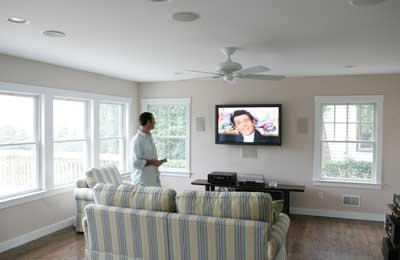 Even knowledgeable consumer-electronics writers can use some help when they embark on do-it-yourself installations. That's the biggest lesson I've learned as I complete the main entertainment and networking systems in the addition to my house in Nyack, New York. (I chronicled the early stages of the project in "
The House That Jim Built
," June.)
The New Living Room
:: NEC 50XM5 50-inch plasma HDTV :: DirecTV HD receiver :: Pioneer DV-563A universal DVD player :: Sonance iPort FS2 iPod docking station :: Denon AVR-3805 7.1-channel A/V receiver :: Three Sonance 623T in-wall speakers :: Three Sonance 623TR ceiling speakers :: Sonance Son of Sub subwoofer :: Gefen EXTHDMI-441 4 x 1 HDMI switcher :: Furman Elite 15-PF linear filtering AC power conditioner/surge protector :: Electrograph ELENEC-SM fixed plasma mount
Many parts of the project have been true DIY adventures. But ever since a fortuitous visit by Hudson Valley Home Media (the local custom-installation firm whose proprietor, Barry Weiner, lives a few blocks away) indicated that all my A/V and networking cables were too close to the AC power wires, I've been relying on their expertise more and more. In fact, at the end of the previous article, the Hudson Valley crew had just ripped out the RG6 and Cat-5e cables I'd put in the addition and pulled new runs to each of the rooms. With the wiring completed, the drywall team came in and sheetrocked the addition, followed by the painters. Finally, I was able to start on the really fun stuff: installing the gear.
The Art of Compromise
Several considerations went into the decisions my wife and I made about the project. Since I was working with a limited budget, I had to use as much of my existing gear as possible. Also, those limitations meant the home theater room in the basement would be a longer-term project, since I'll be doing all the framing, drywalling, and flooring myself. I promised my wife that the new family room, which is separated from the kitchen only by a large center island with seating, would have a clean, uncluttered appearance, so I couldn't use the large freestanding speakers and bulky rear-projection HDTV that dominated our old living room. Instead, I decided to go with a wall-mounted plasma display and in-wall and ceiling speakers. Since I knew I'd eventually have a first-rate home theater and listening room in the basement, I was willing to have a more modestly performing A/V system in the main living area than I was accustomed to.
I decided on Sonance speakers for the living room - specifically, Symphony 623T in-walls ($225 each) for the left, right, and center channels, and three 623TR ceiling models ($225 each) for the surrounds. The heart of the system is my now-several-years-old Denon AVR-3805 7.1-channel receiver, wired in a 6.1-channel configuration. To add some low-end oomph, I got Sonance's Son of Sub powered subwoofer ($360), a very affordable 75-watt model with a front-firing 10-inch driver that mates well with the other speakers.
Initially, I'd envisioned a 42-inch plasma HDTV on the living-room wall. But Weiner convinced me that 42 inches would be too small for the room, particularly since we'd be watching TV from the kitchen island as well as from the living-room sofa. Fortunately, by the time I was ready to buy the TV, plasma prices had dropped considerably. So, after looking at several models, I settled on a 50-inch NEC high-def monitor ($3,799) because of its picture quality, natural colors, and excellent built-in video processing.
LATEST VIDEO