Installations: Custom Fit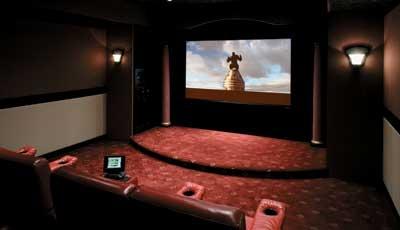 Wouldn't it be great if there were plug-and-play "whole-house-A/V-in-a-box" systems and you didn't even have to bother with an installer? Well, not really. Every house is as unique as the people who live in it, so about the only thing a "one system fits all" approach is guaranteed to do is make everybody who uses it unhappy. Until some genius comes up with gear that not only configures itself, plays nice with all the other gear, and accurately determines room acoustics and light levels, but also adapts itself to the personal quirks of everyone in your family, you're going to want to go with a custom installer.
If you think the "custom" in custom installation is just a way to make the job sound more important than it is, think again. Once it's hooked up, a relatively sophisticated whole-house system can take a week or more to program - not because the installer is learning on the job at your expense, or the gear is tweaky or wrong for the situation, but because everything is being adapted to your house and your needs. If the installer is doing his job, he's giving you a setup that can work in that environment and nowhere else. When you get a new computer, you personalize it by teaching it your likes, dislikes, needs, and little idiosyncrasies. It's no different with a first-rate installation.
Jim Young and Wayne Tomblin of Audio Video Environments in Shelton, Connecticut, have been doing high-end installations for a decade now, and every one of the hundreds of systems they've installed has presented its own challenges. When Michael and Geri Smeriglio asked them to do a whole-house A/V system for their new 8,500-square-foot home in decidedly upscale Riverside, Connecticut, Jim and Wayne's greatest challenge, believe it or not, was finding enough space for the gear. While the rooms are all plenty big enough, there were a lot of components - and switches and controllers and wires - to cram into the available storage areas.
Wayne and Jim had to divide the whole-house electronics between two spaces. Most of the A/V-related gear is in a narrow closet in the family room, while most of the electronics associated with the home network, phone system, and cable- and satellite-TV systems are in a distribution panel off the basement game room. But wouldn't it have made more sense to keep everything in one place?
"The problem is the cable runs," explains Jim. "If we put the entertainment components in the basement, you'd have to run wires more than 150 feet to get to the rooms on the second floor. That would cause signal degradation and all kinds of other problems." Also, since the family room serves as the entertainment hub on the first floor, with a 50-inch NEC plasma HDTV recessed into the stone fireplace chimney and a surround sound configuration of Elan MM650C ceiling speakers, it seemed like a natural place for the gear stack.