Installation Snapshot: Hollywood-in-the-Fifties Home Theater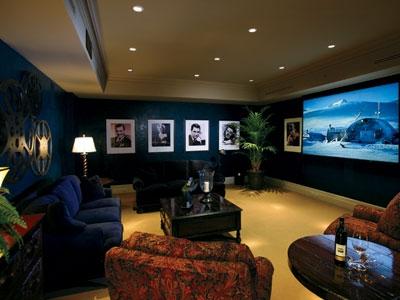 For a Hollywood-in-the-Fifties home theater, this room got the star treatment. Just a glance, and you can see its comfort and elegance. What you can't see, by design, is most of the gear.
Sales manager John Stumpf of Station Earth (stationearth.com, 800-461-0122) - a "total home technologies" firm based in Fergus, Ontario, Canada - pulled out all the stops for this 600-square-foot screening room in a basement, part of a 21,000-square-foot new house. At presstime, the home's entire custom installation had been submitted for an Electronic Lifestyles Award at CEDIA Expo 2007; last year, Station Earth was among the award recipients for Best Large Home Theater.
Here, the homeowners chose a projector-and-screen combo because it could disappear when not in use. The Runco Reflection CL-610LT DLP front pro is hidden in a custom-built, ventilated "hush box," Stumpf explains, so as not to be seen or heard. The motorized screen is Draper's 110-inch Ultimate Access V.
Middle Atlantic racks are kept out of sight in a built-in bar. The components they house include, from Pioneer Elite, a VSX-74TXVi 7.1-channel receiver and a DV-79AVi DVD player, as well as a Scientific Atlanta 8300 HD cable box and an APC S-20 power conditioner/surge suppressor.
From Speakercraft, five AIM LCR 5 in-wall speakers are positioned around the room and faux-finished to match the decor. There are two Energy S10.3 subwoofers, one below the screen and the other in the corner near the plant. And when the home­owners are ready to start the show, the hand sculpture on the central coffee table is ready, too, offering an MX900 from Universal Remote.
Stumpf and his team of installers did all the equipment selection and layout while interior designers coordinated the royal-blue color, the furniture, and the accent pieces. And for now, the homeowners are satisfied - but Stumpf and crew, taking no chances, were sure to future-proof, outfitting the house during preconstruction with 47,000 feet of Belden wire. When it's time for a sequel, Station Earth will be ready.