Inglourious Basterds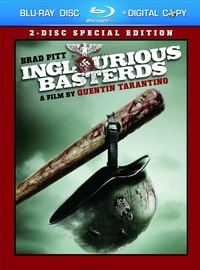 In the first year of the German occupation of France, Shosanna Dreyfus (Melanie Laurent) witnesses the execution of her family at the hands of Nazi Colonel Hans Landa (Christoph Waltz). Shosanna narrowly escapes and flees to Paris where she forges a new identity as the owner and operator of a cinema.
Meanwhile, U.S. Lieutenant Aldo Raine (Brad Pitt) leads a group of Jewish-American soldiers behind enemy lines to perform acts of retribution upon Nazi patrols. Later known to their enemy as "the Basterds," Raine's squad joins German actress and undercover agent Bridget von Hammersmark (Diane Kruger) on a mission to take down the leaders of the Third Reich. Fates converge under a cinema marquis, where Shosanna is poised to avenge her family in her own special way.
I have never considered myself a fan of Quentin Tarantino films because of his propensity for violence and gore. That being said, Inglourious Basterds is one of the best films I've seen this year decade—really, it's that good. The writing is fantastic, and Tarantino extracts phenomenal performances from the entire cast. Pitt is outstanding as the whacky leader of the Basterds, but Christoph Waltz steals every scene as the evil Nazi Colonel known as "The Jew Hunter." Unfortunately, there's a fair amount of gratuitous gore, but even my squeamish wife was able to tolerate it due to the captivating story.
The presentation is just as impressive with outstanding detail and color saturation as well as a stellar DTS-HD MA 5.1 soundtrack. Virtually the entire movie is a demo experience, but these three scenes are some of the more impressive highlights.
The Jew Hunter

Chapter 2, 00:03:55
Detail, color saturation
As Colonel Landa arrives at the cottage, enjoy the breathtaking scenery of the French countryside with its rolling hills and multicolored foliage.
A brewing plan

Chapter 13, 01:06:28
Detail, color saturation
While the two British officers discuss German cinema, look at the detail in their uniforms from the weave of the fabric to their multihued ribbons. Also, note the rich color saturation of the crimson curtains and the lush emerald-green hat.
Revenge is a dish best served cold

Chapter 26, 02:24:03
Frequency response, surround imaging
As flames engulf the theater, the bass response is outstanding, and the surround speakers place you right in the middle of the carnage with the frantic screams of the doomed patrons.
Release Date: December 15, 2009
Studio: Universal
Movie: 10/10
Picture: 9/10
Sound: 10/10

LATEST VIDEO