Immaculate Reception
Bang & Olufsen BeoLab 18 Wireless Speaker System
About that headline...It's inspired by the sheepish "Immaculate Wireless Sound" moniker Bang & Olufsen uses for the wireless system integrated into the stunning BeoLab 18 tower speaker. Actually, the phrase is code for WiSA, the standard that makes it possible to for speakers to receive uncompressed 24-bit/96 kHz audio over the air from B&O's stand-alone transmitter or one built into the BeoVision 11 TV. We asked Senior Vice President of Product Creation Lou Schreurs to tell us about this impressive speaker.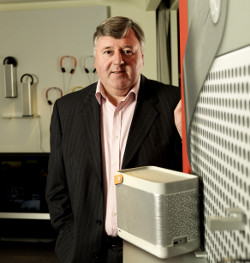 S&V: How did the BeoLab 18 come into being? What led to the desire to "go wireless?"
Lou Schreurs: We felt the need to rejuvenate our iconic BeoLab 8000 from a design perspective and, at the same time, wanted to bring the speaker into the 21st Century by making it wireless and digital, using our proprietary Digital Signal Processing (DSP) capabilities. The integration of a high-quality wireless system was driven by the desire for convenience without sacrificing audio quality. In some of our customers' homes, it was not easy to run cables in a neat way, particularly rear speakers, limiting their ability to experience true surround sound. With WiSA we found the perfect technical solution to make this work. BeoLab 18 represents the best of Bang & Olufsen. It presents pristine acoustic performance and distinct design and reiterates our dedication to technical innovation and using only the finest materials and craftsmanship—and now it is all wireless.
S&V: Why did B&O choose WiSA? Are there any set-up restrictions?
LS: WiSA is a flexible wireless transmission system that supports 24-bit uncompressed audio and sampling rates up to 96 kHz. It is also the first system to operate in the U-NII band and it can handle eight audio channels simultaneously in a high-quality 7.1 surround system. We guarantee perfect performance up to 40 feet (or a room of 32 x 32 feet). Any system using radio frequencies has limitations with distance as dictated by the laws of physics. The majority of issues with current wireless systems are from interference caused by congestion in the Wi-Fi bands. WiSA operates in the U-NII band so there is no interference with Wi-Fi. WiSA's unique Dynamic Frequency Switching (DFS) feature continuously looks for a free channel and switches dynamically among 24 of them without audible loss of sound. We have also integrated additional antennas into the speakers, where needed, to make them work perfectly in all directions and we have included a safety margin in our calculations to guarantee the system always works within the specified range without any loss of audio quality.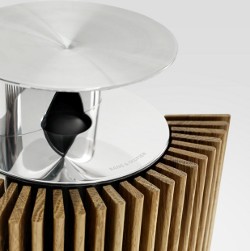 S&V: What's the story behind the BeoLab 18's striking design?
LS:: The inspiration is an organ pipe—this was also the case for BL8000. Where the original 8000 is very geometric in its design, the BL18 has been softened and is now much more of "a beautiful stiletto heel" than "a pointed cone." The aluminum acoustic lens is a sound quality signature for B&O that disperses sound from the tweeter over a 180-degree arc so you can move around the room and still have a great sound experience. The beautiful wooden lamellas in front of the remaining 2 x 4-inch drivers are produced by a second-generation carpenter whose father originally made the wooden cabinets for our TVs.
S&V: What do you consider to be the ideal B&O wireless surround-sound setup?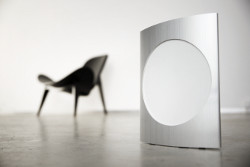 LS:: We strongly recommend at least a 5.1 setup. BeoLab18s, ($6,590/pr, $7,980 with oak lamella grille) are ideal for the front, while the compact BeoLab17s BL17s ($3,990/pr) are perfect as surround speakers and, if required, a center speaker. The BeoLab19 subwoofer ($3,395) enhances the emotional experience with excellent bass performance. Using a Bang & Olufsen TV offers the best performance with its high-quality integrated surround-sound decoder and built-in WiSA transmitter. The customer can upgrade the system over time, adding wireless speakers as and when he wants.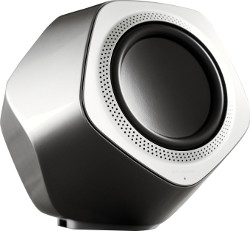 S&V: Who is the target buyer for the wireless speaker series?
LS:: Consumers who want to enhance their viewing experience with quality surround sound and, at same time, appreciate beautiful designs. Our speakers are pieces of art, which use the finest materials, embody true craftsmanship, and possess second-to-none sound quality. History has shown that Bang & Olufsen products keep their value over a long period of time. Most designs have proven to be timeless.
S&V: How would you describe the BeoLab 18's sound?
LS:: Pure and well balanced with high dynamic range. The advanced DSP signal processing always optimizes performance and the acoustic lens (and room-position switch) helps you get great sound independent from your position. The BeoLab 18 sounds incredible no matter what you play on it or where you place it.
S&V: Feel free to highlight any other distinguishing attributes of the BeoLab 18.
LS:: Starting from a unique design based on our iconic BeoLab 8000 and executed with quality materials like aluminum and wood, the craftsmanship translates into a quality product with attention to all details. The BeoLab 18 introduces a compelling new form factor with a new, yet classic design ingredient—Nordic hardwood—all new audio components, and a re-engineered digital sound engine for robust, unrivaled sound performance. We consider the BeoLab 18's acoustical performance a benchmark in the world.
S&V: Are BeoLab 17/18/19 wireless speakers available only through B&O stores in the U.S?
LS:: Yes, they are sold in Bang & Olufsen showrooms nationwide (53 in total). Visit bang-olufsen.com for the nearest store location.