HT Talks To: Holland/Dozier/Holland
Even if the names Brian Holland, Lamont Dozier, and Eddie Holland don't ring any bells for you, you surely know their music. They wrote most of the Supremes' and the Four Tops' megahits, such as "Where Did Our Love Go?," "Come See About Me," "Baby Love," "You Keep Me Hangin' On," "Baby, I Need Your Loving," "How Sweet it Is (To Be Loved by You)," and "Reach Out, I'll Be There." The three men supplied a steady stream of top-ten singles for Marvin Gaye, Jackson 5, Martha & the Vandellas, and many others.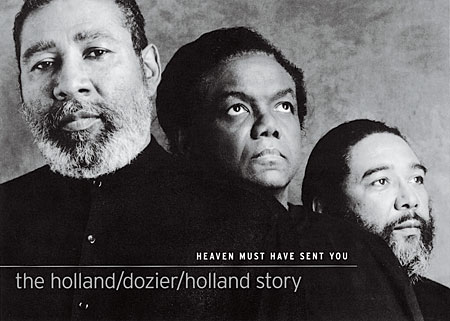 The Holland/Dozier/Holland songwriting team first struck gold in the summer of 1963 when Martha & the Vandellas recorded your song "(Love Is Like A) Heat Wave." That tune must have put you on easy street.
BH: No, it wasn't like that at all. At that point, I was still working 9-to-5 as a recording engineer, stock boy, packing records—you name it.
A lot of professional songwriters just write, but H/D/H followed through in the studio, right?
BH: Right, we always produced our own stuff. We'd do our homework, and we knew exactly what we wanted to hear from the Funk Brothers—and they would diligently fulfill our requests [laughs]. Normally, we'd go into the studio with two or three songs and get them all done in a few hours.
The Funk Brothers were Motown's house band. did you perfect the arrangements with them?
LD: No, we're not taking anything away from the guys, but we knew what we wanted to hear. Everything was planned, and we'd show each player how the chords were voiced. When Brian and I cut those tracks, we wanted to make sure H/D/H songs didn't sound like those of any of the other producers and songwriters. Remember, the same band played for all of the Motown acts, so we had to be very meticulous about how we arranged our songs to stand out.
EH: You have to understand, Brian and Lamont's chord structures were unique. You wouldn't find them in books, but they created the right sound for a particular song. We didn't want to get bogged down by tradition; our theories were from the street. We created our own thing, and that became the Motown sound.
Tell us a little about the vibe in the studio. what was that like?
BH: The Four Tops' sessions were a ball—we'd be playing poker, eating chitlins and barbeque ribs at 3 or 4 o'clock in the morning. We did everything that young, red-blooded American boys do. The Tops were telling lies and jokes—we had to keep the fire going to take the stress out of working long hours.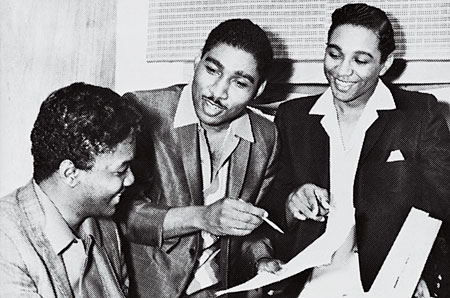 I've heard that there were times the Temptations and the Four Tops recorded vocals over the same instrumental tracks, and you'd pick the one that would be released. True?
BH, LD, and EH: No!
LD: Squash that—it's just a rumor! There have been times where one Motown group covered another group's tune, like when Jr. Walker & the All-Stars covered a Four Tops tune "How Sweet It Is," but the music was different.
In the early days that Stevie Wonder was hanging out with the Funk Brothers, did he play on any of your songs?
BH: No, he was just a little 9- or 10-year-old kid, but Stevie learned his craft there. Motown was a college of sorts for songwriting and producing for a lot of people.
Brian, you were Motown's Vice President of Quality Control. what did that entail?
BH: We had kids come in off the street and listen to what we had just recorded. They'd tell us what they liked.
What they now call "focus groups."
BH: We'd also have people within the company listen to music recorded the previous week, and they'd vote on which stuff to release. When they voted something down, it didn't come out—unless Berry Gordy [Motown's founder and president] overruled it.
Gordy was Motown's founder and President. did he regularly blow off votes?
LD: Mostly on his own stuff [everybody laughs] and Smokey Robinson's "You've Really Got a Hold on Me." When they played the song, Berry was giving Smokey strange looks and everybody was laughing, but Smokey persuaded Berry to release it. The song came out and did well—definitely a top-ten record.
BH: On one session, we wrote and recorded three number-one songs for the Supremes—"Where Did Our Love Go?," "Come See About Me," and "Baby Love." We're referring to the music tracks...
What about the lyrics and recording the vocals?
BH: The lyrics—that's where all of the problems came in [Eddie laughs]! When Lamont and I went into the studio, the song was done.
EH: It would take an average of two to three weeks to write the lyrics to one song.
So let me get this right: the instrumental backing tracks were completed before you wrote the lyrics. That's amazing!
EH: Once they were done, I would teach the songs to the artists, take them into the studio, and dub them in. Brian would mix the vocals into the backing tracks or add strings or other instruments.
Did any singer ever ask to change the words?
EH: No, never. We wouldn't allow any changes. But it wasn't easy for me, because Brian and Lamont were, and are, extremely prolific. They would whip those melodies out so fast, record two or three songs a day, and then turn them over to me. At the start of this, I was just a novice, still learning how to write. Brian and Lamont were out on the playing field, and I would be stuck trying to write the lyrics.
BH: But they were great and unforgettable lyrics—Lamont and I finally came to that conclusion 35 years later [everybody laughs]. And that's the truth; we didn't want Eddie to get a big head. So, when he came searching for approval, Lamont and I would walk out of the room [more laughs].
EH: They're kidding a little bit, but that's true! When I'd first sing the lyrics, they wouldn't respond. After a while, I just got tired of looking for approval. I figured it must be OK because they're not saying anything negative, but they didn't say anything positive until 35 years later!
Are Rhythm & Blues and Soul the same thing?
EH: R&B is just a 12-bar blues with a little more tempo; add more tempo to the guitars, and you have rock 'n' roll. But when you really stop and think about blues or country, they're automatic soul. Every type of music has soul—the name is a misnomer. Soul has funky 12-bar blues, with a slower, grinding movement, and there's a gospel root to it. That's where we came from. When you say, "soul singer," you think of Aretha Franklin, and everybody knows what that means.
I sure do, but Aretha franklin's soul and Motown's soul are not even close to the same thing.
BH: There's a big difference; I admit that. Motown was more pop/R&B or R&B/pop, and you could reverse the emphasis, depending on the song. The New York sound from Carole King and Gerry Goffin was very soulful R&B/pop, because it came from a church feeling. Everybody borrowed from that.
And yet Motown's sound wasn't black or white. . .
LD: The H/D/H factor strived to make colorless music that felt good and appealed to everybody. When you look back, it's interesting that most of the artists who covered Motown songs were white—Barbra Streisand, the Beatles, James Taylor, the Doobie Brothers.
And the kicker is that your relationship with Motown fell apart in 1967.
EH: That was something, but it didn't really end there. It just got some Botox shots, and we put a new face on it [laughs]. With the Invictus and Hot Wax record labels, we gave them new names, and the hits just kept on coming.
After years of cranking out hit after hit, did any of you ever suffer from writer's block?
EH: No, you have to work, and the fact is that Brian and Lamont only used one out of every five or six songs they wrote. If a song didn't hit them really hard, they would discard it. I was listening to these melodies and knew they were very strong, but, for whatever reason, they didn't want to use them.
Any chance we'll ever get to hear them?
BH: We're going back and will use some of those songs for a new Broadway musical based on the movie, The First Wives Club. It's an opportunity for us to get back together and do something different. It excites us, and we think we're going to come up with songs that are just as exciting, if not more so, than our old recordings. We should hit Broadway in 18 months.
You have a box set out now.
EH: Right, it's called Heaven Must Have Sent You: The Holland/Dozier/Holland Story, with 65 songs on three CDs, and we're very excited about that.
It's great, and that's where I learned that you guys can sing!
LD: Absolutely! That's where we started, on the street. In Detroit, we were in doo-wop heaven. Every guy had his own doo-wop corner.
BH: Street-corner symphonies. I remember the first time I saw Lamont—he was singing at the Greystone Ballroom—little did I know our futures would intertwine. All of the Detroit groups were copying the Four Tops. At that time, the actual guys were calling themselves the Four Aims.
Last question: do you three still own your Motown songs?
EH: We don't own the copyrights, but we have the writers' royalties, and that's the juicy part.