How to Buy an A/V Receiver Page 2
The next suite of essential listening modes found in AVRs is for decoding matrix-surround-encoded two-channel sources and converting two-channel stereo recordings or TV shows into quasi surround sound. The best known of these are probably Dolby Pro Logic IIx and DTS Neo:6. These vary in their effectiveness depending on the program material, but one or both are generally available as part of the Dolby and DTS processing package included with the receiver.
Dolby Pro Logic IIz, Audyssey DSX, and even the 11.1-channel DTS Neo:X processing modes are increasingly turning up now in mid-level to high-end receivers. These modes allow, sometimes with the requirement of some extra outboard amplification, the addition of extra front height and/or front width speakers that would mount above and to the outside of the main stereo pair. Again, the jury remains out on the value of using these for playing back the 5.1 and 7.1 soundtracks found on movies today.
Compression and Volume Modes
When you need to turn the volume down to avoid disturbing neighbors or family during the loudest passages, dynamic compression and volume normalization help your ability to hear quiet dialogue without being blasted by the special effects and spare you from aggressively riding the volume control during TV shows and movies. Some AVRs still come with a Night mode for this, but they don't typically achieve the performance of recent third-party offerings by Dolby, Audyssey, and THX. Audyssey Dynamic EQ and THX Loudness Plus (offered on THX-certified receivers) seek to maintain proper frequency balance and dialogue clarity as the volume gets lower, as does Dolby Volume. Dolby Volume, as well as Audyssey Dynamic Volume, can also help minimize swings in loudness as you transition between TV programs and commercials, or between source components with different output levels that you can't adjust in the source or receiver. If you watch a lot of Blu-rays while your kids or spouse are asleep, or live in a multi-dwelling building, don't underestimate the value of having one of these low-volume listening modes available.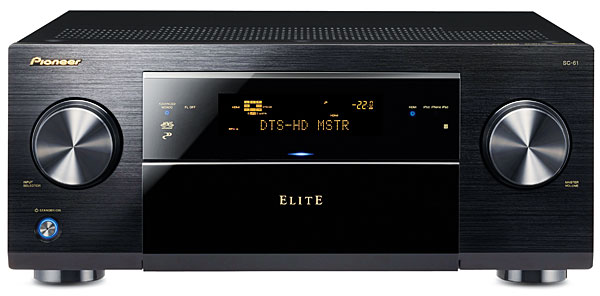 Video Processing
Programming from TV broadcasts or DVDs must eventually be scaled and/or deinterlaced before being displayed on a native 1080p HDTV. Most often this is done in the source or by the display, but some better AVRs offer onboard video processors, often from respected brands like Marvell Qdeo or Anchor Bay, to perform these functions in the receiver, sometimes to better effect. Another key benefit to onboard video processing is the ability to cross-convert the analog composite and component video from legacy components like VCRs or game consoles for viewing through the AVR's HDMI monitor output. This allows just a single HDMI cable connection from the receiver to the TV, greatly simplifying hookup. Only better AVRs have this feature, though, so if it's important to you, do your research. But keep in mind that some very good AVRs we've tested skip the fancy video processing to put the money into better quality audio, so don't assume onboard video processing is either standard or mandatory for a great audio experience.
Auto Setup and Room Correction
Setting up a receiver properly involves making menu selections to tell the AVR how many and what type of speakers you have, what their relative locations are to the primary listening position, their bass capabilities, and what volume level each should be set at relative to the others so the listener hears a coherent soundfield. You can do all this manually—or just run the microphone-enabled auto-setup routine that's included with most AVRs nowadays. In addition, many receivers will take it a step further and apply equalization across a range of frequencies to smooth out the in-room response, a particularly helpful benefit when it's applied to the low bass frequencies where most rooms have their worst problems.
Audyssey has the best-known solution for this with its MultEQ family, with different levels of resolution applied to products at different price points. (You can read more at audyssey.com/audiotechnology/multeq.) AVR makers that don't use Audyssey often have proprietary systems that range from god awful to quite impressive. Again, you'll have to read the reviews to see whose systems work best. Either way, you'll usually have the option to tweak the results or ignore them.
Connectivity
The HDMI interface standard now widely used for digital video source components evolves all the time. HDMI 2.0 is said to be pending, but the current version you'll find on AVRs this year is Version 1.4a, a prior upgrade that allowed AVRs to pass through the high-bitrate video associated with 3D Blu-rays. It also offered up new HDMI features like Audio Return Channel, which allows the audio track from smart TV streaming services built into the TV to get back to the AVR via the same HDMI cable used to bring images to the set. Legacy inputs for composite, S-video, and component video sources are becoming harder to find, however, so if you have older non-HDMI components, check carefully to make sure you have enough inputs of the right type and that the unit will indeed cross-convert these to the AVR's HDMI output if required by your setup.
These days, though, it's all about connecting your smartphone, tablet, or iPod to your AVR. More units are featuring the convenience of an Apple AirPlay Wi-Fi link or a Bluetooth connection (sometimes via an adapter) between your network-connected AVR and mobile devices, allowing you to simply pick up your device and push music from your library to the receiver. AVRs also offer Made for iPod USB connections, which allow direct connection of an iDevice; once connected, all the content on the iPod can be called up via the AVR's remote and scrolled on the onscreen graphic interface or front-panel display.
Network and Internet Services
Network-connected AVRs that link to your home network with a wired Ethernet or wireless Wi-Fi connection are all the rage now—and surprisingly affordable. More often than not, they feature the ability to directly stream music via services like Pandora, Rhapsody, and Spotify, as well as some facility to capture Internet radio streams from distant lands and your local stations (often a more reliable and sometimes better-sounding option than an FM antenna). But be advised that these services and many more can be easily added to an existing AVR with an inexpensive streaming media server from the likes of Roku or Netgear. Also common now is compatibility with the DLNA standard, which lets you call up audio and video files from your network-attached computer or hard drive to play on your AVR and HDTV.
Remote Control Apps
Pretty much all the major AVR brands now offer iDevice- and Android-based control apps that you can download and run on your handheld to turn it into a touchscreen remote for your receiver. All that's required is a network connection to the AVR and a wireless Wi-Fi network for the app to talk to the receiver. Couldn't have happened sooner. AVRs are notoriously difficult to operate thanks to their myriad capabilities and remote controls that are littered with tiny, poorly labeled buttons. The best touchscreen remote apps greatly simplify day-to-day operation of basic functions and can make these complex components a pleasure to use. They're even easier to operate in a darkened viewing room than a traditional backlit remote. And they're a godsend when you're running second-zone audio off the AVR, because the touchscreen usually allows selection and browsing of network sources, as well as volume adjustment, from inside the second zone. If you've got an Apple iPhone, iPad, or iPod touch, or an Android phone or tablet, download the free app for the receiver you're considering and try it out in demo mode. You'll be glad to have this feature.