Home Theater Plus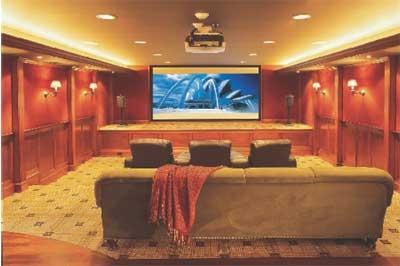 Taking the Big View The ceiling-mounted Yamaha DPX-1300 DLP projector (foreground) beams its image onto a custom-made 140-inch diagonal Stewart FireHawk screen.
A lot of us dream of having a room of our own, separate from all the activities of daily life, that can be transformed into a home theater where we can enjoy watching our favorite movies. But a dedicated home theater can have its drawbacks - especially when the rest of the family feels like the room is off-limits and you find yourself doing most of your movie-watching alone. Also, having to go down to the basement or to some far-flung area of the house every time you want to check out a flick can take the spontaneity out of the experience, turning an enjoyable activity into a bit of a chore.
Some enthusiasts are rethinking the whole idea of a dedicated room, instead creating spaces that, while optimized for watching HDTV and DVDs, are still inviting to other members of the family. That was the case with a Palisades, New York homeowner, who recently built an addition to his house that features a roomy, comfortable theater with a front projector and large screen, a fully functional bar area, and an area for playing poker, complete with its own 42-inch plasma TV. "I've been to other people's home theaters and it seems like they're underused," says the homeowner. "If you're not watching a movie, no one uses the room. I wanted a theater where I could have friends over and play cards, have cocktails, or watch TV."
Installer Barry Weiner, owner of Hudson Valley Home Media, the Sparkill, New York-based company that performed the installation, elaborates. "You can have the front lights down, the drapes closed, play poker in the back, and have both the plasma and the projector on. Or the room can be completely darkened and used as a home theater. It's a multipurpose space."
Since the room is used mainly for watching TV and movies, the video display was the most critical decision. When the installation was done, the largest available plasma TV had a 65-inch screen, which wasn't big enough to give the homeowner the movie-house effect he was looking for. "If you go bigger than the largest plasma, you want a front projector," says Weiner, "because then the size of the screen isn't dictated by how much money you spend, but by how far the projector is from the screen."