Home Theater Heroes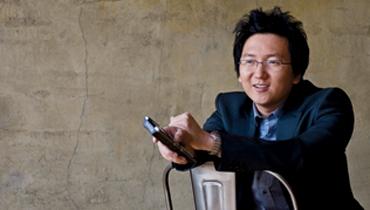 When asked how he'd like to see his own role defined in our ever-escalating high-definition home-entertainment world, Masi Oka, star of NBC's hit fantasy/sci-fi series Heroes, reaches for the stars. "I'd like to be known as a visionary Blu-ray Bluetooth," he smiles. "I want to bring all of the parts together." In other words, save the format, save the world. And that's good news for fans anticipating the Blu-ray Disc release of both seasons of Heroes on August 26. (No worries, home-video enthusiasts: Season 2 also gets a concurrent DVD release, and Season 1 has been on DVD for a year.) With an extras palette bursting with content - including unreleased footage from the alternate ending to the Generations storyline, four Genetics of a Scene shot-by-shot breakdowns, and picture-in-picture commentaries on all 11 episodes - Season 2 is looking to set the standard for TV-on-Blu-ray releases. "They want Heroes to be the testing ground to see how far Blu-ray can go," confirms series creator Tim Kring. Adds co-executive producer/writer Jesse Alexander, "We think Blu-ray Disc and the biggest show on TV are a perfect match." (For more high-def Heroes particulars from Kring and Alexander, see our "BackTalk" interview).
Oka has worked behind the scenes at George Lucas's Industrial Light & Magic (ILM) as an R&D technical director (His special-effects handiwork can be seen to great effect during the famed asteroid chase sequence in Star Wars: Episode II: Attack of the Clones). And he's been in front of the camera as Heroes' fan-favorite time traveler Hiro Nakamura. So Oka is well aware of the breadth of elements that need to be in place for DVD and Blu-ray releases to maximize the home theater experience. "Because of the scale, the budget, and the time restrictions, a lot of thought is put into what we do in high-def," he says. "The time we take with the lighting, for example, is very important. We're very conscious of making things look great because we want to maintain an epic feel to our show. It has to look and sound like we're making a feature film every week. As for commentaries and extras, we have a responsibility to share things you wouldn't see or get otherwise: the behind-the-scenes stories, the bonus footage, all of it."
VISUAL HEROICS
I love extras, believe me, but a show must deliver on story, tone, pacing, presentation, and - most importantly for the S&V crowd - visual and sonic quality. Knowing all this, Oka points out three key Heroes sequences that make the show a home theater home run.
Flying Man meets Hiro ("Hiros," Season 1, Episode 5). "What an incredibly cool shot when Nathan Petrelli arrives outside the Fly by Night Diner in [Lake Mead], Nevada," Oka notes. Slippery-smooth New York politician Petrelli (Adrian Pasdar) has just escaped capture in Las Vegas by using his ability to take to the sky, clad only in a pair of powder-blue striped pajama bottoms. Hiro watches wide-eyed out the diner window as Petrelli swoops in from the top right of the screen. Note Petrelli's counterclockwise vapor trail and the subwoofer surge that rumbles through the score before he lands on the ashy desert floor, skidding on his bare feet and kicking up a puffy white dust cloud that gusts right at you. Petrelli grimaces and grits his pearl-white teeth, which stand out in contrast to the earthy grime on his stubbled face. Hiro smiles with glee at the arrival of his new comrade in powerdom, whom he dubs "Flying Man." Concludes Oka, "That was probably the best scene. And I love the staging of that whole sequence, too."
LATEST VIDEO