Hi-Def Cable for Media Center PCs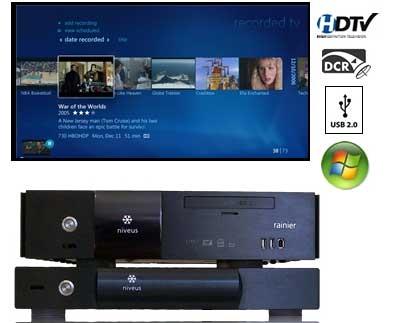 Niveus Digital Cable Receiver, shown underneath a Media Center PC.
January 10, 2007 - The missing link on Windows Media Center Edition PCs is about to be closed with the release of the first Vista-based computers capable of recording high-definition programs from cable TV. One of the first manufacturers to offer a solution is expected to be Niveus Media, which has been making high-end entertainment computers for two years. Until now, though, the systems' hi-def DVR functionality has been restricted to programs received via over-the-air terrestrial broadcasts.
The Niveus Digital Cable Receiver looks like an A/V component suitable for stacking. But on the back are slots for two CableCARDs, conditional-access devices you rent from your cable company that replace the old set-top box. Niveus officials said on Tuesday that the DCR could be available as soon as January 30, pending Microsoft shipping its Windows Vista Home Premium or Ultimate edition.
Niveus expects to price the DCR as an approximately $1,000 option that connects to a new Niveus computer through a USB cable. Owners of earlier Niveus models will have the opportunity to return their computers to the company to be retrofitted for the required security. The upgrade cost hasn't been set.
Meanwhile, HP, the leading Media Center PC maker, has yet to announce when it will deliver a CableCARD-compatible model.