HD Radio Pushes Forward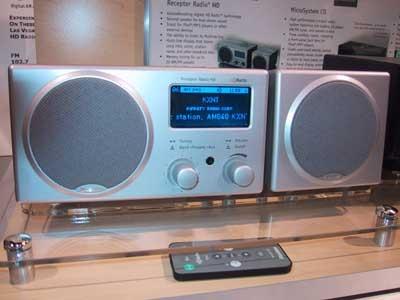 The Boston Acoustics Recepter Radio HD AM/FM/HD table radio
At a 21st-century CES, conventional radio seems just so 20th century. iBiquity, creator of and driving force behind terrestrial digital AM and FM broadcasting system called HD Radio, aims to bring Earthbound radio into the modern age. It hopes its name, a play on "ubiquitous," becomes prophecy. Scattered pockets around CES showed evidence of iBiquity's efforts, although the iBiquity booth stood literally in the shadow of XM Satellite Radio's towering display in the show's automotive audio district.
HD Radio's "killer app" is its capacity for multicasting, enabling broadcasters to transmit a pair of digital channels, plus the existing analog AM or FM, all in the channel bandwidth normally required just for the analog. That gives broadcasters another revenue stream and listeners more choice.
HD Radio is currently transmitted by 622 radio stations. BMW recently became the first car manufacturer to factory-install HD Radios, in its 6- and 7-series autos. Major names showing HD Radios at CES included Audio Design Associates, Alpine, Boston Acoustics, DaySequerra, Eclipse, JVC, Panasonic, Rotel, Sanyo and Yamaha.
JVC displayed a second-generation HD radio/CD player for the car, the KD-HDR1. It uses JVC's single-chip Digital Integrated Alignment System (DiAS) tuner, which eliminates a considerable amount of wiring. The KD-HDR1 is also satellite-radio-ready, easily adaptable for either XM or Sirius, and offers an optional iPod connection. Its new user interface mimic's the iPod click wheel. The KD-HDR1's built-in four-channel amplifier produces 20 watts for each and includes SRS CS-Auto processing for smoother surround sound. It goes on sale in March for $300.
Polk Audio's stylish I-Sonic clock radio/CD player, which won a CES Innovations Design and Engineering award, also is XM-ready. It will be available in March for $599. Perhaps the best-known HD Radio is the Boston Acoustics Recepter Radio HD, a two-piece clock-radio system making its first CES appearance. This handsome radio has a particularly easy to read display and is available now for $499.
DaySequerra, a maker of audiophile tuners, launched its M1 at CES. It is a professional tuner that receives HD Radio as well as UHF/VHF TV and can distribute audio and video to several listening zones. DaySequerra announced no price for the M1, but it will be available in the second quarter of this year.
Most manufacturers at CES cited the chicken/egg conundrum, promising they'll flood the market with HD Radios when there is listener demand. iBiquity predicts 3,000 stations will transmit HD Radio three years from now. It also expects 15 more manufacturers to be showing HD radios by next year's CES.
While XM showed off its new Passport tuner module, barely larger than a sugar cube, HD Radio displayed its rather large, power-hungry tuner circuit board, which does not slip easily into car stereos and portable radios. Again, the chicken/egg problem: in order to justify the expense of creating a tiny, power-efficient tuner module, HD Radio needs to sell millions of them. The 2007 CES will likely tell the tale of whether HD Radio is a boom or a bust.
JVC's KD-HDR1 car head unit with HD Radio
Check out more CES news. Back to Homepage What's New on S&V
LATEST VIDEO