Hauppauge Broadway and PlayLater: Cutting the Cord is Just a Click Away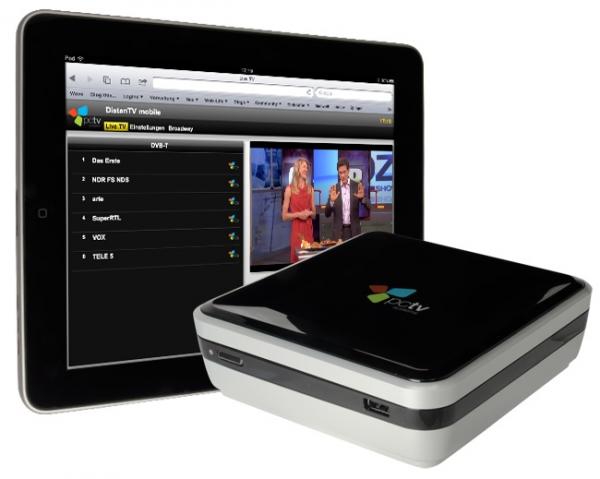 Long gone are the days when the kids sat with their parents, gathered around a single television set in the living room, all watching the same broadcast show. Today, TV is a whole different deal. There are a lot more ways to watch it. It seems you only have to wish for a cool new way to view TV, and BAM! - it magically appears. Here's a peek at two of these new products.
The first, Hauppauge's Broadway, is a set-top box that takes your cable, satellite, or broadcast TV signals and sends them out over the Internet so you can view them on any connected PC or Mac. It's also compatible with iPad and Android tablets. The other product, PlayLater, is a downloadable application that lets you save streamed video content to your PC to watch when you can't be online. Call it a DVR for streamed content.
Broadway by Hauppauge
Hauppauge, a company with a long history of engineering PC-TV compatibility, produces the Broadway ($199, hauppage.com), an attractive little box - vaguely reminiscent of an Apple Mini, though with two WiFi antennas poking up out of the back - that lets you bounce content from your machine via the Web to a remote device. From any Internet-connected computer, you log onto the distan.tv website and view whatever is plugged into your Broadway at home, even changing channels remotely. The Broadway contains a TV receiver for ATSC HD digital or clearQAM unencrypted digital cable. It down-converts those signals into an H.264 signal so that live TV can be viewed on iPads and other tablets, computers, and iPhones.
Setup was remarkably simple. Plug in either your cable TV or over-the-air antenna (or this would also work for a security camera) and connect the Broadway to your WiFi router; it needs to be connected via Ethernet for this initial part of the setup. On your computer, go to the distan.tv website, and the software guides you through the setup procedure and channel scan. Once the setup is complete, you can use the Broadway at home on its WiFi network, or use it anywhere with an Internet connection.
Setup done, it was time to see how it performs. I used an over-the-air antenna and ran the channel scan. It found about 17 local TV channels using an antenna located in my attic. The manufacturer claims that it needs a fairly robust signal to work properly, and I can attest to that. I first tried it with a pair of rabbit ears to no avail. Channels received with lower signal strength would hang up the system. Also, it's recommended to have a pretty zesty high-speed connection. With my lower-bandwidth DSL, the picture was a bit fuzzy and jumpy and would lock up occasionally. In my real-world situation, it wasn't ideal. In a perfect world with stronger signals and a faster connection, this would be an awesome system. Imagine your teenager being able to tune in to your local TV or cable signal while he's off in a dorm room with only enough room for a computer. Or you're stuck on an out-of-town trip and want to catch up on local news, or just watch some broadcast TV. Who needs a TV set when there's the Broadway?
PlayLater by PlayOn
The Broadway is great for watching live TV, but PlayLater ($4.99/month, annual and lifetime plans availabe, playon.tv) bills itself as the world's first DVR for online video content for a Windows PC. PlayLater is a software package that lets you record streaming Internet video content to watch later, even if you're offline.
PlayLater's software opens up a screen with a channel guide for subscription services like Amazon Video and Netflix (you'll have to supply your logins, so it's not free to non-subscribers). Also available are cable and broadcast favorites like CBS, FoxNews, OWN and SyFy - yup, it lets people without cable enjoy some shows only available on cable. Even if your favorite channel isn't on the list, someone might have created a third-party plug-in for it. PlayLater was developed by the same people who created PlayOn, which works as a browser, transcoder, and media server between a PC and a multude of multimedia devices, ranging from game consoles like the Xbox360 and Wii to tablets and phones. (PlayOn is required, by the way if you want to watch your PlayLater content on a mobile device. Bundled deals are available)
If you have plenty of storage space and a high-speed connection, this is a great way to load up on viewing material for a long trip that won't have internet access. A one-hour TV program will take up about 1GB of storage. And, it's completely legal. The video is recorded in a format that prevents it from being moved to another device to protect copyrights, and the technology falls under the same "Fair Use" protection as TiVo (and the VCR before that). It records the content in real time, so it takes 45 minutes to record a 45-minute TV episode, and the quality is only as good as your connection at the time you're downloading. One idea is to find a really solid fast internet connection, download a bunch of stuff, then watch it at leisure either offline or when you're stuck with a crappy connection. For everyday use, when you are connected, it's a great way to quickly access a lot of good online content.
Both the Broadway and PlayLater have their place in your "cutting the cord with cable" arsenal. They both rely on very fast connection speeds to be enjoyable (or even basically useable), and both eat up a lot of bandwidth. But if you're still interested in keeping up with what's on broadcast TV or cable and don't want a traditional DVR, or you're looking for ways to watch TV away from home, or you just want to be able watch videos when you're offline, these are a couple of simple-to-use solutions. As more and more technologies are being developed to enjoy traditional televised entertainment in a nontraditional way, we can expect to see more and more of these types of devices.
They're not your parent's TV. Thank goodness.