Harman Kardon Introduces Networked A/V Receivers with AirPlay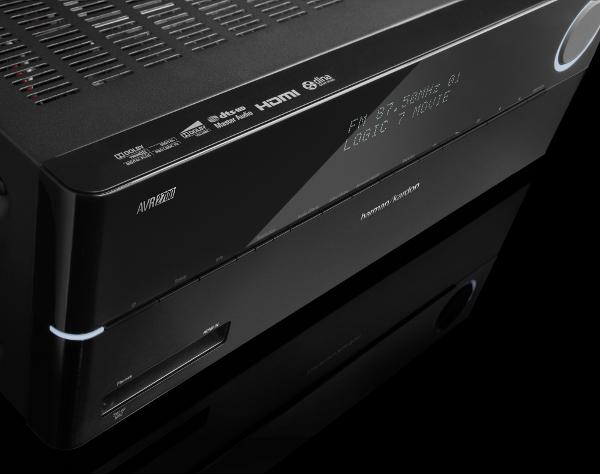 As a service to our readers, HomeTheater.com publishes selected manufacturer-supplied announcements and press releases for products that we think might interest you. Content is posted here exactly as issued by the manufacturer and does not imply endorsement of any kind by Home Theater or any hands-on experience by its reviewers or editors. Visit our Reviews area to browse test reports for products that have been formally evaluated by our expert staff.
Harman Kardon® Introduces New AirPlay Networked Audio/Video Receivers
The Harman Kardon AVR 2700 and AVR 3700 epitomize the pinnacle of home entertainment through seamless sound and video, multimedia connectivity and sleek brand design
STAMFORD, Conn. – HARMAN International Industries, Incorporated, introduces two new audio/video receivers that bring superb audio and video quality to any home theater at affordable prices for a peerless experience. The Harman Kardon® AVR 2700 and AVR 3700 (right) feature the brand's signature styling and crisp sound reproduction for consumers who want to start or upgrade a home entertainment center. Harman Kardon launched the world's first audio receiver in 1953 and the first stereo receiver in 1958.
Both new AVRs deliver an exquisite audio experience to serve the increasing appetite for entertainment convenience and flexibility while also offering limitless connectivity and networking ability.
"The Harman Kardon AVR 2700 and AVR 3700 delivers world-class sound but also provides the connectivity flexibility entertainment consumers demand today," said Sachin Lawande, executive vice president of HARMAN and co-president of HARMAN Lifestyle and Infotainment. "Consumers want superior sound quality to match the playback convenience of our smart devices. The latest AVR expresses beautiful sound in performance and style, a hallmark of Harman Kardon."
Both the Harman Kardon AVR 2700 and AVR 3700 are powered by the acclaimed Harman Kardon high-current, ultrawide bandwidth amplifier design for top sonic performance. To accommodate the latest high-definition audio and video sources, each is equipped with eight HDMI® inputs with full 3D compatibility and high-resolution Dolby® TrueHD and DTS-HD Master Audio format decoding.
Easy-to-use on-screen menus make setup and navigation simple for everyone in the family. A free, downloadable app for Apple and Android™ smartphones or tablets controls the both devices as part of the extensive range of connectivity features available. Both devices also feature Apple AirPlay and 4K video scaling, as well as a sleek, modern design.
Highlights
The Harman Kardon AVR 2700 (right) delivers 7.1-channel surround and 100 watts per channel for fantastic sound. Along with eight HDMI inputs with 3D, Deep Color, CEC and Audio Return Channel, the AVR 2700 also features Dolby Volume and EZSet/EQ technology to maximize audio performance. The device includes built-in DLNA-certified 1.5 Ethernet connectivity and Apple AirPlay, supporting connectivity for the iPod, iPad and iPhone. The AVR handles high-resolution Dolby and DTS audio formats to ensure the best sound from music sources, video game systems or 3D and high-definition movies, and boasts 4K video pass-through and upscaling. Suggested retail price: $799.95.
The Harman Kardon AVR 3700 is a networked AVR providing 7.2-channel surround sound with 125 watts per channel. A step-up features include built in Wifi® networking and Apple AirPlay wireless capability for streaming audio and video from portable Apple devices. The network connectivity also allows the AVR 3700 to be controlled via app for Apple and Android phones and tablets. The AVR 3700 also showcases 4K pass-through and scaling capability, elevating video to rich, vivid quality. Eight HDMI inputs – including 3D, deep color and audio return channel – permit connected devices to benefit from the Dolby TrueHD and DTS-HD Master Audio™. Two HDMI outputs and full preamp outputs allow for use of external power amplifiers, and multizone functionality offers a stunning multimedia experience. The AVR 3700 is housed in the latest version of the modern, award-winning Harman Kardon design. Suggested retail price: $995.95.
Availability
For additional information or to purchase the Harman Kardon AVR 2700 and AVR 3700, visit harmankardon.com.