Hands On With PSB's Alpha Series Speakers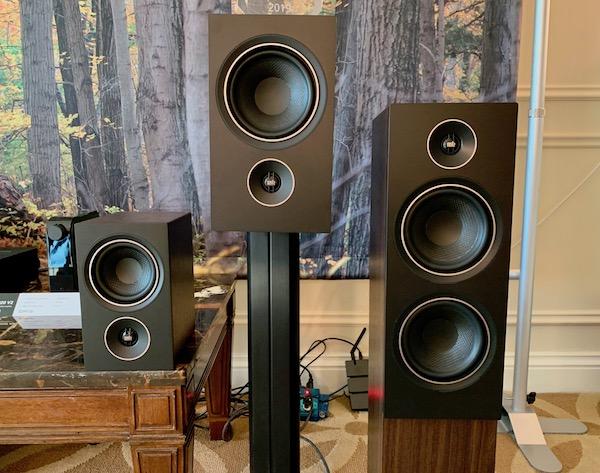 When PSB launched its entry-level Alpha series over 25 years ago, they were hailed as one the greatest values in low-cost loudspeakers right out of the gate. Now, the long-running line has undergone a full revision—only its second in nearly three decades—with the introduction of the new T20 tower speakers ($599/pr), P3 ($199/pr) and P5 ($299/pr) bookshelf speakers, and C10 ($349) center-channel speaker. All models are available in both black ash and walnut woodgrain vinyl finishes.
Perhaps PSB founder Paul Barton was feeling the heat from Elac and Klipsch, two brands that have been working hard to redefine what we can expect from an entry-level speaker. Whatever the motivation for a redesign, it comes at a good time.
Working from their lab at the Canadian National Research Council (NRC), Barton and his team started from scratch, designing all-new drivers and cabinets meant to deliver maximum possible performance-to-cost ratio. The new woofers have a textured surface to reduce breakup modes and extend the frequency response, while a new aluminum-dome tweeter is now mounted in a deeper waveguide to extend its low frequency cutoff point and improve integration with the woofer.
Attention has also been given to the cabinet, which features internal bracing that's uncommon at this price level. Also, thick natural felt-type damping material is used in place of the less-effective synthetic filler found in most budget speakers. Perforated metal grille covers have been carefully tailored to ensure that they don't impact the sound, while magnetic fasteners mean there's no unsightly peg holes on display if you decide to go au naturel.
I received a 5.1 surround package for review that uses T20s for the front left and right channels, a C10 center speaker, and a pair of the tiny P3s for surround duties. PSB's SubSeries 250 subwoofer rounds things out. A full review will follow soon, but right out of the box these new Alphas sound like they will be a formidable contender at their price level. The T20 towers can really move air for deep bass, and they never failed to impress with then lively sound when going through my demo playlist. More to come soon when Sound & Vision posts a full test report.
The new PSB Alpha series speakers are available now.