Hands On: Adding TIDAL Integration to PLEX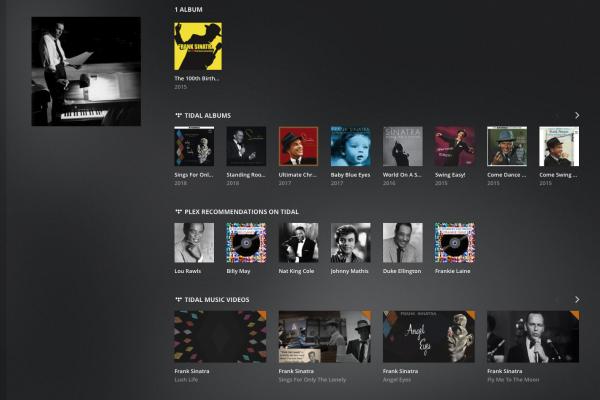 The PLEX media player app has expanded to include more than just the downloaded movies and music you own. It now offers the ability to stream music from the TIDAL subscription service.
PLEX has been the go-to app for those who have extensive audio and video libraries. Video extras and other bonuses are automatically downloaded to enhance the experience of watching a movie or TV show, or listening to the music you own. Having access to TIDAL's library of 60 million songs means you don't have to open another app to stream music. And with TIDAL integrated into the PLEX app, you can listen to music from your personal library along with albums, songs, and playlists on TIDAL. I have an extensive PLEX library and use the app regularly, so it was a no-brainer for me to try out the new TIDAL offering.
All PLEX users can add TIDAL to their PLEX library. Subscribers to the premium PLEX PASS subscription enjoy a number of additional music features, some of which are also available to any PLEX user who signs up for TIDAL through the PLEX app, — even those who use the free version of the app. Benefits include…
• Gapless transitions between tracks from jam bands like Phish
• Soft pauses – creates a gentle fade in/out when you hit the pause button
• Hybrid Caching that loads the current song and reads ahead to cache the entire next track for continuous playback on movie devices
• The addition of lyrics

PLEX PASS users also get...
• Silence compression – shrinks periods of silence in spoken-word content
• Loudness leveling – equalizes audio levels between tracks and albums
• Voice boost – a "sophisticated voice-boosting compression algorithm" geared to lower-quality podcasts
• Sweet fades — intelligent automatic fading between songs that computes the "optimal crossover point" between tracks)
TIDAL offers two plans through PLEX. The Premium plan runs $10 per month for standard sound quality, and the HiFi subscription $20 per month for lossless sound quality. Both plans offer a 30-day free trial and PLEX PASS subscribers receive a $1 discount per month with either plan.
If you aren't a PLEX PASS subscriber, signing up for TIDAL HiFi through PLEX gets you a PLEX PASS subscription and all of its benefits, which include downloading to mobile devices through Mobile Sync, automatic download of movie and TV show Extras, and many more video features. A PLEX PASS usually runs $5 per month, $40 per year, or $120 for a lifetime pass.
PLEX has been promoting the benefit of integrating music you own with the vast TIDAL library. PLEX uses the songs in your library to come up with recommendations of other artists, albums, and songs you might like. One of the features that helps you find new music is Discovery Radio, which analyzes the types of music you own and plays similar music from new artists and albums that aren't in your library. When you play a song from your library, the app displays albums from that artist that are missing from your collection so you can create a "universal playlist" that integrates songs from your library with songs streamed via TIDAL.
I was listening to one of my Frank Sinatra albums using the PLEX web player on my computer and a display listing Sinatra albums I don't own appeared onscreen. To create a universal playlist from both sources, I had to add music from my library to the playlist and chose the songs or albums from TIDAL I wanted to add to the list. This sort of full integration is only available on Android and iOS devices and through the PLEX the web player.
I tested TIDAL plus PLEX on the Fire TV Cube and Apple TV 4K. TIDAL is not yet available in the Roku PLEX app. The Fire TV Cube had an issue where there was no sound when I streamed music from TIDAL. (A PLEX representative said they are looking into the problem and plan on fixing it right away.) The Apple TV 4K was able to play from TIDAL but the integration is otherwise limited to the Discovery Radio feature described earlier. PLEX on Apple TV also displayed "PLEX recommended artists," albums and songs based on music in my library.
I appreciate it when the music I'm listening to continues to play while I navigate to the main menu or when a screensaver appears. I expect to be able to press the play and pause buttons on the remote to control playback regardless of which screen is displayed. Unfortunately, on the Apple TV, I had to navigate back to the PLEX app, choose my user account, and then go back to the screen showing the song playing to control playback.
When it was time to sit down and enjoy high-resolution streams from TIDAL, I did it through my home theater speakers. I was impressed. The quality of TIDAL's lossless streams blew away the quality of the music stored in my library (note to self: you need to download FLAC music files!), with noticeably improved dynamic range, better separation of vocals and instruments, and excellent musicality compared with other music sources I listened to on the Apple TV. It's a pity that the Apple TV app doesn't include full integration of all of the PLEX plus TIDAL features the way it is on the web player.
The partnership of PLEX and TIDAL is a good start toward providing access to all of the high-quality music you could want to hear. If you listen to music on your computer or mobile device, it's a great option. But if you want to listen on your home theater system, you'll be limited until PLEX expands the TIDAL integration features. If you only care about adding a ton of new lossless quality songs to your PLEX library, perhaps the integration isn't too important.