Guide To Hi-Res Audio - Finding Hi-Res Music Page 2
iTrax
The iTrax.com site began in 2007 selling stereo and multichannel versions of recordings made by AIX label founder Mark Waldrep. In addition to AIX offerings, the site now also offers classical selections from Harmonia Mundi, Sony Classical, Chandos, Naxos, 2L and quite a few other smaller labels. You'll find other genres represented as well, including acoustic, rock/pop, jazz, folk and world music. You can browse by genre or search by artist, album, label or year.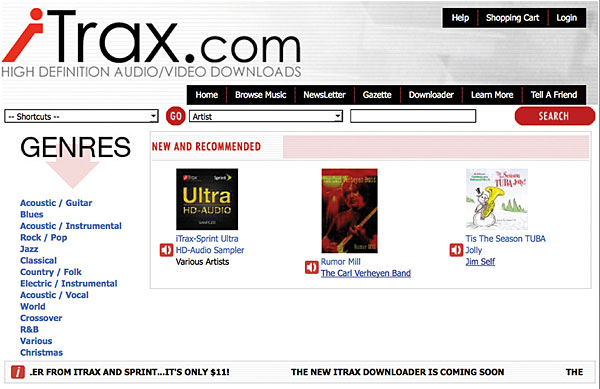 What distinguishes iTrax from other hi-res download sites is its proud claim of selling only tracks "recorded with high-resolution audio equipment at the time of the original sessions." That is, no digitally remastered analog tapes or upsampled CD-quality masters. Music is guaranteed to be at least 96/24 resolution digital from the recording session, and tracks are offered in a choice of 96/24 FLAC, WAV or WMA Lossless formats. iTrax also offers many titles in 5.1-channel sound. Pricing is typically around $18.99 to $20.99 for stereo lossless or uncompressed downloads.
Channel Classics
Channel Classics (channelclassics.com) is a Dutch label that earned a reputation in audiophile circles for releases of classical music performances on Super Audio CD. The label's extensive catalog is now available at channelclassics.com in both hi-res FLAC and DSD format. Prices for 24-bit FLAC downloads (44.1-, 96- and 192-kHz sampling rate) generally top out at $20, while DSD downloads are a bit more expensive at around $25.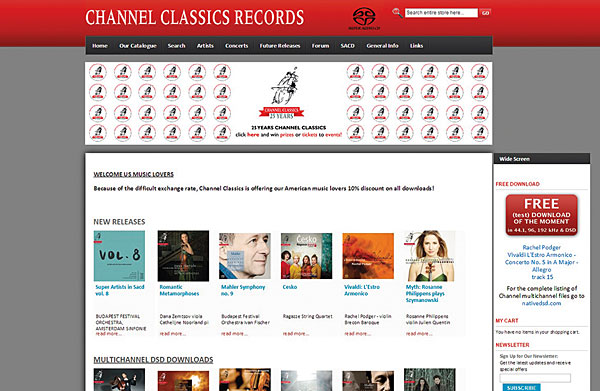 As you'd expect, the catalog is 100 percent classical. A large number of composers are represented, and browsing options extend to performance type (Baroque, Opera, Orchestral, Solo, etc.) and performer—a clear nod to the sophistication of its music-loving audience. To seek out titles in a more general way by composer and title (e.g., Mahler, Symphony No. 1 in D Major), you need to do an advanced search.
eClassical
Similar to Channel Classics, eClassical (eclassical.com) has been selling classical music releases online for many years, first in MP3 format and now in hi-res 24-bit FLAC (44.1- and 96-kHz). But eClassical is different, in that its catalog encompasses a huge number of labels—mostly small ones, but also a few more well-known labels like Naxos, Chandos and Harmonia Mundi. Another difference about eClassical is that it charges by the minute for downloads. Depending on the length of a 96-kHz/24-bit album, you could end up paying as little as $13 or as much as $33 (if not more).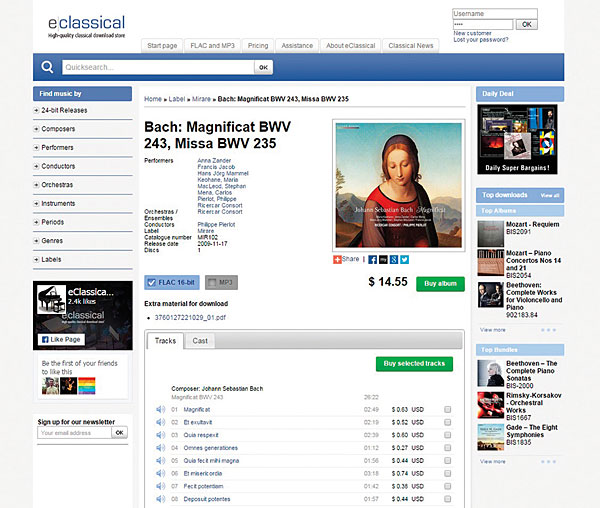 The eClassical home page has a clean, inviting layout that highlights both new and hi-res releases. Site navigation lists classical-geek categories like conductors, performers, orchestras and instruments, though you can also search by composer, genre, period or label.
Gubemusic
Gubemusic (gubemusic.com) offers a more eclectic selection than most other sites selling hi-res downloads, with a catalog that encompasses classical, jazz and world music, with a number of experimental artists also thrown into the mix. A highlight of the collection is the ECM jazz/classical crossover label: no less than four dozen 96-kHz/24-bit ECM titles are available for download. Many artists on the site are Scandinavian—no surprise there, since it's based in Norway. Pricing for most 24/96 album downloads is 20.99 pounds ($33.00 in U.S. currency), though a few cost as much as 35 pounds.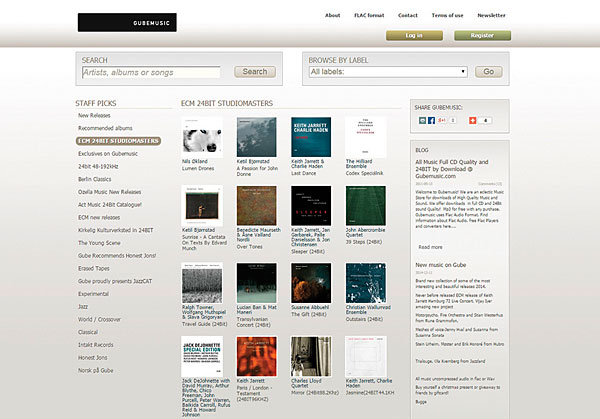 The Gubemusic home page has a clean design, with the browsing and navigation options primarily focus on individual labels. However, it does have buttons that let you browse by individual genres, as well as by new and hi-res releases.
Bleep
Fans of Electronic, Techno, EDM (or IDM, as us old folks called it back in the day) and experimental music will find a treasure trove at bleep.com, the Web mart outpost of the renowned British label Warp records. In addition to key Warp artists including Aphex Twin, Autechre and Boards of Canada, you'll find plenty of titles from other awesome labels here including 4AD Kranky, Erased Tapes, Mute and Domino Recordings. The bulk of the Bleep library consists of CD and vinyl along with MP3 and 16-bit WAV/FLAC downloads, but there are also plenty of 24-bit WAV format offerings to chew on.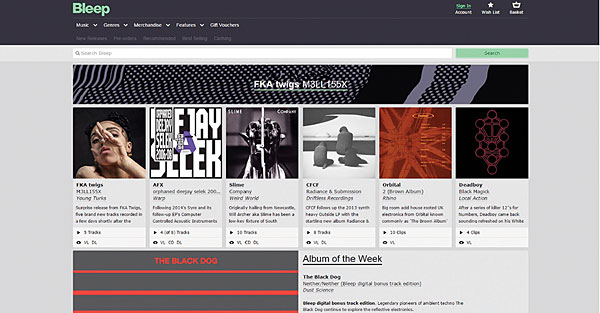 You can browse by standard or 24-bit WAV downloads, or by genre with categories such as Krautrock, Ambient, Modern Classical and Braindance (what the?) represented. Prices for most lossless 24-bit WAV albums range from $14.99 to $17.99. While not for all tastes, Bleep.com is a welcome addition to the world of hi-res music downloads that nicely complements the classic rock, jazz and classical offerings that tend to dominate other sites.
Qobuz
Qobuz.com is a large European online retailer offering Hi-Res Audio for both download and streaming; a U.S. launch is said to be coming soon. Qobuz hi-res streaming is available via their iOS and Android app, as well as on Bluesound, Samsung, Linn, Auralic, Lumin, BubbleUPnP and other platforms (Sony, Yamaha, Denon, Harman Kardon and Devialet, are said to be pending partners).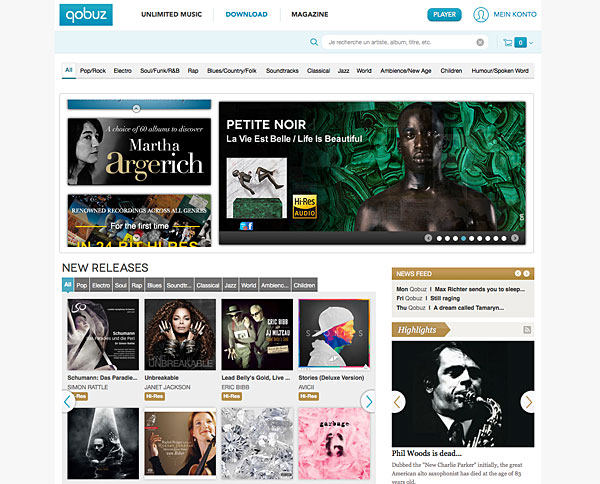 QoBuz in Europe currently has an extensive stable of albums in its "24-bit" Hi-Res Audio download area, with the largest number of entries in the world music and classical genres, but strong representation offered across a range of categories that also includes blues/country/folk, electronic, soul/funk/R&B, New Age and others. The site's excellent interface allows direct search or easy browsing by genre from a home page navigation bar; extensive filters within the genres allow sorting by price, bestsellers and other criteria.