Guide To Hi-Res Audio - Finding Hi-Res Music
Finding Hi-Res Music: Hi-Res Audio is becoming more plentiful and easier to find online. Here's where to go and what you'll discover there.
Heard of Hi-Res Audio? While most folks argue the merits of Spotify vs. Apple Music vs. Pandora, enlightened music lovers busily seek out other online sources for their music fix. These destinations are generally small Websites that specialize in selling albums and individual song downloads in Hi-Res Audio formats. But just what is Hi-Res Audio?
Hi-Res Audio (HRA) is a term used to generally describe both audio equipment and digital music files that deliver the best possible sound quality from studio master recordings. Hi-Res Audio is defined by the Consumer Technology Association (CTA)® as "lossless audio that is capable of reproducing the full range of sound from recordings that have been mastered from better-than-CD-quality music sources."
A key takeaway here is that Hi-Res Audio is "lossless" audio. The majority of streaming music and download services today use lossy compression to deliver music—audio data gets stripped from the digital source to reduce file size. But files using lossless compression, or which are delivered uncompressed, retain 100 percent of the original audio data.
Additionally, hi-res music files (in purest form) are files mastered from "better-than-CD" sources. This means that they are sourced from master recordings typically at 48-kHz/20-bit, 96-kHz/24-bit, or 192-kHz/24-bit. These files offer the potential for the best listening experience. Hi-res music may also sometimes refer to "remastered" files taken from analog or lower-resolution digital master files, a process that may improve the listening experience as well.
Determining the origin of a hi-res music file is challenging, but organizations like The Recording Academy's Producer & Engineers Wing are working closely with groups like CTA, the Digital Entertainment Group and the Recording Industry Association of America to develop guidelines for verifying the production history of hi-res music tracks and identifying them, and download sites are also becoming more vigilant about analyzing and verifying the quality of their offerings.
So where do you find hi-res music on the Web?
At this point, there are numerous sites providing hi-res downloads in lossless FLAC, ALAC, AIFF, and WAV formats with 96-kHz/24-bit or 192-kHz/24-bit resolution (a few titles are available with even higher bit-depth/sampling rates, but those are rare and the sonic benefits harder to discern). Keep in mind that these popular file types are really just the wrappers used to deliver hi-res music tracks, and it's the sampling rate and bit depth of the file itself that determine the resolution of the track. Download sites may offer you an option for what wrapper you'd like. There are also sites that sell hi-res downloads in DSD—the same format used for SACDs—though decoding capabilities for DSD files is generally less prevalent in playback hardware than it is for the other formats.
The following guide provides a tour of a few popular or unusual hi-res music sites on the Internet. There are many more for you to explore, including multi-label stores and dedicated download sites serving individual audiophile record labels. The website FindHDmusic.com is an excellent resource that lists hi-res download sites from around the world; at last count, there were more than 30 listed that sell to U.S. consumers. Some of the sites mentioned below and others offer free or low-cost sampler downloads for you to familiarize yourself with their catalogs and hi-res music in general.
Finally, before we get started, it's worth noting that downloads aren't the only way to get hi-res music in your home. Some optical disc formats also carry hi-res and remain a viable option. I mentioned SACDs earlier, which remain widely available for delivering both stereo and multichannel DSD audio to a compatible player. And Blu-ray music and concert discs are also available at 96/24 resolution or better, typically as PCM or with DTS HD-Master or Dolby TrueHD lossless encoding. AcousticSounds.com, mentioned below, is a good source. You'll also find a wide range of concert Blu-rays at ConcertsOnDVD.com, and a list of labels and titles using the PureAudio Blu-ray format at PureAudio-Bluray.com .
HDtracks
HDtracks.com has been at it since 2008. The site has a pure music focus, selling albums and individual tracks from an extensive catalog of artists in a wide range of genres including, rock, jazz, classical, pop, world music and R&B. Browsing the huge HDtracks catalog is made easier by curated lists that include New Releases, Top 100 releases, Classic 100 Rock, Jazz and Classical releases, Audiophile Picks and the best rock artists from the '50s up to the present. HDtracks also regularly posts sale item lists—the digital equivalent of cutout bins at old vinyl emporiums.
Serious collectors will appreciate the ability to browse offerings by label (Verve, Decca, Blue Note, ECM, etc.). HDtracks also serves the audiophile fringe by offering binaural recordings for an adventurous headphone listening experience. Available formats for most downloads include FLAC, ALAC, AIFF and WAV in 44.1/16, 96/24, and 192/24 sample rates. Pricing for most hi-res offerings ranges from $17.98 for 96/24 album downloads to $24.98 for 192/24 album downloads.
Acoustic Sounds SuperHiRez
SuperHiRez.com is the online music outlet for AcousticSounds.com, an audiophile flea market that sells a range of equipment and music software. The SuperHiRez catalog is well stocked for downloads and rivals what you'll find on HDtracks. There is tons of classic rock, along with jazz, blues, classical, folk, New Age and more. Pricing is about the same, with most hi-res albums in 96/24 or 192/24 FLAC/ALAC format selling for $17.98 and $24.98, respectively. What SuperHiRez has—in abundance—that HDtracks lacks, are albums in DSD format, most of which cost $24.98.
When browsing hi-res titles, SuperHiRez allows you to filter listings by genre, label and format (DSD or FLAC, 192/24, etc.). A column running under the Add to Cart button for a particular title displays other formats or media it's available in, including vinyl and optical disc options. The landing page for each title has a Reviews tab where buyers can praise or pan their purchases, much like Amazon.com.
Pono Music Store
Neil Young's Pono Music Store (ponomusic.com) offers an extensive collection of titles in hi-res and CD-res formats, and its catalog depth in some ways exceeds that of HDtracks and Acoustic Sounds. Pricing on Pono in some cases is also better, compared with HDtracks and Acoustic Sounds for the same titles. Hi-res albums generally range from $9.99 to $24.99. You'll find an extensive collection of albums in a range of genres, including rock, jazz and classical.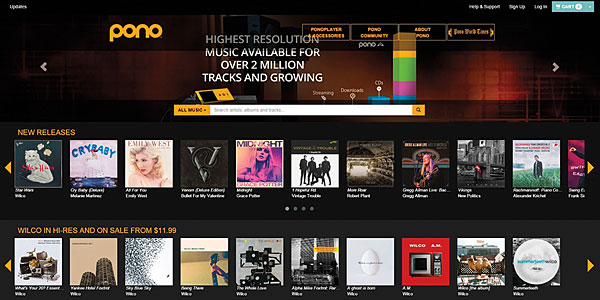 Pono Music has a sophisticated, attractive interface that allows searches by Artist, Album and Tracks, and you can filter your results for hi-res only. The free Pono Music World app (created by JRiver) is a music library/player program similar to iTunes (though more visually appealing) that lets you browse your collection, as well as import other regular and hi-res tracks—including ones you've purchased from other sites. The player app is fully integrated with the Pono Music Store—just like the iTunes player is with the iTunes store.
Pro Studio Masters
Pro Studio Masters may not get the same amount of press as the big three hi-res download sites mentioned above, but it nonetheless boasts a truly impressive catalog of rock, jazz, alternative and classical titles. The site stocks an extensive list of classic rock titles by bands like Rush, Tom Petty, The Who and The Rolling Stones, as well as tons of classical and jazz. There's even a Soundtrack section with oddities such the original soundtrack to Jaws-3D (an essential purchase, for sure). Many selections are available in 88/24, 96/24 or 192/24 FLAC and AIFF format, and there's also a decent library of DSD-format offerings.
At $17.99 to $24.99 for most titles, pricing is on par with other Hi-Res download sites. A visually pleasing, easy-to-navigate user interface is cover art-driven and grouped into logical categories, much like a well-organized record store.
Onkyo Music
The Onkyo Music store (onkyomusic.com/us) just recently started making its sizeable collection of Hi-Res Audio offerings available to U.S. listeners. With everything from Led Zeppelin and Yes to Nirvana and Pearl Jam, there's plenty of classic and alternative rock to choose from. You'll also find a good amount of classical, jazz and pop. Most hi-res titles are 96/24 FLAC, and at $15.99 to $17.99 all are reasonably priced.
When you browse by genre (Electronic, Metal, Hip-Hop, etc.), hi-res titles get mixed in among standard CD-res offerings—though they're clearly identified as you scroll down. Selecting the hi-res filter in the Search window will bring up only hi-res but requires you to designate a particular artist, album or track.