The Greatest Game Ever Played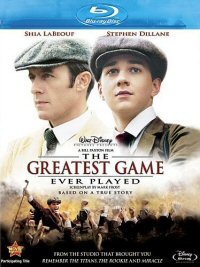 Filled with drama and gripping rounds of golf,
The Greatest Game Ever Played
showcases a fabulous AVC encode and an immersive surround-sound experience. The video includes fantastic attention to detail in flesh tones, textures in clothing, and the many different green hues found on the Massachusetts golf course. The audio is just as impressive, especially with the crystal-clear dialog and superior ambience.
Six holes to make up four shots

Chapter 6, 0:44:10
Detail, surround imaging
In the close-up of Francis Ouimet (Shia LaBeouf), look at the detail in his eyes and the minute freckles on his cheeks.
Listen to the 360-degree soundfield as we go inside Ouimet's concentrating mind while he focuses on the pin.
President Taft

Chapter 7, 0:59:51
Detail, color, surround imaging
Look at the detail in the crowd—the shining gold buttons on the policemen's uniforms, the lush green grass, and the bark on the trees.
Listen to the encompassing surround imaging with the chatter of the crowd, the clear dialog between Ouimet and his caddy, and the swirling thoughts as we enter his mind.
The 17th hole

Chapter 11, 1:39:37
Detail, color, surround imaging
Enjoy the aerial view of the 17th hole. Notice the various shades of the trees, the mower tracks in the grass, and the vast crowd.
Listen as the camera zooms through the names and hole number, creating the illusion of flying down to the hole—I hope you aren't afraid of flying!
LATEST VIDEO