Great Sound Outdoors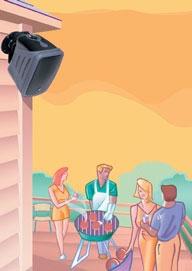 Illustration by Bill Villareal
Ah, summer. The warmth of the sun, the smell of fresh-cut grass, the taste of backyard barbeque - and your music playing too softly to hear on the patio but blasting as you walk inside for more ice cubes. As life migrates out of doors at this time of the year, your tunes don't have to get left behind. And you have many more options than just carting out a boombox. There are speaker systems and accessories ranging from simple to complex, and from economical to expensive, to help liberate your music from house arrest.
Ground Cover
Designing an audio system for outdoor use isn't all that different from designing one for inside the house. It's mainly about space - and money, of course. Chances are good that you'll have a lot larger area to fill with sound outside than you do inside, but that doesn't mean the cost has to rise proportionately. You can get decent outdoor sound on a budget.
First you have to decide how much of an area you want the outdoor system to cover. Do you just want tunes while picnicking on the patio? Or do you want to listen to Handel's Water Music while floating in the backyard pool? Or maybe you want to rock the block for that big annual Fourth of July party?
The simplest and least expensive option is to add a pair of outdoor speakers to your existing audio system (click to see the accompanying buying guide PDF). Many receivers allow you to hook up a second set of remote speakers and switch between them and the main set using either the A/B button on the receiver or an outboard selector, available from companies like Niles Audio, Sonance, and Monster Cable for $100 to $200. Pretty much all you have to do is buy a pair of weatherproof speakers and some wire, install the speakers wherever you want, and then run the wire between them and the receiver. The main drawback is that you'll have to walk back into the house every time you want to raise or lower the volume, change the CD track, or switch to a different audio source.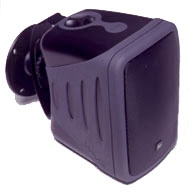 B&W WM 6 speaker ($500 a pair)
Adding a simple remote volume control (about $50 to $100) in line with the speakers will solve the first problem - if you plan to mount it outside, be sure to buy one made for outdoor use. Place it somewhere convenient, such as just inside or outside the door that leads to the backyard or patio. You can gain even more control by adding an infrared (IR) repeater (about $100 to $200 from companies like Speakercraft and Xantech), which acts as an extension of the "eye" on your components that accepts commands from the remote control. This lets you to use the remote outside by aiming it at the repeater, which relays commands to the component. "But IR doesn't work well in sunlight," warns Russ DuBrow, a system designer and installer with Electronic Technology in Los Angeles. "You might want to use a [hard-wired] keypad controller instead, although using IR outdoors isn't an issue at night."
Keypads are harder to install than remote volume controls because you have to run a special kind of cable (known as Category 5) as well as speaker wire. Also, many keypads need to be programmed using software that's only available to custom installers. A keypad can cost anywhere from $100 to $400. They're best mounted just inside the door, by the way, since they're not weatherproof. You can find IR repeaters at large electronics stores like Circuit City and Best Buy. Volume controls and keypads are available online at sites like Legacy Audio/ Video (legacyaudiovideo.com) and from any custom installer.
Another low-cost, low-hassle solution is to add a second zone to your stereo or home theater system. Most newer receivers have a multizone output that lets you run a separate line-level signal to an external amp that can power additional speakers. The whole system then shares the source components. With this approach, you can listen to a Memphis blues CD while basting ribs outside at the same time your significant other whips up a salad and listens to the local NPR affiliate in the kitchen. But you'll still have to use a remote and have an IR repeater in place to control the volume and select music sources.
LATEST VIDEO