Good News for Plasma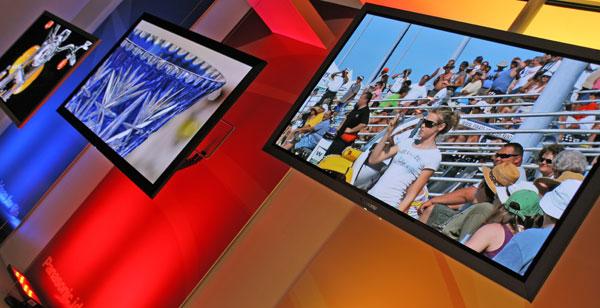 Whenever anyone starts proclaiming that plasma is a dying technology, I put my hands over my ears and start singing, "La, la, la, I can't hear you!" Sure, LCD TVs have come a long way in terms of black levels and motion detail thanks to LED illumination and frame interpolation, but these are work-arounds for problems that most plasmas never had in the first place—and they often come with their own odious artifacts, such as
frame interpolation's "soap-opera effect."
So it was with great glee that I read
a report in This Week In Consumer Electronics
about
a study from market-research firm DisplaySearch
, which found that shipments of plasma panels to TV manufacturers in 2010 were way up from the previous year.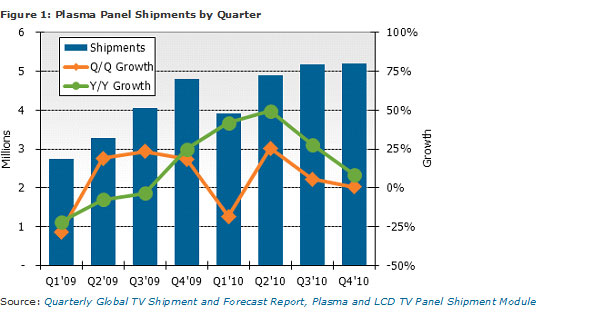 According to the study, plasma makers shipped 19.1 million panels worldwide in 2010, including a record 5.2 million in the fourth quarter, which represents a 29-percent increase in unit shipments and an 11-percent increase in revenue compared with 2009. Panasonic is still in the lead with 40.7 percent market share (down from 43.3), followed by Samsung with 33.7 percent (up from 31.7) and LG with 23.3 percent (up slightly from 23.1).
"This is a surprising result," says the DisplaySearch report, "as weak economic conditions resulted in several plasma players exiting the plasma TV business in 2009, and plasma faced a renewed threat from LCD TVs with the improvements from LED backlights narrowing the performance gap with plasma." On the other hand, the trend toward LED-illuminated LCDs also slowed the decline in average LCD prices, which allowed plasma to remain more competitive than it otherwise might have.
Another factor is probably the rise of 3D, which many observers—including me—find to look better on plasma than LCD. "While 3D has not played a big role in the growth of plasma shipments, it has helped to support plasma TV in the competition with LCD TV," says Ken Park, DisplaySearch Korea TV market research senior analyst. "With 3D functionality, plasma can reposition itself as a lasting technology in the TV industry. In fact, plasma TV brands are entering 2011 with 3D across their product portfolios, from 42-inch HD to 152-inch."
So say what you will about plasma's lower light level or shiny screen or image retention—all of which can be easily overcome in most cases without other side effects—the rumors of plasma's death are greatly exaggerated, and I'm very glad there seems to be plenty of life left in the old gal.
LATEST VIDEO