The Good, The Better, & the Best You Better, You Bet
You Better, You Bet
The question gnawed at me as the New Jersey Transit train I was riding crept out of Penn Station: Of all the available editors, why was I chosen to assemble the midlevel system for our roundup? True, my musical taste has been called "middle of the road," my wife and I have achieved solid middle-class status, and I've been known to eat the creamy middles of my Oreos first. Rather than curse the 50 percent candle power, I sat there sandwiched between two corpulent, Reebok-shod secretaries and began to plan my virtual $3,000 shopping spree.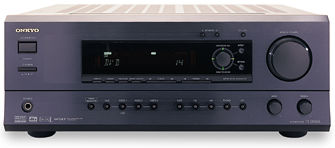 I'm still the fledgling owner of a house that's not too big. As I look around at all the Star Wars paraphernalia eating up more and more floor space, I think it might be a tad too small. I'm more inclined to spend 3,000 real dollars on something as practical as new gutters or, as I surf eBay at 2 a.m., something as frivolous as a life-sized replica of Jabba the Hutt, but I suppose a new home theater system falls somewhere in between the two extremes. And, with a respectable three grand at my disposal, I could do a lot worse than this "better" designation.
The word "better" implies that the gear is superior to some systems but still has room for improvement. Fortunately, prices on step-up gear continue to drop, so I had plenty of options that were more affordable than ever. All I needed to do was make my final selections. My goal: if not a setup worthy of Home Theater Interiors, then certainly a solid rig that will allow my wife to get the most from her Gwyneth Paltrow drivel and make my buds drool with consumer electronics envy.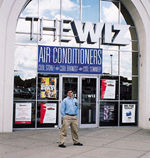 I headed off to the Wiz, a chain of 42 well-stocked electronics stores across New York, New Jersey, and Connecticut (the largest consumer electronics retailer in the metropolitan area). I recalled from previous experience that the store was well-lit, with a fine assortment of brands and models and a friendly, nonmoronic sales staff that knows when to give a customer (even a theoretical one like me) some breathing room.
Beginning with the least expensive component—ironically, the one at the heart of domestic movie-watching—I scanned the DVD players on display. This is the wondrous age of the rockin' entry-level deck, and I'm continually amazed by what a features-laden player I can take home for less than the cost of a dozen discs. Rather than take a big bump up in price for DVD-Audio or wax on frustratedly about whether to get one of the newly affordable progressive-scan players (both propositions were ultimately too rich for my allotted blood and not absolutely essential to fine home cinema), I focused on a short list of key features. For me, MP3 and CD-R/-RW compatibility is a must-have (I'm the convergence editor, after all), so the corresponding logos on the Panasonic DVD-RV31 immediately jumped out at me. This unit offers a host of surround, dialogue, and bass enhancements, component video output, and a shuttle knob for more-intuitive control of the up-to-100X search function. The DVD-RV31's one negative is its lack of a coaxial digital output; past problems and restricted connectivity make the optical-only output less than ideal. Still, this is a lot of player for only $220, on sale during my visit for a mere $199.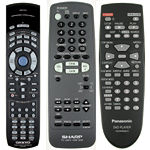 Next up: the receiver. Again, I made a laundry list of the features that best match my needs and tastes. I had a lot of choices here, so I needed a starting point. I recalled Onkyo's strong performance in our budget-receiver Face Off (February 2001); their TX-DS595 (which sells for $500) was a standout, a barometer by which I judged the other candidates that day. For my fictitious money, all the others seemed second-best. This unit's seemingly bulletproof aircraft-aluminum face is dominated by the Smart Scan Controller jog dial that streamlines the customization process—an able partner for the remote, a serious preprogrammed/learning monolith that made quick friends with my left hand. To my joy, the TX-DS595's spec sheet lists Dolby Pro Logic II alongside Dolby Digital 5.1 and DTS, but 6.1 and (of course) 7.1 are not viable options in this price range. And 75 watts times five channels is plenty for any room in the house. It's a pity that most retailers are not set up to offer serious demos and comparisons of multiple receivers, but this product category (perhaps more than any other covered here) is governed by options like DTS (home theater receivers without it are increasingly rare) and easy-to-compare numbers like watts per channel.
The television would be the single most expensive item in this system. I'm accustomed to the size and quality of my beloved 36-inch, 4:3 tube. Long ago, I promised myself that the next TV I bought with real money would be a widescreen model that's, at least, HD-ready. Sadly, these features were not to be found on any set in my price range, unless I made the necessary sacrifices to use broadcast television as my only source and nothing better than MTS stereo for my audio. Fortunately, Sharp makes a big, nice-looking set for the working man: the 36R-S400 ($900). Although big tube sets like this one don't seem nearly as remarkable when they're surrounded by other big tubes on a showroom floor, the 36R-S400's quality and value are undeniable. With one more category to go and no interest accruing on my funds, I knew I had my winner, despite the set's lack of component video inputs. Oh well: I guess the DVD-RV31's component video output will have to wait for my next TV.