GoldenEar Technology Triton One Speaker
PRICE
$5,000/pair
AT A GLANCE
Plus
Three forward-firing active woofers with four side-firing passive radiators and a 1,600-watt amp
Remarkably open, balanced sound quality
Extremely dynamic
Minus
They're really, really heavy
THE VERDICT
GoldenEar Technology's Triton One is Sandy Gross' magnum opus and provides an astounding performance-versus-price ratio.
It's not an overstatement to say that Sandy Gross is a legend—a double legend, as a matter of fact, since he's in two entirely different industries' Halls of Fame. In high school, Gross was an award-winning racecar designer. With his best friend, Howie Ursaner, the Gold Dust Twins (as they were called) were a professional racing team that competed around the country. (At one point, Ursaner won a Corvette. Unfortunately, he wasn't able to legally drive it—because he was only 14 years old.) That was during the late 1960s and early '70s, a time generally considered to be the Golden Age of Racing—slot car racing, that is.
If you know much about Sandy Gross' career after racing, you'll understand why, in addition to being in the Slot Car Hall of Fame, he's in the Audio Hall of Fame. If you're unfamiliar with his second life designing loudspeakers, here's a quick rundown: In 1972, Gross helped start Polk Audio, and in 1990, he co-founded Definitive Technology. After he retired from Def Tech, he wasn't willing to simply sit on his legacy and admire his growing collection of fine art. It was then that Gross convinced his Def Tech co-founder, Don Givogue (Canadian, engineer par excellence, and international man of mystery, eh?), to start yet another speaker company—GoldenEar Technology—in 2010. (At this rate, we can expect to see Gross' next speaker company sometime around 2030.)
The Man with the GoldenEar
It's interesting to me that a former Gold Dust Twin who competed during the Golden Age of Slot Car Racing is now the driving force behind GoldenEar Technology, a speaker company that's just beginning to hit the straightaway during the Golden Age of the Loudspeaker. What? The Golden Age of the Loudspeaker? Yep, and this is why I believe it to be so. First of all, as with slot car racing, speakers are no longer a hot hobby. Nor is the traditional five-channel dedicated speaker setup the must-have (even for non-hobbyists) that it used to be, now that it has been usurped by the simpler, all-in-one soundbar. Furthermore, the speaker industry as a whole has reached an impressive level of maturity in design and manufacturing, which means there are a lot of excellent, affordable models on the market. Not surprisingly, Polk Audio and Definitive Technology (both during and after Gross' tenures there) deserve significant credit for innovations and advancements in the art and science of loudspeaker design that have brought us to this point.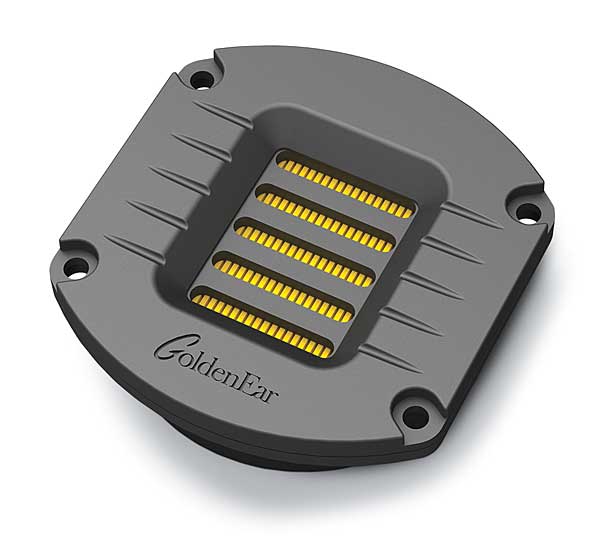 Four years ago (after he got a T-shirt that said, "I spent 38 years designing affordable, great-sounding loudspeakers, and all I got were two awesome speaker companies"), Gross decided he wanted to take everything he'd learned about speaker design and go after a particular type that has remained stubbornly—some would say obscenely—expensive: the true high-end, audiophile loudspeaker. The goal, as Gross told me, was "to create a speaker that genuinely could be compared with the very expensive super speakers." Coming from almost anyone else, that statement would've sounded like either over-exuberant marketing hype or highly refined, weapons-grade bullshit. But you really had to take Gross seriously, because he had the experience, the resources, and the gumption to pull it off.
So far, the GoldenEar team has indeed pulled it off, releasing the Triton Two ($1,500/each), the Triton Three ($1,000/each), and then the Triton Seven ($700/each) towers—along with several monitor speakers and a trio of subwoofers—with each successive model getting rave reviews for providing sonic performance well beyond what you'd rightfully expect from the sticker price. Now GoldenEar has a new tower, the Triton One ($2,500/each), with a model number indicative of its top-of-the-line status. But is it the One—the achievement that Gross had in mind when GoldenEar Technology didn't even have a name yet?
All the Little Details…
Talking about the Triton One, Gross told me, "I think part of the magic is that we approach it in the same way as the designers of those very expensive products and really focus on all the little details, as though our speaker were going to sell for $50,000 or whatever. A lot of these details don't cost more money to get it right; you just have to have the expertise, take the time and care."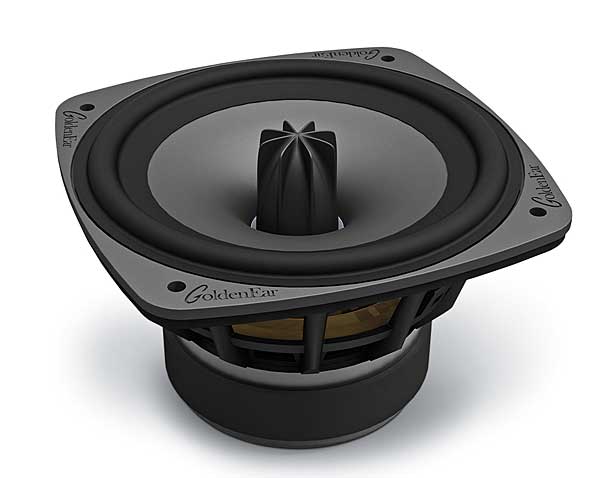 Sure enough, in spite of its high-end aspirations, the Triton One doesn't include any super-exotic materials to ooh and ahhh over. That's OK because ultimately it doesn't matter if a loudspeaker isn't much more than matchsticks held together with rubber cement, or if it uses different sizes of Trojan "intimate massagers" as transducers, as long as you feel like the heavens have opened up every time you listen to it. (As far as I know, no matchsticks, rubber cement, or massagers are used in the Triton One. As to whether or not any of those items were used during the design process, I'd rather not speculate.)
The Triton One is a 54-inch-tall monolith, yet it's not as domineering in the room as you'd think. That's because the tower's ninja-black rounded front grille and the cabinet's stealthily sloping left and right sides give the illusion that the speaker is narrower than it really is. The slenderizing design is common throughout the Triton lineup, as is the use of GoldenEar's excellent High Velocity Folded Ribbon (HVFR) tweeter. Two 5.25-inch midrange drivers straddle the tweeter (one above and one below), and the enclosure for the mid drivers is "designed to, in effect, be part of the crossover and provides an overdamped rolloff, resulting in better transient response."
For additional observations about the Triton One, see Darryl Wilkinson's comments here.