Glory Days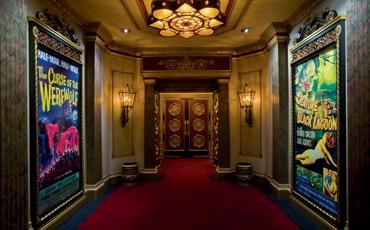 All I knew going into this was that I'd be dealing with a guy who was nuts about restoring stuff. What I ended up with was a glimpse of probably the most unusual home theater that has ever graced these pages.
Driving up to a recent-vintage brick home in an upscale Indianapolis development on a particularly gloomy January afternoon, I wasn't sure I had the right address - until I saw a pristine Victrola on display in a bay window to the side of the front door. That good-as-new phonograph - and, I would soon find out, a lot of other stuff - was the product of the passion and skills of the homeowner, Eric von Grimmenstein III. A man as unassuming as his name is imposing, Eric is part hobbyist, part conjurer, with a knack for laying hands on just about any damaged and discarded contraption and bringing it back to life.
His house is sprinkled with the fruits of his restorative labors - including 5-foot-high music boxes made of beautifully finished hardwoods, fed by amazing-sounding metal discs the size of lumber-mill saws. But while it was hard not to be intrigued and charmed by the music boxes - and the phonographs and the hand-cranked movie cameras and the jukeboxes, and all of the other intricate mechanical devices from bygone days - they were all really just a warm-up to the main act: a did-it-himself movie palace that tested the limits of Eric's considerable skills.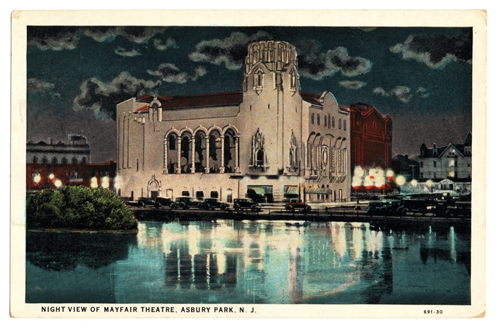 I knew I wanted to do a 1920s-theme dedicated home theater," Eric says, "so I spent the last 20 years hitting antiques shops and eBay, looking for architectural items. The problem is that things like that are usually way out of scale - the light fixtures are too big and so on - so you have to be careful what you're looking for."
While he had some luck finding isolated items, Eric was having a hard time gathering matching sets that would make his space look like a movie theater and not some kind of curio shop. "Finding sets of doors or light fixtures or poster holders is very tough," he says. "But the owner of Architectural Artifacts in Chicago told me that a friend of his who owns Urban Artifacts in Philadelphia had a tremendous amount of items from the Mayfair Theatre of Asbury Park, New Jersey."
Built in 1926, the Mayfair was the opulent, exotica-filled flagship of the Walter Reade theater chain. But, like almost everything else in the once-thriving resort town of Asbury Park, the theater had fallen into disrepair by the 1960s; it was torn down in 1974. Fortu- nately for Eric, though, Urban Artifacts had enough elements from the Mayfair to give his theater the consistent look he wanted. The problem was getting everything from Philadelphia back to Indianapolis. "It's a long drive," Eric says, "so I didn't want to make a second trip. I had a Suburban, but I don't know how I got six heavy 7-foot metal doors, two iron poster holders, two large ceiling lights, five small ceiling lights, and four sconces in there. They were thousands of pounds, and I couldn't begin to close the back doors, so I tied them shut and drove back to Indianapolis."
While Eric was thrilled to have secured so many pieces from the Mayfair, they were in terrible shape. "They were very rusty, like they'd been stored outside," he says. "Metal had to be replaced or refabricated, I had to bead-blast the rust off, the pits had to be filled with Bondo, and so on. You just don't realize how much time goes into restoration to do it right - especially when you're dealing with metal. Either you cut it out and replace it, or you've got to fill in the pitted areas. It just takes a lot of filling and sanding and prepping."
But reviving the near-dead is what Eric lives for, of course. "It's like a frame-off restoration of a car: You go all the way down," he says. "And when you take something apart, it's nasty, it's greasy, it's dirty. You keep going down, down, down until you have it all in pieces, and then you start moving forward. You sandblast the first piece, you prime it, you paint it - and then you're finally starting to work with clean pieces."
Even after Eric had restored the elements from the Mayfair and other vintage movie houses to their former glory, he was still a long way from having someplace to put them. And just because you've assembled a great collection of antiques doesn't mean you know how to integrate them into a theater - as far too many well-meant but kitschy man caves show. Fortunately, Eric had the good sense to approach home theater designer extraordinaire (and S&V contributor) Theo Kalomirakis.
Eric first met Theo during the 1999 CEDIA Expo in Indianapolis, at the home of Scott Jones, whose Theo-designed theater had just won CEDIA's "Best Home Theater Electronic System Design Over $150,000" and "Best Home Theater Architecture Design" awards. "I went up and introduced myself, showed him some pictures of the theater I had thoughts of having him do, and he was very interested. I had no timeline, though - the house hadn't even been built yet - so he probably thought he'd never hear from me again. But I got back in touch with him in early 2006, and he flew out and saw the project and all the architectural items."
From left to right: Eric von Grimmenstein III, John "The Artist" Claeys, installer Jim Swearingen.
The Mayfair was a challenge for Theo because, as Eric points out, "it's much easier to design a theater from scratch than to try to design one around existing items. But Theo liked that I was looking for the most economical way to create the maximum look. He hates it when someone just wants to have a bigger, better theater than his neighbors - when they have an open checkbook but very little involvement with the project." It didn't hurt that Eric and Theo share a love for movie palaces - or that Eric's desire to incorporate salvaged goods reminded Theo of his own first theaters.
The other crucial collaborator was John Claeys, whom Eric affectionately calls The Artist. "Ironically, John lives on the third floor of the Fountain Square Theater in Fountain Square, Indiana," Eric says. "In exchange for rent, he was working on restoring the theater. I found him one day painting a poster holder, got to know him, and told him I wanted to have him involved with painting my theater."
Eric needed somebody whose ability with paint and brush matched his own with the tools of the restoration trade. "John's taste in colors, mixing, marbleizing, and faux finishing is incredible. All the architectural items were restored by me up to being primed, and then I turned them over to The Artist for the final painting and antiquing." Eric modestly claims that the new Mayfair "wouldn't have been possible without Theo and John Claeys. They made this theater."