Glory Days Page 3
Theo had a big impact on all of the color choices. "For the seats and the carpet, we went with solid burgundy," Eric says. "And that's another Theo trademark I wouldn't have thought of. He says to go plain with your carpet and theater seats, and to put all the colors into the walls, the ceiling, and the proscenium area, because elaborate patterns in the carpet and seats pull your eyes away from what you should be looking at, which is the walls and ceiling."
Getting the look of the Mayfair's many rooms right meant that Eric, Theo, and John Claeys had to be in perfect sync. "Theo has seen wonderful theaters ruined by how people have painted them," Eric says. "So he, The Artist, my wife, and I got out a paint deck, started looking through the palette, and picked two color schemes. Then we went room by room and used a pencil to mark every wall and piece of trim. Theo labeled each color 1 through 5, with 1 being the darkest and 5 the lightest, beginning with the baseboard, which is usually darkest.
"I questioned Theo's colors in the beginning, but he said, 'Just trust me. I've been through this a million times.' And he was dead-on with all his picks."
The installation work was deftly handled by Jim Swearingen of Indianapolis-based Counterpoint Design (counterpointav.com), who had worked with Theo on Scott Jones's award-winning home theater. And while the gear is seamlessly integrated, choosing and installing it presented its own set of challenges - especially the screen and the speakers. "There was a big controversy over the screen," Eric says. "The problem is, going with a 2.35:1 model would have left a 9-foot-high area above the screen. You would end up with a 4- or 5-foot-tall screen that looks like a Band-Aid across the stage, with all this dead space above and below. I opted for a 16:9 screen that fills the proscenium and then masks horizontally to create 2.35."
The front left/right speakers were supposed to go into angled columns on either side of the screen, but there wasn't enough room there for models that could fill the theater with sound. So Eric and Jim decided to put the speakers behind the perforated 132-inch Stewart Filmscreen FireHawk screen. The problem was, there still wasn't enough room. "The design only left 14 inches behind the screen," Jim says. "As it turned out, Klipsch had a speaker in its professional cinema line [the KPT-325] that was 12 inches deep and yet could give us the volume of sound we needed to fill the space." (And it didn't hurt that the company calls Indianapolis home.)
The four Klipsch KS-7800-THX and two KL-7800-THX surround speakers are placed in columns throughout the theater, while the four 12-inch Klipsch KW-120-THX subwoofers are located on either side of the screen. Positioning the subs created yet another, and more elaborate, problem. "They were supposed to go underneath the screen," Jim says, "but as the design evolved, we had to lower the screen to be in the correct line of sight for the seating. So that meant we had to stack the subs in the corners, to the sides of the screen. But that meant there wasn't enough room for the curtains to gather at the sides. So Eric did some pretty intense research and wound up with an overhead curtain, which actually works quite well."
"Fortunately, we had enough room above the proscenium for an Austrian-type curtain, which is a very early style, from Florida Rod and Drapery in Orlando," Eric says. "That worked out perfect. Plus, people like the effect of the rising curtain."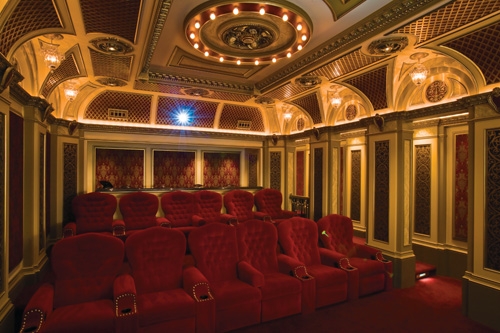 Eric's ingenuity extended well beyond his restoration skills. When he found out that the access door to the projector vault wasn't big enough for the Runco VX-22d projector, he came up with a solution that impressed even his installer. "Eric devised a rope-and-pulley system, and a series of boards were moved into place," Jim explains. "It required four people, each carefully coordinated - two on a ladder, two on a rope - to get that projector up into place. It sounds like a terrible way to mount a projector, but it actually was well engineered and worked extremely well."
Having a movie palace in the basement would be more than enough for most of us, but the tireless Eric has filled his underground domain with all kinds of elaborate spaces, including a racquetball court, an antique billiards room, and an English pub with a mural of the Thames glimpsed through rippled-glass windows.
As Eric and his wife show me around the labyrinthine basement, we go through the garage, where I spot an Amphicar - a car/boat hybrid from the mid-'60s. Of course, this was one of Eric's projects, too. "I bought it when our kids were small, did a ground-up restoration, and we still use it," he says.
I said Eric was tireless, but we all have our limits, and creating an indoor theme park that would put the Disney Imagineers to shame would tax anyone's abilities. Eric says his next project will be a castle-themed family room. "It will probably have limestone walls, coffered ceilings, stone floors, and a limestone fireplace with a mantel from floor to ceiling. Then I'm going to do the hallway connecting all those areas with cobbled streets and street lamps, to make it seem like you're outside." When I ask him when he's going to work on all that, he finally concedes that he's only human. "I don't know. The theater wore me out."
LATEST VIDEO