Give Me a "U"!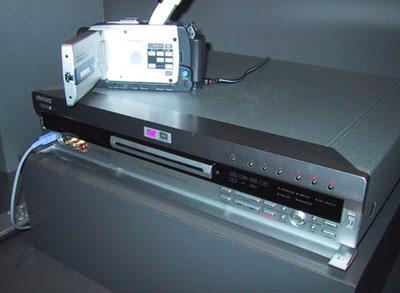 Sony concluded the press day preceding the official opening of CES with a press conference that lined up reporters and writers waiting for admittance for almost a city block. The display area was filled way beyond capacity. Fortunately, Sony Electronics President Fujio Nashida kept his remarks brief, focusing on the company's overall strategy rather than a laundry list of new products. He stressed Sony's theme of "U" for universal solutions, user-centric solutions, unified home networking, and ubiquitous value returned. His most important point was that the coming together of different categories of consumer electronics was neither audio/video-centric nor information technology-centric, but would be centered around and anchored by a unified home network. However, that didn't keep Sony from introducing dozens of new models in the same categories as its competitors. A standout was the realization of a product Sony promised last year, the RDR-GX7, a "universal" DVD recorder capable of handling both the DVD+R/RW and the DVD-R/RW formats. Sony press materials are a little vague about whether it actually records in both formats or just plays both. It will sell for $800 when it arrives in June. Considering that Sony supports the DVD+R/RW format, it was interesting to see that its first DVD Handycam camcorders-the DCR-DVD100, DVD200, and DVD300-record using DVD-R/RW. No prices or delivery date for these were announced. Sony also introduced seven new Mini DV Handycams, ranging in price from $600 to $1,500 and scheduled to arrive in February and March. A prototype high-definition DVD recorder using Blu-ray technology was on display, but no price or delivery date was mentioned.
Sony's RDR-GX7 "universal" DVD+R/RW and DVD-R/RW recorder ($800 in June).
Sony joined the rush to larger LCD screens with the 30-inch widescreen KLV-30XBR900 Wega HDTV. The two-piece unit, with electronics in a separate box, liberated designers to create a floating glass-panel look. Slated for this spring, it will sell for $6,000. On the first official morning of CES, Apex jumped from the gate with a press conference announcing 87 new products. These included a range of video displays along with DVD and hard-disk video recorders. Apex aimed for multiple models in every product category, such as two 42-inch plasma TVs, one extended-definition and the other high-definition. Similarly, it shotgunned the high-definition LCD category with widescreen dual-tuner models in 20-, 23-, 27- and 30-inch screen sizes. Apex fit both a DVD player and a VCR into 20- and 27-inch TVs. It endorsed the DVD+R/RW format with the DRX-9000 recorder, which not only records, but includes nearly every playback feature and option except DVD-Audio.
The DRX-9000 DVD+R/RW recorder from Apex.
Apex claimed the public will buy 1.5 million DVD/recordable components this year. The ADR-1000 contains a 40-gigabyte (GB) hard drive, for up to 40 hours of A/V recording, along with a DVD player. The ADV-3800 combines a DVD player with a VHS Hi-Fi VCR. Other models include a wireless networked DVD player, a unit that prints directly to Hewlett-Packard printers, an interactive DVD player, and a karaoke model. This plethora of products seems to be the way Apex achieved just under a billion dollars in sales, 20% of the U.S. DVD player market, and about 11% of the U.S. TV market in 2002. Nearly all of the new products will arrive in the first half of this year, but no prices were announced. Considering Apex's history of being a price leader, many of these products could have some startlingly low prices. EchoStar, parent of Dish Network, claimed five million subscribing households, and after a recent $2 rise in the rate of most of its programming packages promised a two-year price freeze as well as some new discounts, such as its America's Top 50 package for $24.99. Among new program offerings are 2003 World Cup Cricket, college basketball, and lots of interactive services like Bloomberg Interactive, Playin' TV and KidsWise children's games, and a variety of custom-tailored sports statistics. Five HDTV channels are now available: CBS-HD, HBO-HD, Showtime-HD, Discover HD, and DISH-on-Demand pay-per-view movies. The DishPVR 921 stole the spotlight. This combination hard-disk recorder (HDR) and satellite receiver can save up to 40 hours of HDTV programming or 250 hours of standard-definition programming, or any combination. It can record two programs simultaneously while playing back a third prerecorded program, and it has picture-in-picture capabilities. The Dish Network receiver accepts both standard and high-def transmissions from satellite or other sources and comes with a seven-day electronic program guide, USB computer interface, caller-ID, and Dolby Digital audio output. EchoStar did not announce pricing or availability but promised the Model 921 would be available later this year at a very attractive price. DirecTV returned fire an hour later, announcing its HDR/receiver using the TiVo system. Specifics, however, were a bit vague other than promising a very large hard drive-"as large as we can fit in the box within cost constraints." It will also require an additional monthly fee, although DirecTV said it would waive that for subscribers buying its largest programming package. DirecTV also announced its fourth HDTV channel with the addition of a high-def pay-per-view channel with movies from New Line Cinema, DreamWorks, and MGM. High-def movies will cost $4.99 each. TiVo hosted its own press conference to announce it now had 500,000 subscribers and to unveil its second-generation technology, the TiVo Series2. All manufacturers supporting Series2 will incorporate at least 80 hours of recording, broadband Internet connection, and recording from cable, satellite, or TV antenna. It supports all HDTV formats and home networking. The TiVo Home Media Option requires two or more TiVo HDRs. They can share programming on TVs throughout the house and even interface home computers (both Macintosh and Windows) to the system, allowing them to share audio and photo files from the computers or the Internet. The Home Media Option works with wired and wireless networks, but bars sharing of material outside of a single home with rigid copy protection. Users pay an initial $99 fee and an additional $49 per TiVo unit. Companies supporting Series2 include Hughes, Philips, Sony, Toshiba, Samsung, and DirecTV. They will start selling Series2 models this spring.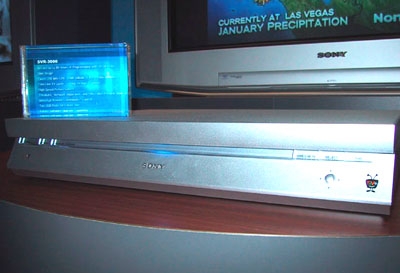 Sony's SWR-3000 TiVo Series2 hard-disk recorder.
While racing across the CES main show floor from one press reception to the next, I was amused by an in-your-face slap at Sharp by Samsung. Sharp prides itself on its LCD technology and for many years owned bragging rights to the largest LCD screens. Samsung positioned a large display directly across the aisle from the Sharp exhibit with a mammoth 54-inch LCD screen and a sign claiming it to be the world's largest LCD.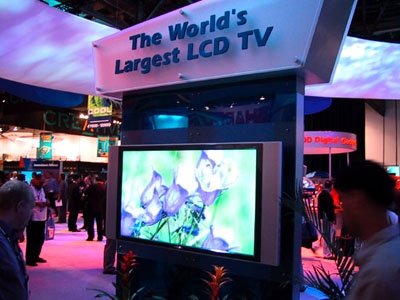 Samsung's 54-inch LCD flat-screen TV aims to take away a title long held by Sharp.
(All photos by Rich Warren.)