Gadget Gary: Sonos ZonePlayer S5

My love for Sonos is no secret. You'd think I own stock in the company - full disclosure: I don't! - but you have to love a music-delivery product that starts out great and just keeps getting better.
When I built my home a few years ago, I wired it for all-room audio, and after using somebody else's gear for a while, I eventually settled on Sonos. While I thought I'd wired every square inch of the house, I found that I'd missed a spot. You see, I never wired the porch. Didn't think I'd need it at the time.
But you never know exactly how you'll use a house when you design it on paper, and it turned out my wife and I spend quite a bit of time on the porch. So I tried a variety of ideas to fix the situation: fans with built-in wireless speakers (expensive and didn't fit the décor); a portable radio (crappy sound); and simply opening the window and turning up the music inside the house really loud (in a word: no).
I hadn't found the right solution until I got my hands on the Sonos ZonePlayer S5 wireless music system ($400; sonos.com). Right out of the box, the S5 is a sharp-looking piece of equipment that'll fit in well anywhere in your home. The setup is super-quick and easy. Plug it into the outlet, dial in an Internet connection, and you're pretty much ready to roll. If this is your first Sonos unit, you'll need to run some software on your computer to access your music library. If you're already set up for Sonos, as I was, you simply need to push a button on your unit and it'll find the Sonos network. (I didn't even need to plug into an Ethernet connection; I used my wireless network.)
The sound is much better than I expected from such a small unit. It utilizes five speaker drivers - two tweeters, two midrange drivers, and one subwoofer - all housed in the same white box. You can purchase a separate controller ($349), but Sonos offers a free app for both the iPhone and iPod touch that turns those devices into controllers themselves, complete with album-cover artwork and all the info you need. The iPod option worked great for me, and it'll save you a decent chunk of change.
I tested the S5 with a mixture of tunes, including hard rock ("AC/DC's "Back in Black") and some more vocal-oriented songs (like Frank Sinatra's "Summer Wind"). The music sounded amazing, as the S5 delivered crisp, well-defined sound - just how I like it.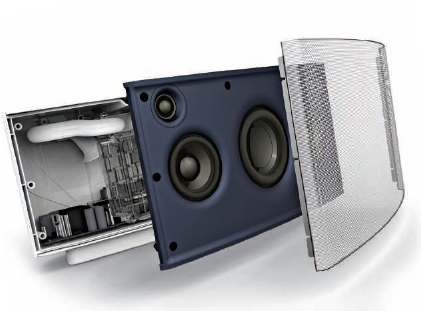 A receiver and five speaker drivers - a pair of tweeters, a pair of midranges, and a subwoofer - are built right into Sonos's ZonePlayer S5 wireless music system.
The first time I played with a Sonos system, I was impressed that I could access the music library on my computer. Since then, it has added many music services, including Sirius XM (through the Web, so there's never a dropout), Napster (one time I listened to the best rock songs from the summer of 1976), and Pandora. You're also able to access almost any terrestrial radio station from around the world.
In short, I'm loving the Sonos ZonePlayer S5. And I really love the portability of it, too. This winter, it'll reside in my son's room. Then, when summer rolls back around, it'll move back out to the porch, where I'll drink a beer, enjoy the view, and crank up some great tunes.
Read more about Gary and his gadgets at soundandvisionmag.com/gadgetgary.