Gadget Gary: Hey, Chumby!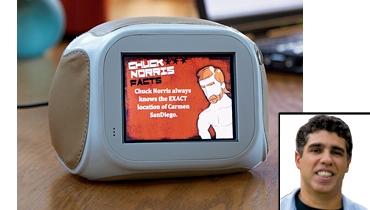 The dictionary defines a gadget as "a sometimes small electronic device with a practical use but often thought of as a novelty." Well, I'm here to tell you that the creators of the CHUMBY ($180; chumby.com) have honored the spirit of that definition.
The Chumby is a wee multitasking device with a 31?2-inch touchscreen, speakers, and a Wi-Fi connection. It can serve as an alarm clock, a digital frame, and most important, a way to view Web applications - specifically, the many widgets that are offered on the free Chumby Network. Among the 30 or so that I set to be fed to my Chumby via Wi-Fi are The New York Times Headlines, Google Hot Trends, CBS Evening News, MLB Recent Scores, and The Weather Channel.
The touchscreen works fairly well. It's not ultra-sensitive, so sometimes you have to tap it more than once to get a response. The sound is surprisingly good for such a little device. I have my Chumby on the desk in my home office right next to the computer, and even though I can access anything that's on it from my PC, I find myself constantly watching the flood of information that scrolls across the little guy's face. Whenever I spot the score of a New York Mets game, I go right to MLB.com to see what happened. Recently, at the 60 Minutes widget, I watched an entire story on Bon Jovi. And the Chumby can even show all the pictures in my Facebook photo album.
True, I can find anything that's on this critter on my laptop. But my laptop isn't scrolling a steady stream of tailor-made info. And that's the main reason why the Chumby stopped being just a novelty to me.
LATEST VIDEO