The Future of Recorded Music - Part 4
Musicians sound off about the merits and detriments of the CD and how they're dealing with a digital-delivery-oriented future
Ian Anderson of Jethro Tull
BIO: Outspoken frontman/flutist for perennial British rock vanguards, currently out on the boards here and abroad supporting Aqualung Live (RandM) and Plays the Orchestral Jethro Tull (Benz Street).
LO-FI: Really, the fidelity of audio CDs has been in question from the beginning. It's amazing that people have stuck with them, and that, in this day and age, sub-CD quality seems to be the order of the day, since most of the people experiencing the joys of downloading just aren't aware how limited the audio quality is of what they're paying for. The MP3 universal, regardless of where you send it to and what people have on the other end to play it.
Sooner or later, there will be a successor to the CD that will make sense for the audiophile, but will it be something like a CD, or something like a solid-state storage device that holds large file sizes? Whatever succeeds the CD, it probably won't be round. It'll probably be square. [laughs]
NOT FREE: Of course, there are people out there who feel that music should cost next to nothing or simply be absolutely free. I hope they don't get their way. Otherwise, no meaningful music will be made. Read the extended interview with Ian Anderson
Brandon Curtis of Secret Machines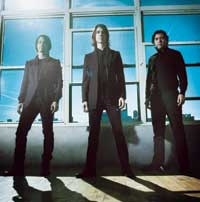 BIO: Bassist/keyboardist/vocalist (left) for the trippy New York City-based trio, who made Ten Silver Drops (Reprise) available for download almost two months before its CD counterpart hit the stores - the same strategy employed for their 2004 debut, Now Here Is Nowhere.
ULTIMATE SOUND, USA: I don't have a problem with records being available as MP3s. I prefer to listen to higher-fidelity recordings, but I do have an iPod. A lot of people get bent out of shape as if MP3s are some kind of "attack" they have to defend against. Music is music, you know? People didn't have problems with music on 78s and AM radio. Higher fidelity has always been a pursuit, and the arrival at some destination of ultimate sound doesn't have to be defended - people will find it if they want it. The appreciation for fidelity will just be more specialized. Maybe you release an SACD instead of "just" a CD for audiophiles, and release everything else on MP3.
SUPPORT SYSTEM: The music business has to figure out a way to marry immediacy and commerce. I will go on a file-sharing site to check out bands I've heard of, and if I like them, I'll definitely make the effort to support them in some way, like buying their CD at a show. You shouldn't withhold your support because you can get the music for free. I see the economic problems related to file-sharing, but the fact that music can be more readily available more quickly to people - and really inexpensively - is an exciting and thrilling thing.